Back to top
Magical Holiday Train Rides in the Bay Area and Northern California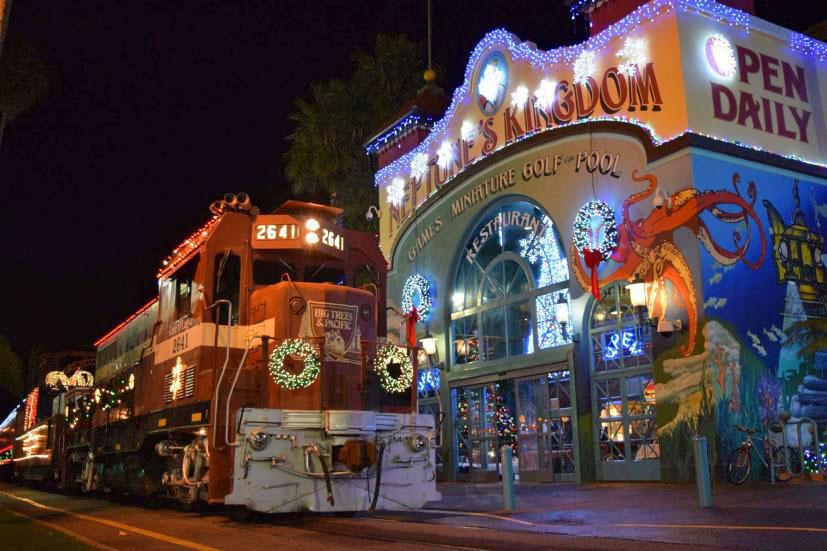 Photo: Roaring Camp Railroads Santa Cruz Holiday Lights Train
There's something magical about taking a special holiday outing with the family on a train! You'll find plenty of other opportunities in the Bay Area and Northern California to celebrate the holidays on board a train, including Polar Express Train Rides at both the California State Railroad Museum in Sacramento and Railtown 1897 in the Gold Country. But get your tickets as soon as you can—most of these rides will sell out.
Take a magical winter train ride followed by a visit with Santa Claus, who will give each child a festive golden bell to signify the first gift of the Christmas season. Guests will receive a complimentary cup of hot cocoa or coffee, and gourmet cookie provided by Journey Coffee Company while they wait for Santa. You can also write your very own letter to Santa and make your own handcrafted ornament in the visitor center.
Trains depart hourly in on weekends November 26–December 18 beginning at noon, with the last at 5 pm. Open Saturdays and Sundays. Tickets: $20 general, $10 museum members. More info and tickets
This popular holiday tradition usually sells out by mid-October, but as of publishing time we confirmed that there are still tickets available for rides in November and December. Tickets are currently sold out, but you can check their website for any openings. You can also try the Polar Express ride in Railtown 1897 in the Gold Country (read on for more info).
Climb on board a train pulled by a historic streamlined diesel locomotive from the museum's collection and read along with Chris Van Allsburg's classic holiday story as you and your family make your round-trip journey to the North Pole. Meet Santa Claus, the Train Conductor, and the ghostly Hobo. Sing Christmas carols, drink hot-hot-hot chocolate, and eat cookies—served by dancing waiters, of course. Each child attending receives a special gift of a silver sleighbell, and children (and adults, for that matter) are encouraged to wear their pajamas.
Ride in the coach cars ($45–$50 per person), first-class El Dorado Observation Car ($65–$70 per person), or reserve a table for four in the open-air Sleigh Ride car ($180–$200) or the first class Audubon Dining Car ($260–$280). Tickets are available online only.
The California State Railroad Museum's sister organization, Railtown 1897 State Historic Park, offers a holiday Polar Express train ride and tickets are also still available! Located in the Mother Lode town of Jamestown, about a three-hour drive from the Bay Area, Railtown 1897 offers an hour-long train ride to the North Pole with hot-hot-hot chocolate, cookies, characters from the Polar Express story, and Santa himself, who will give each passenger a silver sleighbell.
Tickets cost $60 per person for coach seating. Children under 2 are free but must be seated on an adult's lap. Rides take place Friday–Sunday, November 25–December 18. Many days are sold out, so check their website for availability.
Ride through the East Bay's Niles Canyon at night on the Train of Lights, and enjoy music, refreshments, and holiday cheer! Train rides are now sold out buy check their website as cancellations do happen and tickets may become available.
Trains, decorated for the holidays inside and out, depart from Niles at 4:30 pm and Sunol at 7:30 pm every Wednesday, Friday, Saturday, and Sunday during the holiday season (no trains on Christmas Eve or Christmas Day). Tickets cost $30 and up, depending on car. Order tickets and learn more on their website.
The renowned Roaring Camp Railroads in the Santa Cruz Mountains offers a variety of festive holiday train rides this winter.
Santa Cruz Holiday Lights Train
Board vintage excursion cars, decorated with thousands of colorful lights, at the Santa Cruz Beach Boardwalk for a holiday train ride you'll never forget. Roll through the streets of Santa Cruz while enjoying hot cider, singing Christmas carols, and listening to live musical entertainment. Trains depart from in front of Neptune's Kingdom at the Santa Cruz Beach Boardwalk at 5, 6:30, and 8 pm. The Holiday Lights Train runs November 25–26, December 3–4, 12–13, and 17–23. Coach tickets cost $44.95 for adults 13 and older and $32.95 for children 2 to 12; first-class tickets are $59.95 and $45.95. Order tickets and learn more on their website.
Holiday Tree Walk
Ride Roaring Camp's daytime steam train to the top of Bear Mountain. At the summit, sip hot cider and walk through a holiday wonderland of beautifully decorated Christmas trees and enjoy winter-themed activities. Santa himself will also pay a visit. The Holiday Tree Walk takes place November 25–27 and December 3–4, 10–11, and 17–18.
Chanukah Train
Share in Chanukah traditions and ride the train through the streets of Santa Cruz listening to Chanukah stories, playing dreidel, and enjoying kosher refreshments provided by Chabad by the Sea. December 26 at 5:15 and 6:45 pm.
The Skunk Train in Mendocino County presents a reimagined Magical Christmas Train experience this holiday season. Enjoy seasonal treats and decor on a journey through the redwoods to Mr. Skunk's Giant Christmas Tree, a decorated redwood along the line, which also serves as the workshop for Santa Mr. Skunk. Rides depart from Willits.
Magical Christmas train rides start on November 26. Tickets start at $59.95; infants under 2 are free and dogs are $10.95. Check schedules and order tickets on their website.
The River Fox Train in Sacramento offers festive Magical Christmas Train rides this holiday season. Enjoy a festive ride with Santa and his elves, who will personally stop by your table, cookies, and hot chocolate in a souvenir mug. River Fox Train rides depart from West Sacramento.
Trips begin on November 26. Tickets start at $45 for kids and $55 for adults; infants under 2 $10. Check schedules and order tickets on their website.
The Western Pacific Railroad Museum in the Plumas County town of Portola offers festive Santa Trains in December; 2022 info TBA. Enjoy homemade cookies, hot cider, coffee, and hot chocolate. Kids can meet Santa and Mrs. Claus. Train rides usually start at 5 pm and continue until everyone gets a turn (usually until around 8 pm). Portola is approximately a one-hour drive north of Truckee.
This railroad experience is not in California, but it's just an hour or so away from Tahoe and definitely worth the drive. Board a festively decorated train and take a scenic 45-minute trip on the 150-year old Virginia & Truckee Railroad route, while enjoying hot cocoa or cider, candy canes, and cookies. Ride through the enchanting Candy Cane Tunnel and listen to a reading of "'Twas the Night Before Christmas". You might even see wild horses along the way! Train rides take place from November 25–December 18. 
Sign up for tips & news for Marin families!