Back to top
Marin Weekend Family Fun for November 8–11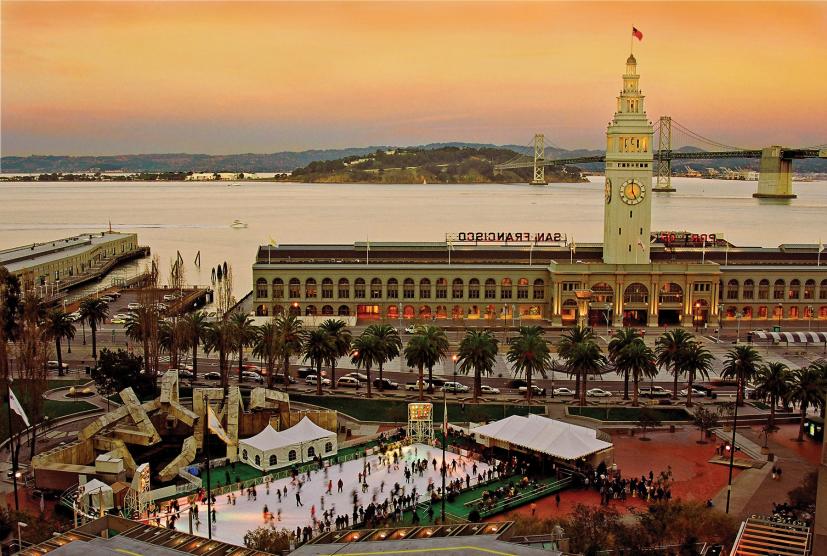 Hit the ice this weekend at the Embarcadero Center holiday ice rink in San Francisco.
Here are our picks for great events and activities for children and families this weekend. Find more events for the whole week in Marin and beyond in our Family Events Calendar.
Friday, November 8
Saturday, November 9
Opening Weekend! Christmas House at West End Nursery
San Rafael
Saturday, 8 am–5 pm, Sunday 9 am–4 pm
Get in the holiday spirit and visit the amazing Christmas House at San Rafael's West End Nursery. Enjoy granny's cookies and cider during this opening weekend. This magical setting includes lights, decorated trees, and more. It's a holiday must-visit in Marin. Free admission; ornaments and decor are for sale. Location: 1938 5th Avenue. Event details.
Free Ice Skating Lessons
Union Square Ice Rink, San Francisco
Saturday, 8:30–9:30 am (check-in at 8:15 am)
Don't know how to skate? Kaiser Permanente is inviting beginner skaters to the Safeway Holiday Ice Rink in Union Square presented by Alaska Airlines to come learn from professional skate instructors every weekend. Lessons are free (including skate rental) to those who sign up in advance, thanks to Kaiser Permanente. Signups are limited to 50 participants per session. Available for ages 3 to 300, lessons will take place every Saturday and Sunday morning from 8:30 to 9:30 am throughout the season. RSVP here.
Pizza Party on Horse Hill
Mill Valley
Saturday, 9 am–1 pm
We are hosting a broom-busting pizza party and raffle on Horse Hill with the Alto Bowl Horseowners Association. Participants will get a chance to meet the horses up close. Lunch served around noon. It is possible for volunteers as young as 5 years old to join if teamed with a parent or guardian. Snacks, lunch and extra water will be provided. RSVPs are appreciated but not required. Please bring gloves, sturdy shoes, layers, and a water bottle. Location: Meet at the entrance gate across from address 49 Lomita Drive, near the intersection of Lomita Dr and Greenfield Ct. Event details
Marin Country Mart Farmers Market
Larkspur Landing
Saturday, 9 am–2 pm
Enjoy pony rides and a petting zoo for the kids from 10 am–2 pm, crafts by from 9 am–2 pm, children's music or storytelling from 9:30–10:30 am, and more live music from 11 am–12:30 pm, as well as fresh produce, prepared foods, and great local restaurants. Event details.
Makers Market at The Lumberyard
Mill Valley Lumberyard
Saturday, 10 am–5 pm
The Mill Valley Lumber Yard is finally full, and now is the perfect time to come out and explore. Makers Market will host 15 local makers! Shop from local makers, listen to live music, explore the new tenants, and then finish it all with a delicious dinner from the newly opened Watershed Restaurant. Now with crafts for the kiddos, sponsored by Once Around Art Supply store! We will have multiple crafts to keep the little makers occupied while you shop! Location: 129 Miller Avenue. Event details
WorldWideWomen Girls Festival 2019
Palace of Fine Arts, San Francisco
Saturday, 10 am–5 pm
This year's program is as fun and inspiring as ever! Come and experience seven jam-packed hours of captivating workshops; exciting sports activities; competitions with fabulous prizes; interactive booths featuring local organizations; performances by girl troupes; and hands-on activities in our makerspace including arts and crafts, robotics, genetics experiments, entrepreneurship, fashion design, and computer coding! Tickets: $0–$15. Event details.
Snoopy's Home Ice Re-opening!
Redwood Empire Ice Arena, Santa Rosa
Saturday, 12:30–3:30 pm
Celebrate the re-opening of Snoopy's Home Ice with a public skate session! Come check out the North Bay's newly renovated skating rink. Skating: $10 adults, $8 children, $4 skate rental. Location: 1667 West Steele Lane, Santa Rosa. Event details
Junior Chef Class -

Thanksgiving Helper: Side Dishes


Williams-Sonoma, Corte Madera
Saturday, 10 am


Tie on your apron and whip up some delicious side dishes for the holiday meal. Your family and friends will be begging for seconds (and thirds)!

Suitable for ages 8-13. Reserve your spot online here. Free. Location: The Village at Corte Madera. Event details
Kule Loklo Open House & Workday
Point Reyes Station
Saturday, 10 am–4 pm
Visit a replica Coast Miwok village that offers a glimpse of life in pre-European California.Park staff or volunteers will be present from 10 am to about 11:30 am to talk about Coast Miwok history and culture, walk around the village with the public, and may be able to share or demonstrate activities representative of Coast Miwok life. All ages are welcome. Free. Location: 1 Bear Valley Rd, Point Reyes Station, Visitor Center. Event details.
A Year with Frog and Toad


BACT Berkeley Center, Berkeley


Saturday & Sunday, 10:30 am, 1:30 and 4 pm
Families will delight in this heartwarming, jazzy-rhythmed tale of friendship, as cheerful Frog and his more reserved pal Toad swim, sled, bake cookies and otherwise romp through a year of comic adventures, accompanied by their woodland animal friends, like Snail, who, by golly, will deliver the mail. Recommended for ages 3 and up. Tickets: Adults $30, Child (8–14) $26 & Senior $28. Purchase tickets here. Location: 2055 Center Street, Berkeley. Event details.
Nike Missile Site Open House
Marin Headlands, Sausalito
Saturday & Sunday, 12:30–3:30 pm
Unique in the National Park Service, this restored Cold War anti-aircraft missile site has intriguing stories to tell. Take a ranger-guided tour of this restored facility, and learn about its history from volunteers, many of whom served at sites like. Free. Read about our visit here. Event details.
Laternenfest
Pioneer Park, Novato
Saturday, 5:30–8 pm
Join us for a centuries-old German tradition of songs and brightly-colored lanterns to celebrate Martins Tag! We will have a lantern parade and refreshments will be available. The parade is free! Only $5 per person if you would like a cup of hot chocolate and a Weckmann (jumbo gingerbread man) afterward. Everyone is welcome. Location: 1007 Simmons Lane, Novato. Event details
Santa Rosa Laternenfest


German Language School of the North Bay, Santa Rosa

Saturday, 5:30–7:30 pm
We will celebrate St. Martin's Day, a centuries-old German tradition with a lantern parade. The parade is free! Only $5 for hot chocolate and a Weckmann (jumbo breadman).
Everyone is welcome, so bring friends and your lantern! Location: 1315 Pacific Avenue, Santa Rosa. Event details

Indoor Power Play
Cal Star Gymnastics, Novato
Saturday, 6–9 pm
Drop the kiddos ( K-8th grade) for some indoor fun. They can run, jump and play in an open gymnastics environment. Bring the kids in on a rainy day or any day to burn some energy. Cost: $30 per child. Location: 70 Digital Drive, Suite #3 in Novato. Event details
Christmas House at West End Nursery (see Friday for details).
NorCal Ice (see Friday for details).
Holiday Ice Skating in Union Square (see Friday for details).
Sunday, November 10
Civic Center Farmers' Market
Marin Civic Center, San Rafael
Sunday, 8 am–1 pm
There's lots of organically grown produce, breads, eggs, and fresh cut flowers, as well as live music, bounce houses, and more. This farmers' market is a great one to take the kids to. It's located in the main Civic Center parking lot. Event details.

U-pick Organic Apples
Chileno Valley Ranch, Petaluma
Sunday, 9 am–2 pm

Visit Chileno Valley Ranch to pick crunchy, delicious, organic apples and tour the farm. Other farm products for sale including grass-fed beef and lamb, cheese, and olive oil.

RSVP here

. $8 per family with advance reservations; $12 drop-in. Apples cost $2 per pound. Location: 5105 Chileno Valley Road, Petaluma.

Event details.

Marin Veteran's Day Program
Marin Center, San Rafael
Sunday, 9:30 am
Honor those who have served our country. Marin's Veterans' Day program will begin in the Marin Veterans' Memorial Auditorium with music, military exercises, and a brief address. It will continue in front of the World War I, World War II and Korean, Vietnam and Merchant Marine Memorials on the Avenue of the Flags. Refreshments will be served after the ceremony in the Redwood Foyer. Free. Event details
Marin Waldorf Children's Faire
Marin Waldorf School, San Rafael
Sunday, 10 am–3 pm
The Marin Waldorf Children's Faire is one of the most treasured events in Marin County. Admission is free and all are welcome! Come enjoy magical games, crafts, puppet shows, unique vendors, organic food and more. Mention Marin Mommies and get $5 worth of tickets per family. Location: 755 Idylberry Road. Event details
Nature for Kids: Rock Spring
Rock Spring Trailhead, Mt. Tamalpais
Sunday, 10 am–1 pm
The many trails in this area traverse some of the most diverse and picturesque land in the county, making this a lovely place to spend a day. Be sure to bring layering options as you never know if we'll be over or under the fog at this time of year. Remember to bring lunch. Event details
Marine Science Sunday: An Ocean Feast
Marine Mammal Center, Sausalito
Sunday, 10 am–5 pm


This month we celebrate Thanksgiving by highlighting the amazing feeding and hunting strategies of marine mammals! Find out about how orcas have learned together to wash seals off the ice in Antarctica, humpback whales use bubbles to trap fish and otters use tools to crack open their favorite foods!

Event details
San Francisco Veterans Day Parade
Fisherman's Wharf/Embarcadero, San Francisco
Sunday, 11 am–1 pm
The parade will start on the Embarcadero at North Point Street, traveling north-west on The Embarcadero to Jefferson Street, then west on Jefferson Street past the review stand on Jefferson Street near Leavenworth Street. Parade units will disband at the last block of Jefferson Street at approximately 1 pm. Event details
Magic with Patrick Martin
Charles M. Schulz Museum, Santa Rosa
Sunday, 3–4 pm
Join internationally celebrated sleight-of-hand magician Patrick Martin for a comedic stage show full of mesmerizing tricks and mysteries, presented in conjunction with the exhibition Abracadabra! The Magic of Peanuts. Included in price of admission ($5–$12). Location: 2301 Hardies Lane, Santa Rosa. Event details
Christmas House at West End Nursery (see Friday for details).
NorCal Ice (see Friday for details).
Holiday Ice Skating in Union Square (see Friday for details).
Monday, November 11 (Veterans' Day)
NPS Free Entrance Days
Muir Woods National Monument, Mill Valley
Monday, 8 am–sunset
Visit Muir Woods and its majestic redwoods for free on Veterans Day! Reservations and shuttle still required. Event details.
Free Day! Charles M. Schulz Museum
Santa Rosa
Monday, 10 am–5 pm
Enjoy free Museum admission this Veterans Day in honor of Charles M. Schulz's military service and the military service of others. Location: 2301 Hardies Lane, Santa Rosa. Event details.
Veterans Day Parade
Downtown Petaluma
Monday, noon–3:30 pm
For more than 30 years, Petaluma has proudly presented the largest Veterans Day Parade in Northern California. Get in the spirit of the day by enjoying patriotic music in Walnut Park, located at Petaluma Blvd. and D Street. The parade begins at 1pm in historic downtown Petaluma and concludes at Walnut Park. Huey helicopters, tanks, and more than 100 entries will fill the parade with plenty of pomp and circumstance. Event details
Sign up for tips & news for Marin families!