Back to top
Noah's Ark Preschool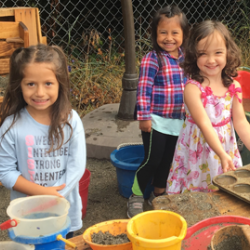 The Future Starts Here! At Noah's Ark Preschool, the education, care, and safety of your child is very important to us. Preschoolers are full of energy and inquisitive about their environment. Children learn and grow when the world around them is full of fun and creative ideas that encourage their own imagination.  Since 1979 our school has provided families with developmentally appropriate learning opportunities for student success as they transition to elementary school.
Our staff is highly qualified and committed to providing a preschool that is rich in art, STEM, music & movement, language arts, drama, and outdoor play. Our curriculum is theme-based and designed in a way that every child can be successful and thereby develop their confidence and self-esteem. Emphasis is placed on a strong home-school relationship. We work closely with parents as to ensure each child's lifetime success.
Play is at the foundation of children's learning.  
Children develop a love of art by being introduced to various artist, styles, tools, and mediums.  
Children become problem solvers and out-of-the-box thinkers by engaging in STEM activities designed for intentional learning opportunities.   
Music & Movement are incorporated into every aspect of your child's day.  

New and expanded vocabulary is continually introduced through books, poems, rhymes, and asking open-ended questions that encourage children to think deeply.   

Our Outdoor Classroom encourages children to explore and develop their natural curiosity.
Children learn about God's love through His word, nature and the teaching of simple Bible truths.  
Highlights of Our School
Noah's Ark Preschool is a part of Marin Christian Academy (MCA).  
Active participant of Marin Quality Counts
Academic excellence developed through play and exploration

Competitive tuition

Noah's Ark serves children ages 2-5.9 (TK age)

MCA serves children Kindergarten to High School

Extended daycare 6:30am-6:00pm with year round program.

Outstanding student/teacher ratios
For more info, call 415-892-5713 .