Back to top
Online Resources for Families at the Marin County Free Library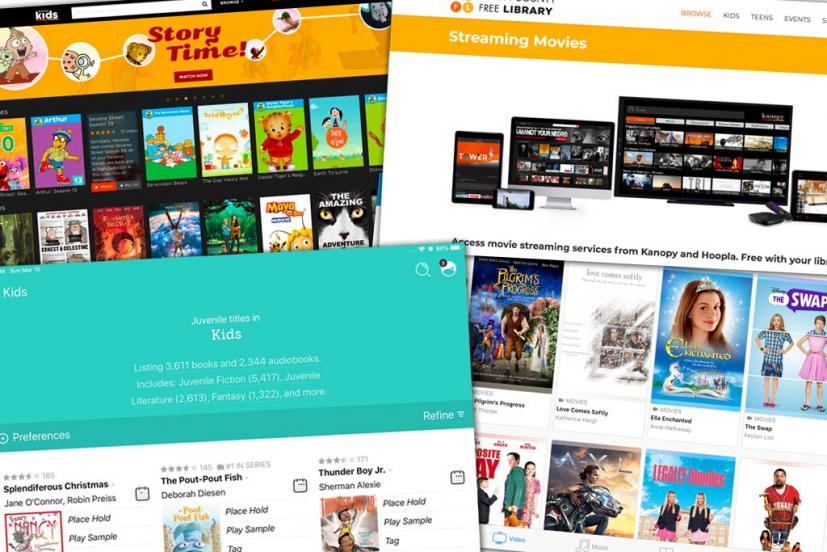 While all Marin County Free Library branches are closed during the COVID-19 crisis, did you know they offer a number of online resources for families that you can access without leaving the house? From ebooks and comics to movies and TV shows, there's an offering for everyone in the family, and it's all free with your library card. If you don't have a library card, you can order one online and print it out. Learn more at www.marinlibrary.org.
Keep in mind these services are for patrons of the Marin County Free Library, so if your local library (San Rafael, Belvedere Tiburon, Sausalito, San Anselmo, and Larkspur) isn't in that system, check with them since they most likely offer similar services.
E-Books & Other Publications
The library has numerous e-book titles that can be read online or downloaded for access in an ebook reader. Our favorite e-book app for publications offered by the libary is Libby, where you can search for, browse, check out, and read books on your iPad or other mobile device. On Libby, you can check out up to 15 publications at a time, and books are checked out for the standard 21-day library checkout period. You can also download and listen to audiobooks with Libby. Download Libby from the App Store or Google Play and login with your library card number and PIN.
You can also access the Hoopla service through the Marin County Free Library. Hoopla offers a variety of media, including e-books (with many children's titles), audio books, and a huge selection of comic books and graphic novels. Hoopla lets you check out up to 8 items for up to 21 days each.
In addition, Marin County Free Library cardholders can also access the online version of The New York Times for free and read magazines from RB Digital Magazines.
Movies, TV Shows & Music
You also access streaming movies and TV shows for free from the Marin County Free Library. Watch movies on your phone, computer, or tablet or aircast them directly to your TV. The Kanopy website and app allows you to stream up to 8 movies—including a huge selection of art house, classic, and foreign films—or unlimited children's movies.
Hoopla, which we mentioned above, also offers a variety of streaming movies or TV shows for adults and families. Hoopla also allows you to check out music, from the latest pop hits to classical standards.
Sign up for tips & news for Marin families!