Back to top
Our Top 10 Spooky Halloween Movies for Families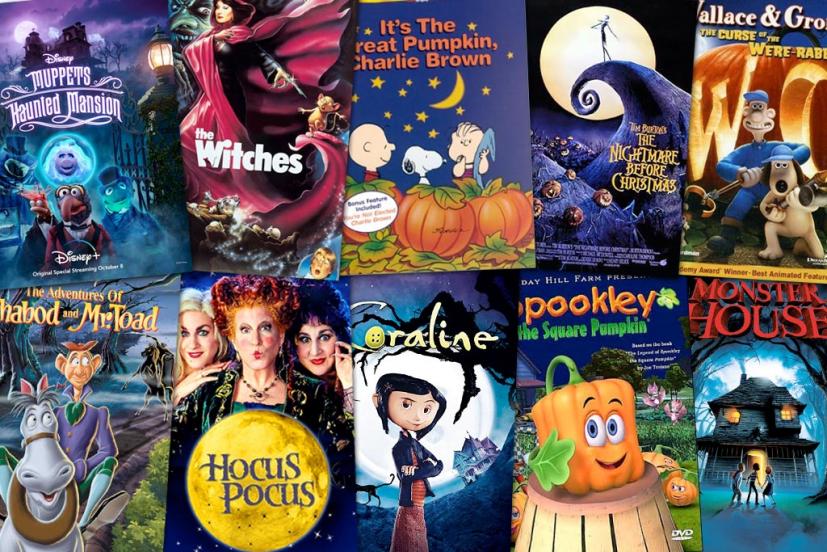 There's nothing much better than watching a spooky (but not too scary) movie with the family on a cool fall evening and sharing a big bowl of freshly popped popcorn. I polled everyone in our family to find out what their favorite Halloween movies were, and we came up with this list of 10 that we think are must-sees every October.
Wallace and Gromit: The Curse of the Were-Rabbit (G)
Wallace and Gromit, the ever-charming cheese-loving claymation duo, star in this clever sendup of monster movies, where something horrible ravages gardens and threatens a village's veggie-growing competition. Cute and clever with plenty of jokes (including a few that only grown-ups will get). Ages 3 and up.
It's the Great Pumpkin, Charlie Brown (G)
This Halloween classic has been family favorite since 1966, so you probably watched it when you were a kid. Charlie Brown still gets nothing but rocks while trick-or-treating, Linus is always positive that the Great Pumpkin will pay a visit to the pumpkin patch, and it's still as funny and touching as ever. For all ages.
Muppet Haunted Mansion (NR)
In this new Halloween special from Disney, your favorite Muppet characters brave (or inhabit) Disneyland's iconic Haunted Mansion. The Great Gonzo and Pepe the King Prawn are challenged to spend the night in the mansion by the Ghost Host (Will Arnett) where they meet ghostly Muppet characters and fend off the ghost of Constance Hatchaway (Taraji P. Henson). Plenty of fun star cameos, too. Streaming on Disney+. For all ages.
Hocus Pocus (PG)
Three long-dead witches come back to life to wreak havoc in present-day Salem, Massachusetts on Halloween. Three kids, a talking cat, and a 17th-century zombie save the day, despite oblivious parents and townspeople. A great Halloween flick for kids ages 7 and up.
Coraline (PG)
Feeling unappreciated by her parents, Coraline finds a secret door in their new home that leads to an parallel world presided over by the Other Mother and populated by alternate versions of the people in her life. All goes well until the Other Mother decides Coraline should stay with her forever. Adapted from Neil Gaiman's novella, this animated feature can be pretty scary at times (it creeped me out more than it did the kids), so it's best for ages 8 and older.
Spookley the Square Pumpkin (G)
Based on the picture book of the same name, this story about a differently shaped pumpkin and his farmyard friends is funny and a cut above most Halloween programming for young children. Ages 1–5.
The Nightmare Before Christmas (PG)
Tim Burton's classic, creepy, stop-motion extravaganza tells the story of Jack Skellington, King of Halloweentown, who decides to take on Christmas after discovering neighboring Christmastown, but can't quite get it right. It functions equally well as a both Halloween and Christmas movie! Ages 7 and up.
The Legend of Sleepy Hollow (G)
This 1940s Disney short is surprisingly faithful to Washington Irving's tale of an awkward schoolmaster menaced by the (supposed) ghost of a headless Hessian soldier. Narrated by Bing Crosby and paired with the equally delightful (though not at all scary) adaptation of The Wind in the Willows as The Adventures of Ichabod and Mr. Toad. Fun for ages 5 and up.
The Witches (PG)
This adaptation of Roald Dahl's novel is one of those rare movies that's actually better than the book (which is pretty good, too)! A young boy and his grandmother stumble across a convention of witches during their stay at a seaside hotel. Anjelica Huston is fantastic as the Grand High Witch, and Jim Henson's Creature Shop provides the clever special effects and puppetry. Some dark and scary scenes make this best for ages 7 and up.
Monster House (PG)
This scary 3D animated movie features a fantastic cast of voice actors and some truly hair-raising moments. Three pre-teens attempt to convince adults that the spooky house in the neighborhood is actually a monster. Make sure you stay tuned through the closing credits, too. Scary scenes make this ideal for kids 9 and older.
Sign up for tips & news for Marin families!