Back to top
A Scenic Wetland Walk at McInnis Park
Most Marin families know San Rafael's McInnis Park for its golf course, mini golf, skate park, and sports fields, but you'll also find a fantastic walk through the adjacent wetlands that's suitable for everyone in the family. It's a 2.4-mile out-and-back hike with few elevation changes, making it perfect for families with young kids, bikes, and sturdy off-road jogging strollers.
The McInnis Marsh trail follows century-old levees where Las Gallinas Creek empty into San Pablo Bay. This wetland area was diked back in the early 1900s to create land for a cattle ranch. Today, it's an important ecological habitat for protected species like the salt marsh harvest mouse and the black rail. Expect to see plenty of birds here, from hawks and other raptors to a wide variety of ducks, egrets, herons, and other waterfowl.
Start your walk from the parking lot adjacent to the McInnis Park golf course. You'll walk out past the fairway into the wetlands where you'll be treated to sweeping views of Mt. Tam, Santa Venetia, and even the East Bay. Watch for planes taking off and coming in to land at the nearby Marin Ranch Airport. It's always a thriling sight!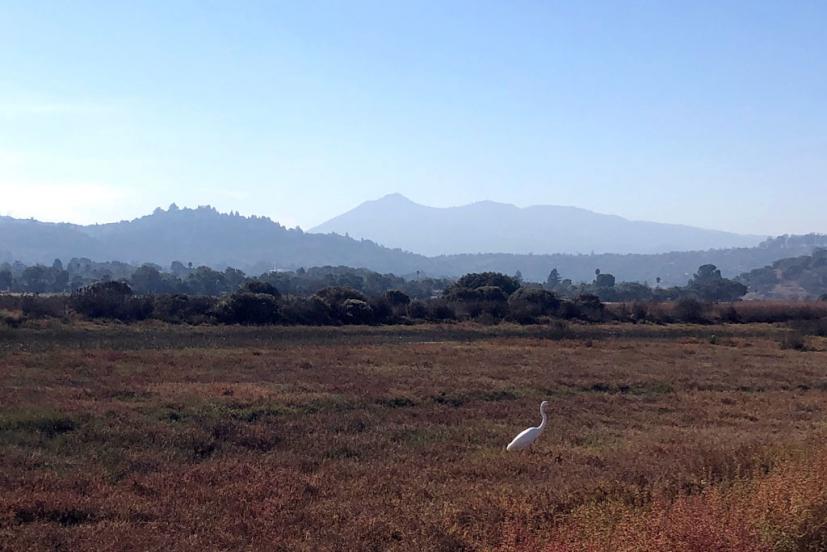 The trail loops back on itself in several place, so you can vary the distance and direction of your hike if you like. Afterwards, if you feel you worked really hard, you can treat yourself to a slush or soft-serve gelato at the Slush by the Park snack bar near the miniature golf course. (Pro tip: get a 50/50 with both slush and gelato.) This is one of our favorite walks in Marin, and we keep revisiting it over and over again.
If You Go
McInnis Park is located at 310 Smith Ranch Road in San Rafael. It's open from 7 am to 8 pm during the summer, 7 am to 7 pm during the spring and fall, and 8 am to 5 pm during the winter. Check the Marin County Parks website for exact dates and times.
While COVID-19 restrictions are in place, all visitors must wear masks or other face coverings when they can't keep 6 feet apart from other parties on the trail. The trail is in open unshaded space, so hats and sunscreen are good ideas and make sure you bring plenty of water.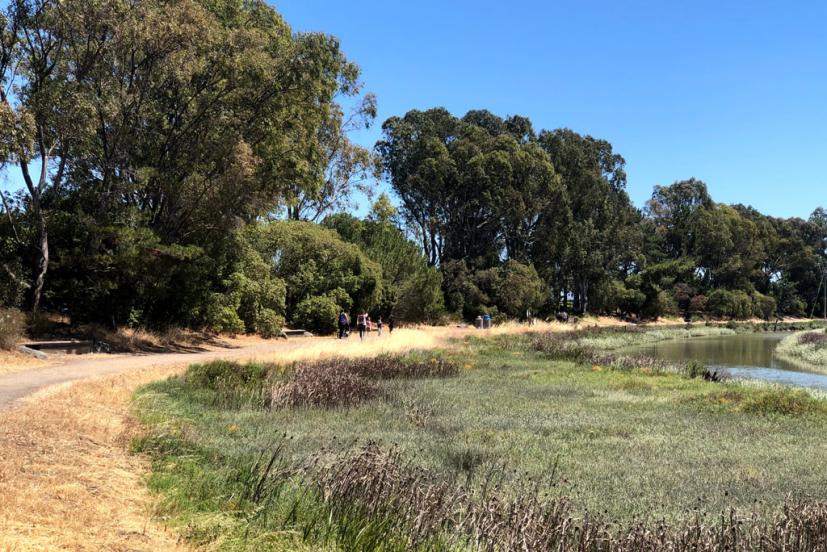 To get there, take Highway 101 to the Lucas Valley/Smith Ranch Road exit north of San Rafael. Head east onto Smith Ranch Road and follow the road until you enter McInnis Park. Park admission and parking are free.
Food is available at the McInnis Park Club Restaurant at the Golf Center, and the Slush by the Park snack bar. All food is currently take-out only due to COVID-19. The park also has a picnic area with charcoal grills, and there are picnic tables at the skate park and the Las Gallinas WIldlife Ponds.
Sign up for tips & news for Marin families!