Back to top
Stay Cool this Summer at the Water Park at Spring Lake Regional Park
Photo: Sonoma County Regional Parks
Looking for a way to cool off this summer? Check out the Water Park at Spring Lake Regional Park in Santa Rosa, which opens for another season from Memorial Day weekend through Labor Day. Surrounded by redwood trees and a grassy picnic area, this is a great place to spend a warm summer day. We visited the park last summer and had a blast, and we're looking forward to having fun there again this season.
This inflatable water park includes multiple play stations for both kids and adults, including slides, bounce islands, a bouncy bridge, a trampoline, climbing cliffs, balance beam, and more. Test your strength by bouncing, sliding, balancing, climbing, and more! Spring Lake's three-acre swimming lagoon is filled with filtered spring water which is chlorinated to exeed water quality standards.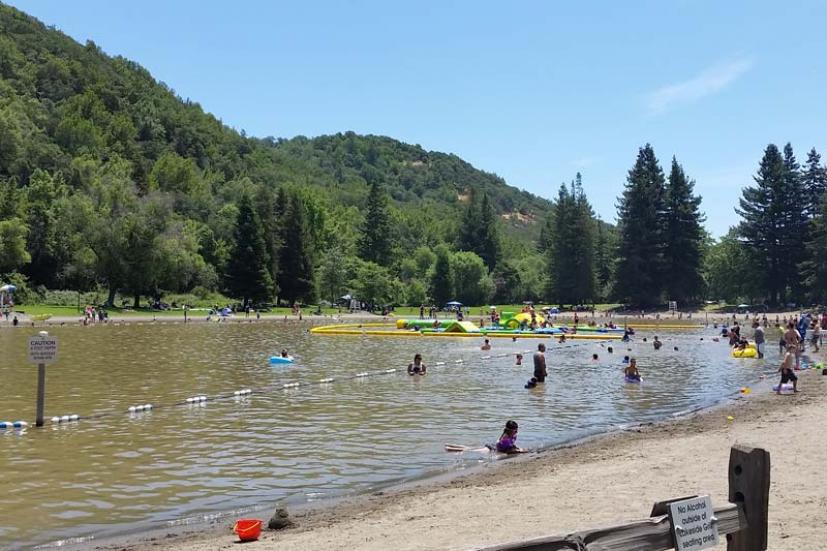 The swimming lagoon and water park definitely have that old-school summertime feel to them, and always remind me of some place I would have visited when I was a kid. Pitch your umbrella or canopy on the sandy beach or lawn, kick back, and let have a blast in the water. Kids under 6 (or 42 inches tall) are not allowed on the water park structures, although they can swim and wade in the water.
At the adjacent 72-acre Spring Lake, you can rent watercraft like stand-up paddleboards, canoes, kayaks, and paddleboats, with rates starting at $12 per hour. You can fish for large-mouth bass, sunfish, and catfish in the lake, too (anglers 16 and older need a California fishing license). The park's Environmental Discovery Center offers hand-on exhibits and nature activities for families.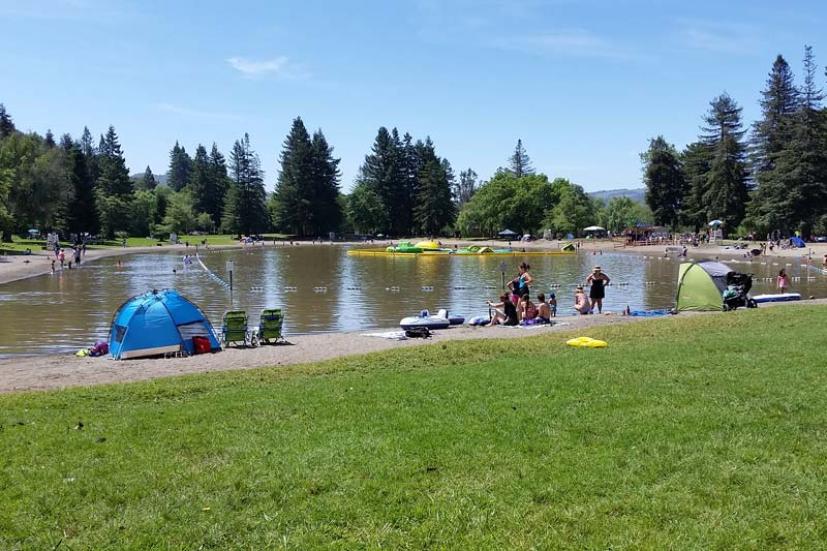 If You Go
Spring Lake Regional Park is located at 393 Violetti Road in Santa Rosa. To get there, take Highway 101 north to Santa Rosa and take the Highway 12 exit and head east. Exit at Farmer's and head north, then turn right onto Montgomery Drive. Follow Montgomery Drive until you get to Channel Drive, where you'll turn right, then turn right onto Violetti Road and drive into the park.
The water park is open daily through Labor Day from 11 am to 6 pm. There is a $7 per vehicle parking fee (free for Sonoma County Regional Parks members), and all-day water park admission costs $10 per person. You can also buy an Otter Pass, which includes one hour of paddle board or boat rental, for $20, or season pass for $60 that includes daily water park admission and an hour of boat rental each day. Lifeguards are on duty, and everyone will be fitted for a life vest, the wearing of which is mandatory. Admission for swimming is free. There are plenty of great places to have a picnic, and many of the picnic spots have BBQ grills.
For more info, visit www.parks.sonomacounty.ca.gov.
Sign up for tips & news for Marin families!