Back to top
Vilda Nature Summer Camps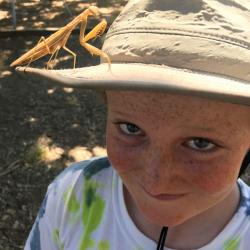 Go kayaking, learn archery, hike, meet an owl face to face, do carpentry, swim, backpack, learn about wild edibles, work on nature based crafts, build a primitive shelter, make new friends, climb a tree, earn skill badges and much more all wrapped in lots of adventure and play.
Vilda's beloved nature day camps are an organic, all natural, local, free range, 100% awesome summer experience in the hills, lakes, bays and beaches of Marin, Petaluma and Tahoe/Truckee. Founded in 2008, Vilda is a Marin based non-profit with the mission of facilitating meaningful connection to the natural world. Vilda's highly trained adult instructors provide kids with a caring individualistic experience at a 1:6 instructor to camper ratio or better.
Vilda's summer camps run from June - August and always include their 
core-curriculum
 with each camp having its own thematic focus:
Where: Fairfax, San Rafael, Novato, Petaluma, Point Reyes, Truckee, Tahoe
When: June - August. Multiple weeklong sessions available. See camp website for specific dates and locations.
Ages: Vilda summer camps are available for kids ages 4-13.
Activities: Nature awareness, Wilderness Survival, Games, Hiking, Animal Tracking, Plant ID and uses, Primitive Skills, Wilderness safety and lost-proofing, Nature Crafts, Gardening, Carpentry, Swimming, Kayaking, Stealth, Archery, Bird Language, Ecology & Sustainable Practices, Journaling, Nature Meditation, Yoga or Movement, Peacemaking and Team Building, Leadership Skills.
Cost: Tiered pricing (pick the price that works best for your family), with 10% discount when registering before March 15. Scholarships available.
Contact: Visit www.vildanature.org or email info@vildanature.org or call 415-747-4840.
Email: 
Summer camp activities:
Environmental
Science and Nature
Summer camp age level:
Preschool
Grades K to 5
Grades 6 to 8
Grades 9 to 12
Summer camp location:
6 School Street Suite #260