Back to top
Tonight! Strawberry Recreation Community Night - Fun for the Whole Family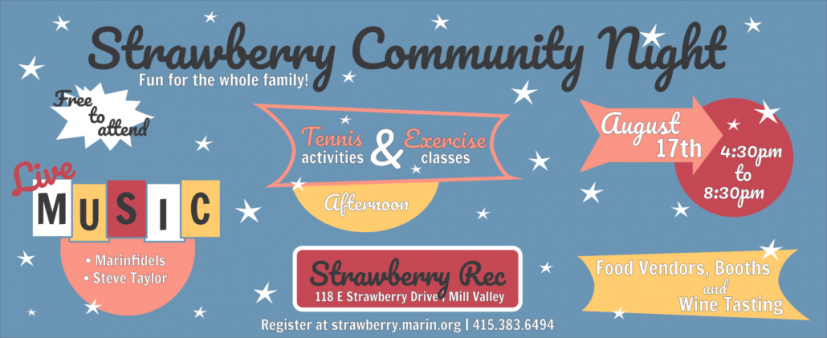 Join Strawberry Recreation District this evening — Tuesday, August 17 — for a free Community Night! From 4:30 to 8:30 pm, enjoy live music from the Marinfidels and Steve Taylor, food vendors, wine tasting, community organization and business booths, and more.
While you're there, you can learn about all the fantastic programs, classes, and activities Strawberry Rec has to offer. In addition, they will be offering free tennis and group exercise classes on Tuesday from 2:30 to 4:30 pm. If you plan on attending this free event, please register in advance here. Pack a picnic or purchase food and don't forget to bring your blankets and lawn chairs.
Strawberry Rec is located at 118 East Strawberry Drive in Mill Valley. For more information visit strawberry.marin.org or call (415) 383-6494.
Sign up for tips & news for Marin families!