Back to top
Truckee - A Great Place For a Family Bike Ride
Marin Mommies presents a sponsored article from Bike Truckee.
This summer, bring your family to Truckee and enjoy the Truckee River Legacy Trail. It is a lovely moderate ride open to all ages and abilities.
Around the corner from the heart of the downtown Truckee historic district is the start of one of the finest bike paths in the region. The Truckee River Legacy Trail is a beautiful bike path that follows the Truckee River for six miles. As the trail rolls along the banks of the Truckee River, you will enjoy stunning views of the Sierra Crest, Northstar ski area, and the surrounding mountains. The trail is tucked away from roads and distant from busy tourist areas. You can do the round trip ride in about two hours or make a longer adventure and stop to enjoy the historic plaques, swimming holes, and picnic spots.  There are also several geocache locations along the route, which is amusing for kids of all ages.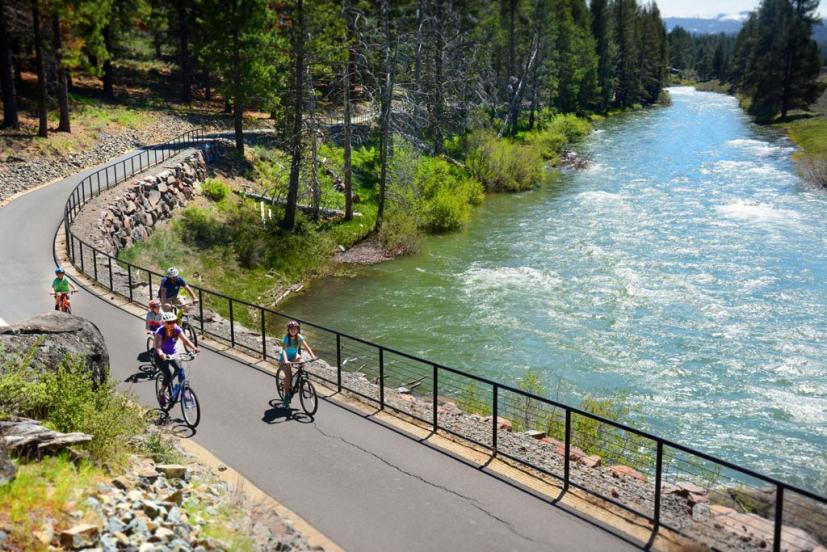 Your whole family can enjoy the beauty of the great outdoors without all the hassle of bringing everything you need to ride the trail. Bike Truckee is a bike rental shop located in the heart of downtown. They have comfort bikes, kids bikes, kid carrier trailers, tag-a-long bikes, mountain bikes, and electric bikes. They are a full service rental shop owned and operated by longtime locals Rachel and Dennis Elste. They are raising their three children in Truckee and know all about the challenges families face when trying to get out for an adventure.
Their shop boasts great customer service (see Yelp for their 5-star reviews!) and will provide you with bikes, helmets and maps so your family can enjoy the bike trails in Truckee. In addition to the Legacy trail, there are over 18 miles of paved bike paths in Truckee. All of the trails connect to the downtown area, so there are options for multiple rides and it is possible to add milage to the Legacy trail ride if you want more. The legacy trail ends in the charming neighborhood of Glenshire. The area has the Glenshire Pizza Company for lunch and the Glenshire General Store for ice cream and cold drinks.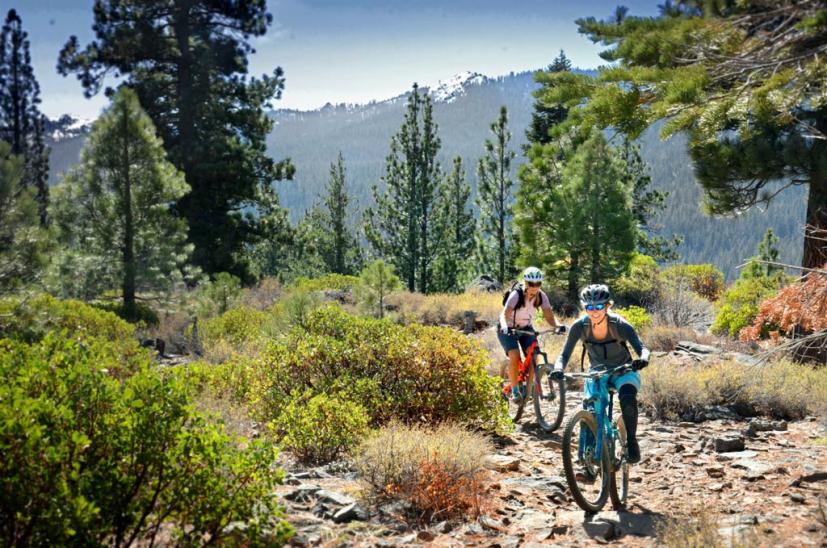 This summer, take a trip to Truckee and enjoy an outdoor family friendly adventure. Ride the Truckee River Legacy trail and get everything you need from Bike Truckee. They also offer hard tail mountain bikes and full suspension mountain bikes so you can check out the many miles of single tract trail that Truckee has become infamous for. Visit their website or call Bike Truckee at (530) 386-5700 to reserve your bikes today!
Dennis and Rachel Elste
truckeebikerentals.com
(530) 386-5700
Sign up for tips & news for Marin families!