Back to top
Unique Summer Adventures with Marin GreenPlay Camp!
Marin Mommies presents a sponsored article from Marin GreenPlay Camp, sponsor of the 2023 Marin Summer Camp Guide.
This summer, sign up the kiddos for a unique summer adventure at Marin GreenPlay Camp! Marin GreenPlay Camp, voted Best Summer Camp by Marin IJ readers, is an innovative and place-based nature awareness camp for kids entering kindergarten through 12th grade that takes place at locations throughout Marin County with an overnight option in Tahoe. Marin GreenPlay, now in its 14th year, is the sponsor of our 2023 Marin Summer Camp Guide! 
For the 2023 season, Marin Greenplay offers unique camps for a wide range of age groups. For the youngest campers, Watershed Warriors, is a nature program full of exploring, games, art, storytelling, and more. This is age-appropriate, fun, timeless, slow play, and safe exploration. Campers will use all of their senses and learn to relate to each other. Each week features different locations such as Green Gulch Farm and creekside and bayside locations in Mill Valley, Tennessee Valley, Tiburon and the Ross Valley.
Older children in grades 3 and up will enjoy Dog Days, the camp for kids and their dogs (no dogs required — all of the dogs approved to attend camp are shared), focusing on learning ethical dog walking on Marin's extensive trail system and coyote awareness. In Digital Natives camp, also for grades 3 and up, kids learn to use nature-based apps like iNaturalist, Seek, and more to explore nature like scientists collecting data on local plants and animals. Navigation apps and the Geocaching app will be used so that campers can enjoy experiencing the world's largest treasure hunt. Both these camps meet at various locations in southern Marin.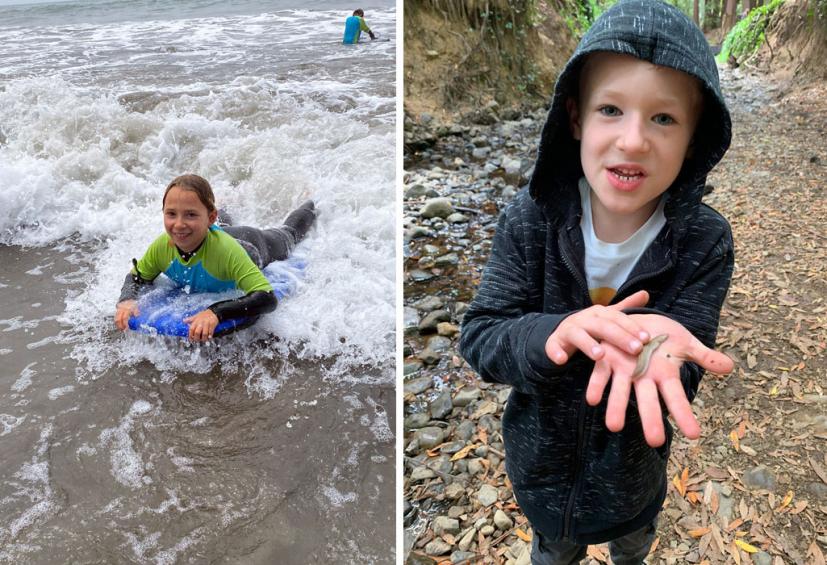 Long time favorites where transportation is provided to some of the most beautiful spots in Marin County and beyond are Ocean Explorers, Ride Five, and Rock Five. Ocean Explorers offers beach exploration and games, boogie boarding and kayaking at Muir Beach, Stinson Beach, Bolinas Lagoon ,and more. Ride Five offers 5 days of beach exploration and games, boogie boarding and marine science exploration at Muir Beach, Stinson Beach and more. Level one and advanced outdoor rock climbing is offered as part of the Rock Five program, where kids master single-pitch top rope rock climbing under the direction of AMGA certified expert rock climbing staff.
New for summer 2023 is Rock Strong, which features 3 days of outdoor rock climbing, 4 karate sessions at the Martial Arts Academy of Marin and 2 yoga and 2 meditation sessions, as well as time for nature exploration. Again, transportation is provided.
Rock Beyond: Tahoe Kids, for grades 6 to 12, is a multilevel, state-the-art, overnight, outdoor rock climbing camp where the kids bunk in a vacation home in Tahoe and learn single pitch climbing on some of the most beautiful crags in the area with professional certified climbing guides. It's a wonderful experience in independence and community as the kids participate in meal prep and play games and explore nature after several hours of climbing per day. If you want to get out on the rocks with your child or teen, then check out Greenplay's Rock Beyond: Tahoe Families program!
Teens can also participate in Marin GreenPlay's after-school Youth Leaders Program training course held each May, which provides them with naturalist and leadership skills and invites them to help out at camp year after year through high school. 
Camp sessions cost from $295 to $2,095. Half-day, full-day, and overnight options are available, as is free before- and after-care. Marin Mommies readers: get a $25 per week discount with code MARINMOMMIES. COVID precautions are in place. For more information or to register, visit www.maringreenplay.com or call (415) 264-2828.
Sign up for tips & news for Marin families!