Back to top
A Visit to the Marine Mammal Center
Ever wonder who takes care of the seals, sea lions, and other marine mammals that end up stranded on California's coast? Marin's Marine Mammal Center has been on the scene rescuing and caring for sick, injured, malnourished, and abandoned marine mammals—including elephant seals, seal lions, harbor seals, sea otters, and even whales—since 1975. Stop by for a visit and learn about what they do.
Located at Fort Cronkhite in the Marin Headlands, the Marin Mammal Center's new $32 million facility opened in the summer of 2009, and offers daily tours, as well as educational activities for the entire family, especially on Marine Science Sundays. It's a wonderful destination as an outing on its own, and as a not-to-miss part of a visit to the Headlands.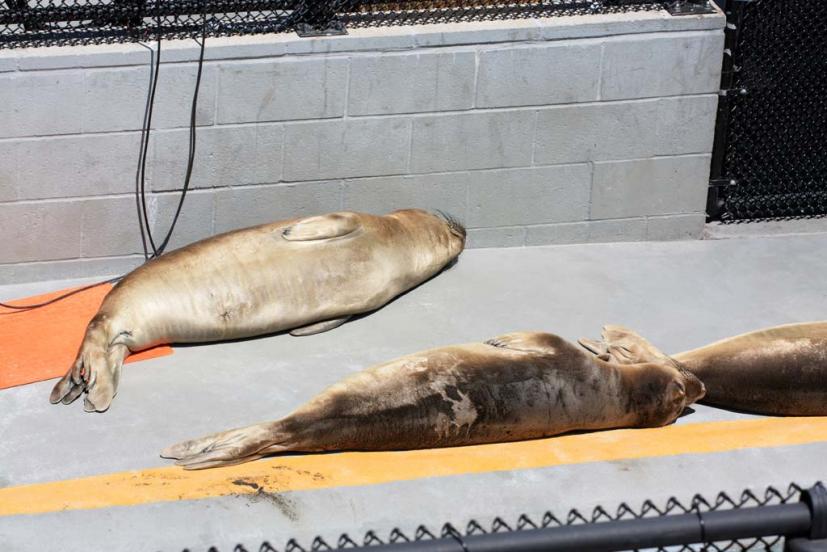 Admission and self-guided tours are free of charge. Pick up a guide card from the information desk (remember to return it on your way out) and take a look around. At the back of the center you'll find the pools and pens where the Center's patients stay while recovering.
The best place to check out the pens and their residents is from the second floor observation area. There are often volunteer docents stationed here who can answer questions about what you're seeing down below in the enclosures, and who the current patients are. Remember to be quiet here—you're visiting a hospital for sensitive wild animals.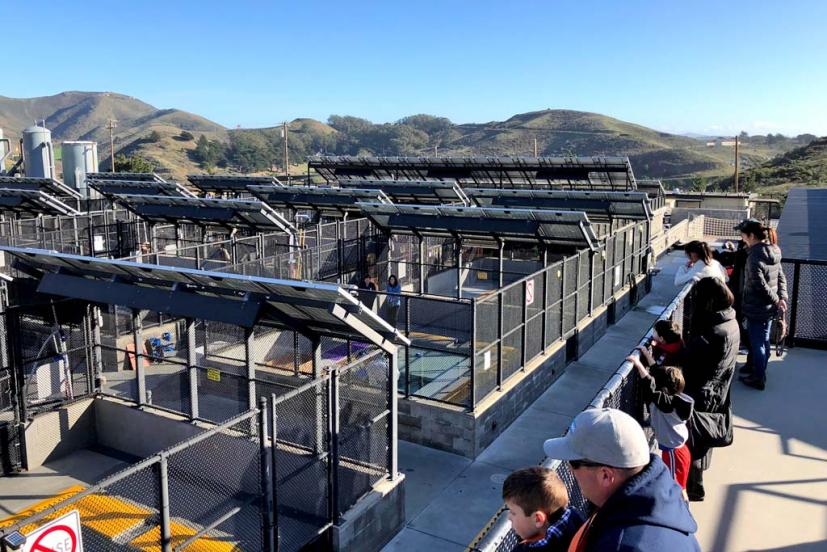 On our recent visit there the Center's hospital was packed with pinnipeds, most of which were sea lions, but with quite a few elephant seals and harbor seals, too. It's a fun place to visit at any time of year, but its busiest in the spring with the appearance of many seal and sea lion pups on the California coast.
On your visit you can also look into the fish kitchen where meals are prepared for the Center's patients, the chart room, and the laboratory. The Center's classroom is open as well, where you can watch a video (while we were there it was playing a segment from Mike Rowe's Dirty Jobs featuring the Center), work on kids' coloring and activity pages, and explore a variety of marine mammal specimens, including seal, sea lion, and sea otter pelts, skulls, x-rays, photographs, and more.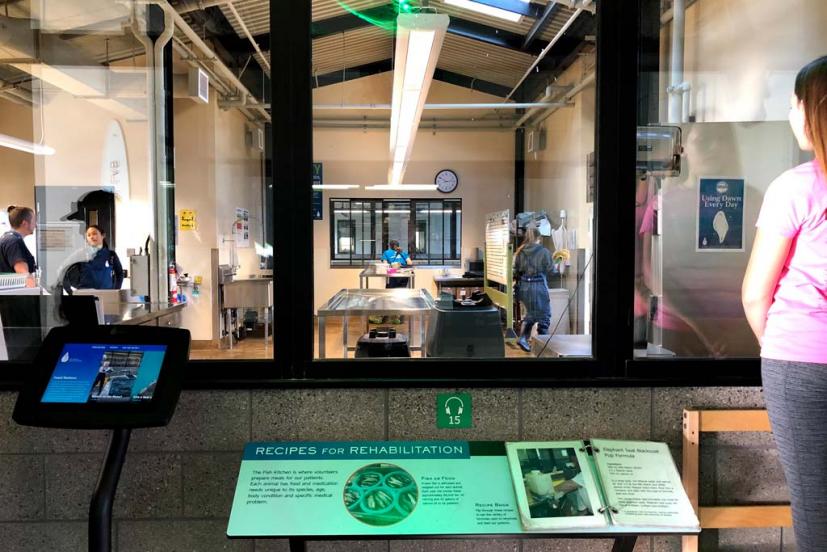 If you're there on one of the Marine Mammal Center's Marine Science Sundays, your family can take part in free themed educational activities in the classroom. April's theme is "Magnificent Migrations", and programs are offered on April 8 ad 22 from 10 am to 4 pm. We've attended Marine Science Sunday programs, and they're a lot of fun and really informative. It's perfect for kids of all ages, but those ages 7 to 14 will probably get the most out of it.
Get more out of your visit by taking a docent-led tour or an audio tour of the Marin Mammal Center facility. Docent-led tours include insights into the workings of the Center and stories about its patients. Tours cost $9 for adults; $5 for students 5–17, seniors 65+, and Marine Mammal Center members (plus a guest); and are free for children 4 and under. Tours are also free if you become a member on that day!
Tours last about an hour and take place Fridays and Mondays at 1 and 3 pm, and Saturdays and Sundays at 11 am and 1 and 3 pm. During school breaks (winter break, spring break and summer vacation) tours are offered daily at 11 am, 1 pm, 3 pm.
If you'd rather go at your own pace, you can rent an audio tour at the gift shop. Audio tours last approximately 35–45 minutes and can be taken in any order you wish. You'll get to listen to the story of the Marine Mammal Center as told by some of its most experienced staff. Audio tours cost the same as docent tours. You can get a $2 discount on either tour by printing out and presenting this PDF flyer at the Center during your visit.
Private group tours (for groups of 10 or more) and hands-on school tours and programs are available and must be booked in advance. Visit their website for more information on how to schedule and book your tour.
All tour fees go to funding the Center and caring for its patients. You can also "adopt" a marine mammal: for $30 and up you can support a seal, sea lion, sea otter, or other patient and get an adoption certificate and even plush toys and books. See the full adoption lineup online here.
If You Go
The Marine Mammal Center is open every day—except Thanksgiving, Christmas, and New Year's Day—from 10 am to 4 pm. It's located at 2000 Bunker Road at Fort Cronkhite in the Marin Headlands near Sausalito.
To get there, take 101 to the last Sausalito exit  before the Golden Gate Bridge (exit 442). At the stop sign, turn right onto Alexander Avenue and follow it under the freeway. Take your first available left turn onto Danes Drive, then head through the incredibly long Bunker Road tunnel (it's one-way only, so you may have to wait at the entrance for up to five minutes). Follow Bunker Road into the Marin Headlands and to Fort Cronkhite. Bear right up the hill and follow the signs to the Marine Mammal Center. Parking spaces are located in front of the Center's building, but spaces are limited.
The Marine Mammal Center has clean restrooms and a gift shop (open 10 am–5 pm daily). There's no food available on-site or anywhere else in the area for that matter, so bring your own. There's a small picnic area—with fantastic Pacific views—at the Center, and you'll find more picnic spots down the road near Rodeo Beach or elsewhere around the Headlands.
For more information about visiting the Marine Mammal Center, call them at (415) 289-7325 or visit them online at www.marinmammalcenter.org.
To report a stranded seal, sea lion, or other marine mammal, call the Center's 24-hour rescue hotline at (415) 289-SEAL (7325).
Sign up for tips & news for Marin families!