Back to top
Welcome 2021 at the Asian Art Museum's Virtual New Year's Bell Ringing Ceremony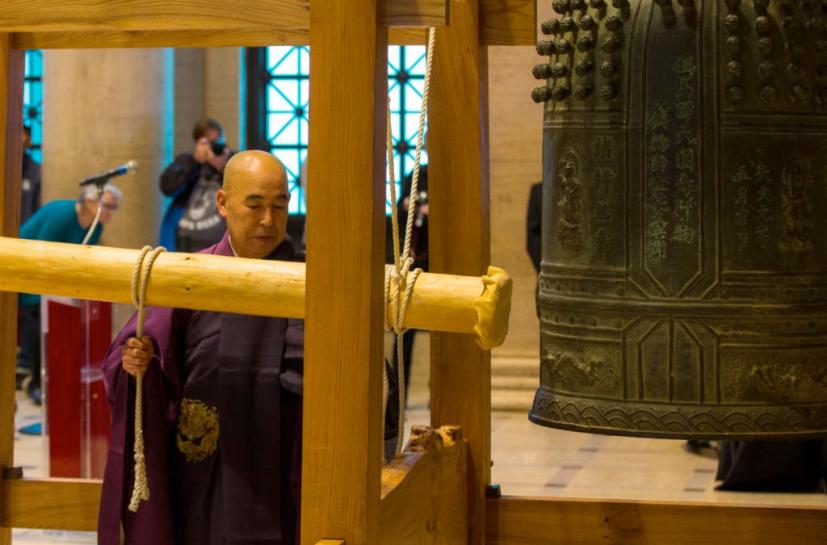 Join the Asian Art Museum for their first ever virtual New Year Bell Ringing Ceremony! This year, due to COVID-19 restrictions, the museum will be unable to hold the ceremony in person for the first time in 35 years. Instead, they'll hold a virtual version of the ceremony on Thursday, December 31, from 11 am to 12:30 pm. This program features presentations by longtime partners Reverend Gengo Akiba, Yoshie Akiba, and Eri Takahasi of Kojin-an Zen Center in Oakland.
Register online here. Registration is free, but donations are encouraged and can be made via the website when you register.
The bell will be struck 108 times to usher in the New Year and curb the 108 mortal desires (bonno) that, according to Buddhist belief, torment humankind. As you listen to each ring of the bell, imagine leaving behind the unfortunate experiences, regrettable deeds, or ill luck from 2020. Celebrate the start of the New Year in style with stories of shape-shifters, magical cats, and Buddhist protectors of children, women, and travelers, told by one of the museum's talented storytellers. Register for this program here.
You can also visit the museum's website for more New Year's fun, including art activities, recipes, stories, and more.
Sign up for tips & news for Marin families!