Back to top
Where to Watch the Solar Eclipse in Marin and the Bay Area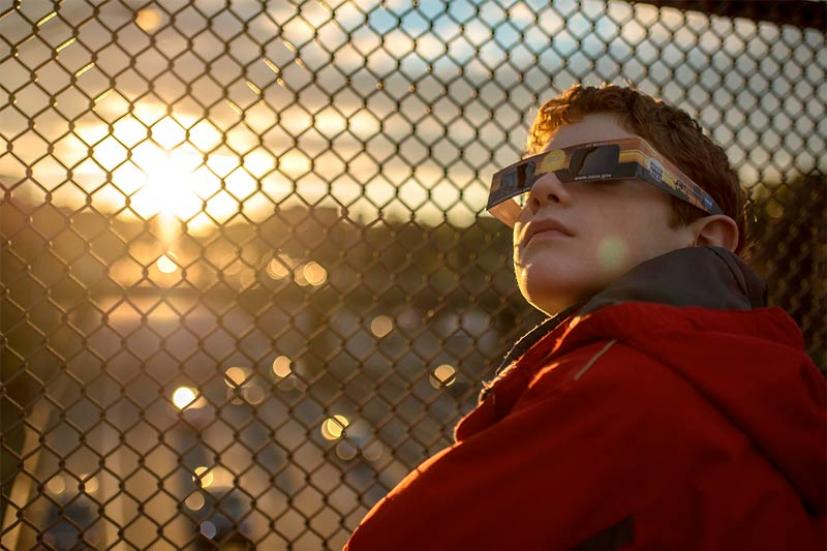 Photo: NASA/Bill Ingalls
In case you haven't noticed, there's going to be a total solar eclipse on Monday morning! On August 21 at approximately 9:05 am, the moon will start to pass in front of the sun, with maximum coverage occurring at around 10:15 am. This is the first eclipse visible across the entire continental US since 1979 and the last until 2024.
Unfortunately, in the Bay Area we won't get to see the sun completely blocked—you'll have to go to parts of Oregon, Idaho, Georgia or somewhere else for that, but 78% of it will be hidden from view, so the effects should still be dramatic! Here's our guide to places for solar eclipse viewing in Marin and the Bay Area on Monday, many of which will offer free eclipse-viewing glasses, usually on a first-come, first-served basis.
The Sausalito Library hosts a solar eclipse viewing party at Dunphy park from 9–11:30 am. Coffee, juice, snacks and free eclipse-viewing glasses (first-come, first-served) will be available. Bridgeway at Napa Street, Sausalito 94965
Join the Novato Library for an eclipse viewing on the lawn from 9–11:45 am. Snacks, coffee, juice, and water provided. Eclipse-viewing glasses available while supplies last. 1720 Novato Boulevard, Novato 94947
Celebrate the solar eclipse with a morning of fun at the Point Reyes Library. From 10–11:30 am you can make a solar eclipse flip book, enjoy a solar story time, and receive a free pair of eclipse-viewing glasses (while supplies last). 11431 State Route 1, Point Reyes 94956
From 9–11:30 am there will be an eclipse viewing on the grass outside the Belvedere-Tiburon Library. Local amateur astronomer Jessica Miller will be there with a special viewing telescope and to answer questions. 1501 Tiburon Boulevard, Tiburon 94920
Join Marin Parks rangers for an eclipse viewing on Ring Mountain. Learn how to make an eclipse viewer and learn fun facts about this rare event. This event will involve a .5–.75-mile hike. Meet at the trailhead at the end of Taylor Road, Tiburon 94920
Make pinhole viewers and safely view the eclipse as well as participate in astronomy-related crafts at the BADM's solar eclipse FabX from 10 am–noon. Fort Baker, 557 McReynolds Road, Sausalito 94965
Beginning at 9:30 am on Monday, you can safely watch the solar eclipse from the Cal Academy's Living Roof and East Garden. Staff and volunteer experts will be on hand to answer questions, and livestreams of the eclipse will be on view in multiple locations. 55 Music Concourse Drive, San Francisco 94118
Gather at the Exploratorium from 9 am–noon for a live broadcast of the solar eclipse from Madras, Oregon and Casper, Wyoming. They'll also have telescopes on the Plaza for viewing and astronomers will be available to answer questions. Can't make it to the Exploratorium? They'll be streaming the eclipse on their website or on their free Total Solar Eclipse app! Pier 15, Embarcadero at Green Street, San Francisco 94111
The Lawrence Hall of Science at UC Berkeley opens early at 8:30 am for solar eclipse viewing! Watch the eclipse from the plaza, where coffee and pastries will be available for purchase. Hands-on eclipse-related activities will take place on the Forces that Shape the Bay lawn. Eclipse-viewing glasses will be sold at the Hall's Discovery Corner store while supplies last. Inside the Hall, they'll be streaming live feeds of the eclipse. Special planetarium shows at 12:15 and 1:45 pm ($4 admission) explain why the eclipse is such a big deal. 1 Centennial Drive, Berkeley 94720
The Chabot Space & Science Center in the hills above Oakland will be open from 8 am–1 pm on Monday for eclipse viewing. View the eclipse outside or watch live feeds in their theaters. Free admission. Eclipse-viewing glasses are sold out. 10000 Skyline Boulevard, Oakland 94619
The RFO will hold a solar eclipse star party from 8 am–noon. Watch the eclipse through special solar telescopes. $3 adults, free for under 18; $8 state park parking fee.
You don't have to go anywhere to check out NASA's awesome Total Solar Eclipse website, where you can find even more eclipse events, live streams, 2D and 3D printable pinhole projectors, interactive activities, eclipse apps, maps, scientific eclipse facts, educator resources, and more. 2605 Adobe Canyon Road, Kenwood 95452
The Children's Museum of Sonoma County holds a special solar eclipse program with eclipse glasses for visitors to use, pinhole viewer making, a live stream of NASA's feed, and eclipse science. 1835 West Steele Lane, Santa Rosa 95403
Eclipse-Viewing Safety
Needless to say, you should never, ever look directly at the sun, and this solar eclipse will be no exception. Anyone viewing the eclipse must wear certified solar eclipse glasses at all times, use a telescope with a solar filter, or view using an alternative indirect method, like a pinhole projector.
If you don't have any fancy viewing equipment and can't find eclipse glasses, don't worry! Making your own pinhole eclipse viewer is a fun and inexpensive project for the kids. Here's a video from NASA showing how to make one with a cereal box, paper, a bit of aluminum foil, and tape.