Back to top
Wine Country Swimming Fun at Morton's Warm Springs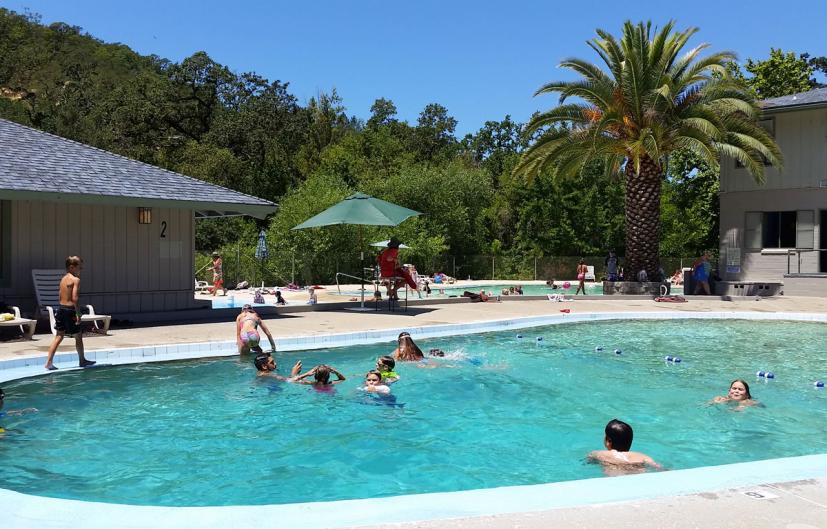 Looking for a great family day trip this summer? Try heading to the Wine Country town of Glen Ellen for a day of swimming fun at Morton's Warm Springs Resort. Morton's Warm Springs is a family resort famous for its geothermally heated pools filled with natural mineral water. Long thought to have healing benefits, these spring waters have lent their name to numerous communities in the Sonoma area, including Boyes Hot Springs, Agua Caliente, and Fetters Hot Springs.
Morton's Warm Springs is one of those places that looks like it's been around forever. It fact, it's been a Sonoma Valley institution for about a century, and was opened as a family resort by the Morton family back in 1946. Morton's truly has that old-school atmosphere that will probably take you back to your childhood; after all, who didn't spend time at a place like this? At Morton's you feel like you've stepped back into a simpler, carefree time. With its pools, sprawling lawns, and picnic areas, it's a great place to bring lunch (or grab some locally sourced goodies from their Cafe 108°), swim, relax, and soak in that timeless Wine Country atmosphere.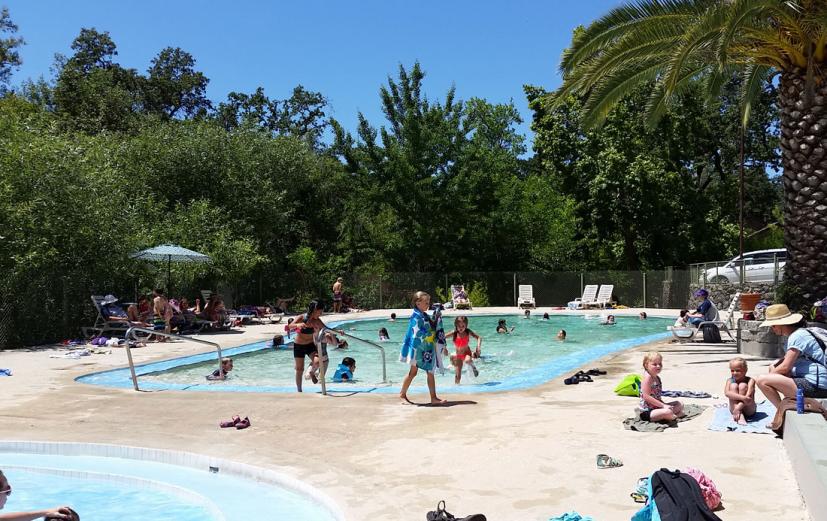 This season, due to COVID-19 precautions, swim sessions at Morton's will be available by advance reservation only. On weekends, they'll be restricting their overall site capacity to 40% and capacity for the pool area at 50%. On weekdays, site capacity will be at 25% and pool capacity at 50%, so weekday visitors can enjoy longer pool access times. There are 3 swim time slots on weekends and 2 on weekdays.
When we visit, we always have a great time swimming in the mineral pools, where there's no chlorine to sting your eyes. The smallest pool is only a few inches deep, making it a perfect place for very young children to splash and play in the water. Another pool ranges from two to five feet in depth, which is ideal for beginning swimmers, and the third pool offers deeper water for adults and more advanced swimmers.
Bring your lunch and picnic on the lawn or at one of their non-reserved picnic areas, each spaced 6 feet apart for social distancing. Unfortunately, Morton's Warm Springs will not be accepting group reservations for the duration of the pandemic.
If You Go
Morton's Warm Springs is open in May and September on weekends and holidays and Tuesday through Sunday from June through August with swim sessions starting at 10 am. Advance reservations are required, as are face covering for when you're indoors or interacting with others. 
Admission to Morton's Warm Springs is $15 for adults and $8 for children 3–12, $12 for teens 13–17 and seniors 65+, plus online ordering fees. Chidren under 2 are free (swim diaper required). Memberships are available, too, and include unlimited use of the pools and picnic areas during the season, special member hours, guest passes, and more. Memberships start at $200, with family memberships costing $400–$600.
Morton's Cafe 108º offers a wide variety of locally sourced treats ranging from Straus soft-serve and organic Meyer lemon lemonade to Vella grilled cheese sandwiches and pasture-raised-beef hot dogs from Napa's Five Dot Ranch. They even serve their own sparkling mineral water, straight from the source!
Morton's Warm Springs is located at 1651 Warm Springs Road, just north of Glen Ellen in the Sonoma Valley. It's about an hour's drive from Marin County. To get there, take Highway 101 to Highway 37 east, then turn off on Highway 121 near Infineon Raceway. Head north on Highway 121 (AKA Arnold Drive) and follow it for approximately 17 miles into Glen Ellen. In Glen Ellen, turn left onto Warm Springs Road and follow it for 3.3 miles until you reach Morton's Warm Springs. Parking is free.
Children under 16 must be accompanied by an adult, and on-leash dogs are allowed everywhere but the pool area.
For more information or to reserve a picnic area, call Morton's Warm Springs at (707) 833-5511. You can also visit them online at www.mortonswarmsprings.com.
Sign up for tips & news for Marin families!