Back to top
Wine Country Swimming Fun at Morton's Warm Springs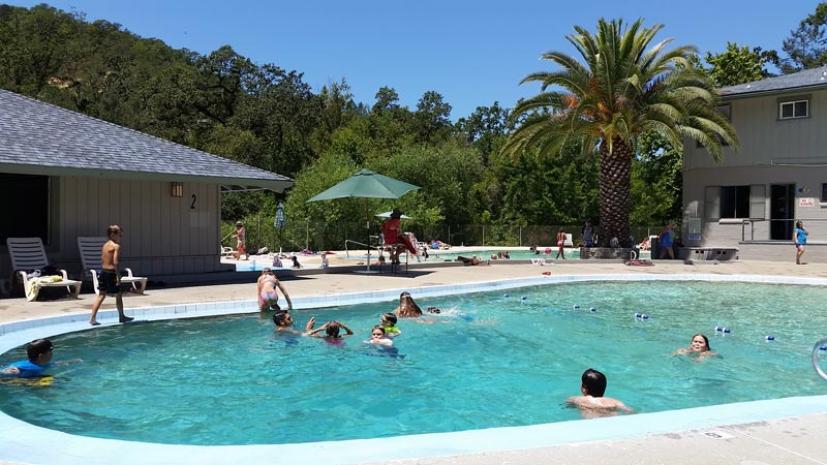 Looking for a great family day trip this summer? Try heading to the Wine Country town of Glen Ellen for a day of swimming fun at Morton's Warm Springs Resort. Morton's Warm Springs is a family resort famous for its geothermally heated pools filled with natural mineral water. Long thought to have healing benefits, these spring waters have lent their name to numerous communities in the Sonoma area, including Boyes Hot Springs, Agua Caliente, and Fetters Hot Springs.
Morton's Warm Springs is one of those places that looks like it's been around forever. It fact, it's been a Sonoma Valley institution for about a century, and was opened as a family resort by the Morton family back in 1946. Morton's truly has that old-school atmosphere that will probably take you back to your childhood; after all, who didn't spend time at a place like this? At Morton's you feel like you've stepped back into a simpler, carefree time. With its pools, sprawling lawns, and picnic areas, it's a great place to bring lunch, swim, relax, and soak in that timeless Wine Country atmosphere.
If swimming isn't your thing, Morton's Warm Springs also beach volleyball courts and other sports areas, as well as spacious lawns. Pack your lawn toys and a picnic and make a day of it.
We spent the day there recently and had a great time swimming in the mineral pools (where there's no chlorine to sting your eyes). The smallest pool is only a few inches deep, making it a perfect place for very young children to splash and play in the water. Another pool ranges from two to five feet in depth, which is ideal for beginning swimmers, and the third pool offers deeper water for adults and more advanced swimmers.
The children also had fun venturing down to Sonoma Creek, which runs through the property and provides yet another venue for splashing in the water. If you head down there, it's a good idea to have water shoes or Crocs to wear in the rocky creek. Most of the creek is about a foot deep or so, but there are some deeper areas for swimming.
Bring your lunch and picnic on the lawn or at one of their non-reserved picnic areas. Morton's Warm Springs also has over a dozen group picnic spots for with tables and BBQ grills, available by reservation, that are perfect for family reunions, school outings, company picnics, and other gatherings.
If You Go
Morton's Warm Springs is located at 1651 Warm Springs Road, just north of Glen Ellen in the Sonoma Valley. It's about an hour's drive from Marin County. To get there, take Highway 101 to Highway 37 east, then turn off on Highway 121 near Infineon Raceway. Head north on Highway 121 (AKA Arnold Drive) and follow it for approximately 17 miles into Glen Ellen. In Glen Ellen, turn left onto Warm Springs Road and follow it for 3.3 miles until you reach Morton's Warm Springs. Parking is free.
From June through August Morton's Warm Springs is open Tuesday through Sunday from 10 am to 6 pm. It's also open in May and September on weekends and holidays from 10 am to 6 pm.
Admission to Morton's Warm Springs is $12 for adults and $6 for children 3–12, $10 for teens 13–17 and seniors 65+. Chidren under 3 are free. Memberships are available, too.
Children under 16 must be accompanied by an adult, and on-leash dogs are allowed everywhere but the pool area. Currently, there's no snack bar, so you'll have to bring in your own food.
For more information or to reserve a picnic area, call Morton's Warm Springs at (707) 833-5511. You can also visit them online at www.mortonswarmsprings.com.
Sign up for tips & news for Marin families!