Back to top
Winter & Spring Family Programs in the Marin Headlands from NatureBridge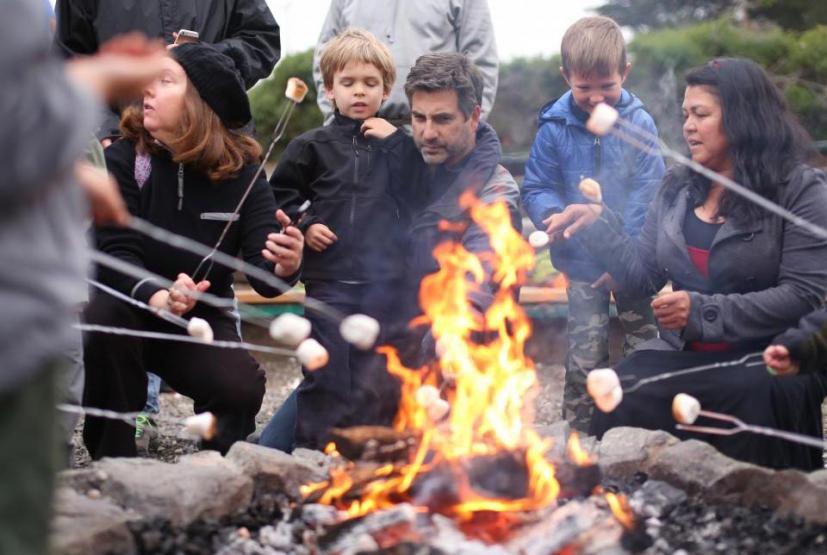 NatureBridge, which organizes Coastal Camp, a summer day camp for kids in kindergarten through ninth grade, also offers organized family programs at the Marin Headlands. Monthly programs include night hikes, campfires, and more. Here's what NatureBridge has to offer for families this winter and spring.
Evening programs feature an educator-led hike in the Marin Headlands followed by fun around the campfire including s'more roasting, campfire skits, and fun sing-alongs. Visit www.naturebridge.org or call (415) 332-5771 for more information and to register for programs, which often sell out way in advance. Programs cost $20 per person unless otherwise indicated.
Tickets required for all attendees over the age of three and children of all ages are welcome. Baby carriers or strollers are suggested for children 4 and under.
February 15, 5:30–8 pm
Discover one of the most amazing natural phenomenon, bioluminescence. We will hike out to Rodeo Beach and explore the sands for twinkling plankton. Where did they come from? Why are they blinking? Are they here all the time? We will answer those questions and more! We will end our evening around the campfire, singing songs and telling stories. Register here.
March 14, 5:30–8 pm
Explore the mysterious lifestyle of crepuscular animals that make their home in the Headlands! Learn about special adaptations that allow coyote, owls, bats and other critters to hunt in the fading light. Register here.
April 11, 5:30–8 pm
Create sunset-inspired works of art! You and your family will hike to a beautiful vista and make gorgeous, two-dimensional art pieces to remember your evening. NatureBridge will provide the art supplies. After the hike, gather around the campfire for skits, songs and S'mores! Recommended for kids in grades 3–6. Register here.
Sign up for tips & news for Marin families!