Back to top
10 Great New Holiday Picture Books for Kids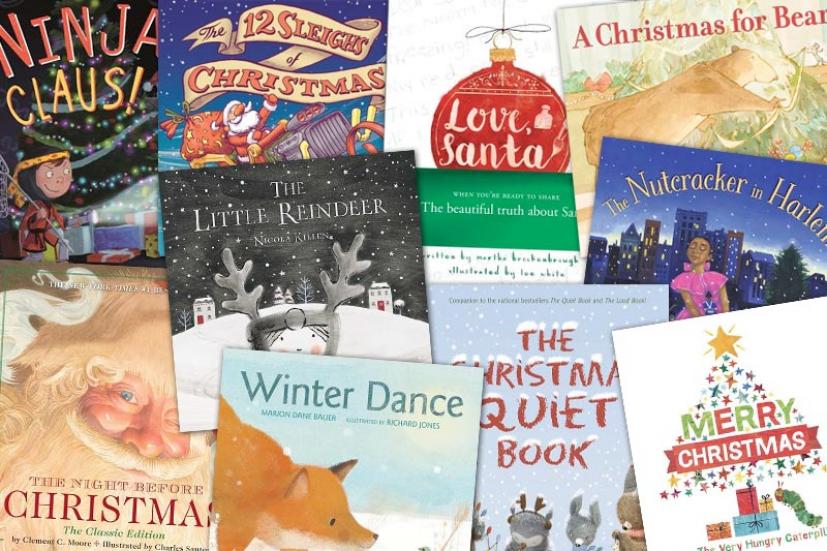 Who doesn't love snuggling up on the couch on a cool December night with a great book to read together? Here are our picks for 10 fantastic holiday-themed kids picture books. Thanks to Clare Doornbos at Book Passage in Corte Madera for starting off our list with some of her picks for great new books. Find them all at your local Marin County library or bookstore.
The Nutcracker in Harlem by T E McMorrow
Set in Harlem in the 1920s, this retelling of "The Nutcracker and the Mouse King" is as lively and colorful as a Christmas party. A lovely gift for fans of the Nutcracker ballet.
Ninja Claus! by Arree Chung
Chung's little ninja is determined to use all his skills to catch Santa in the act. He lays traps, but only the dog and Papa seem to fall in them. In the end, he learns that Santa is the greatest ninja of all. Arree Chung will be reading this book at Book Passage Sausalito on Sunday, December 10 at 11 am.
The 12 Sleighs of Christmas by Sherri Duskey Rinker
Santa's sleigh needs some upgrades, so the elves decide he needs a new kind of vehicle. They work in teams on different options, while one elf simply repairs the old sleigh. A sweet and funny rhyming Christmas story about engineering from the author of Goodnight Goodnight Construction Site.
A Christmas for Bear by Bonny Becker
Bear has never had a Christmas party before, but he's sure he needs pickles and poetry. Mouse, thinks there should be presents. I love this mismatched pair of friends. Bear is so grumpy, set in his ways and a little melodramatic. Mouse is so bold and funny, with a heart of gold.
Love Santa by Martha Brockenbrough
Lucy has always written letters to Santa, but one year she writes to her Mom instead and asks the question "are you Santa?" Lucy's Mom says no, but goes on to explain what Santa is, what he represents and means to so many people. This is a beautiful book with letters that can be removed from envelopes inside the book and rich illustrations. It's also clever and emotionally uplifting.
Merry Christmas from the Very Hungry Caterpillar by Eric Carle
Join The Very Hungry Caterpillar for a celebration of all that is festive during the holiday season. This beautiful book features Eric Carle's bright, colorful artwork of Christmas delights—from presents to snowflakes and even Santa Claus—with The Very Hungry Caterpillar making an appearance alongside each one. This sweet little book is the perfect Christmas present for readers young and old.
Winter Dance by Marion Dane Bauer
Snow is coming, and it's time to get ready. The squirrel gathers nuts, the geese soar south, and the snowshoe hare puts on its new white coat. But what should the fox do? Each animal advises the fox that its own plan is best, but the fox thinks otherwise—yet it's not until he meets a golden-eyed friend that he finds the perfect way to celebrate the snowfall.
The Night Before Christmas: The Classic Edition by Clement C. Moore
The world's most famous Christmas poem is now available in a beautiful oversized board book format featuring original Charles Santore illustrations.
The Little Reindeer by Nicola Killen
An enchanting Christmas story about a magical yet unlikely friendship between a little girl and a lost reindeer, lovingly told and illustrated with red foil highlights and interactive die cuts.
The Christmas Quiet Book by Deborah Underwood
The holidays are filled with joyful noise. But Christmas is sometimes wrapped in quiet: "Searching for presents quiet," "Gingerbread quiet," and "Hoping for a snow day quiet." Irresistibly cute, soft colored pencil illustrations of bunnies, owls, bears, and more paint a magical holiday picture indeed.