Back to top
4 Fun and Easy Homemade Valentine's Day Cards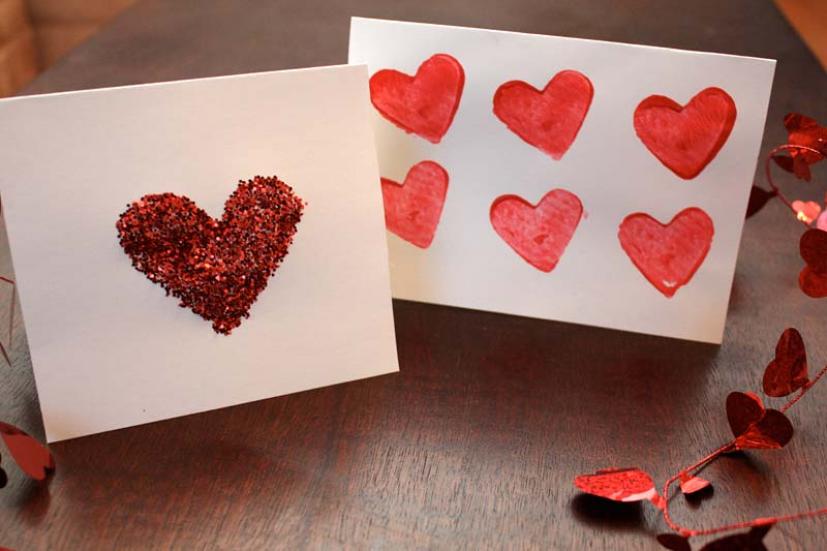 My kids always love to make their own unique Valentine's Day cards to give to friends and classmates every February. Here are 4 fun and easy card projects to make at home with common craft supplies that you probably have on hand already. We think these really beat the store-bought Valentines, since they're handmade, beautiful, and "from the heart."
Children of all ages can do most of the steps in these crafts, but grown-ups may want to help with cutting and gluing, depending on children's ages and skill levels.
Potato Print Card
This potato print card project is really easy and fun, and the kids think it's neat that they're using something they usually eat for dinner to create a craft.
For this project, you'll need:
Two large russet potatoes
Assorted small heart-shaped cookie cutters
A sharp paring knife
White and colored paper
Paint in assorted colors
White glue
Foam craft brushes
Glitter
To create your potato stamp, cut a potato in half cross-wise, so you have two halves, each with a round end. Push a heart-shaped cookie cutter into the flat round surface of the potato half. Make sure it goes in at least half way so you can get a good heart shape that stands out.
Leave the cookie cutter in place, and, with the paring knife, cut away the potato around the outside of the heart. Leaving the cookie cutter there will assure that you don't cut through your heart shape. When you're done, you'll have a heart standing out from the potato. Needless to say, these steps should be done by grownups. Now, you can either cut the heart stamp off the potato (which makes it easier for little fingers to grip) or hold on to the potato half and use the whole thing as the stamp.
Dip a brush into the paint of your choice and lightly brush paint onto the heart shape, then press it onto the paper to make colorful hearts. Make sure you give it a little pressure to thoroughly apply the paint. Alternatively, you can brush the stamp with some white glue, stamp the paper, and then sprinkle with glitter for a beautiful glittery heart.
Butterfly Valentines
This butterfly-shaped card that we made is designed to hold either a candy stick or a pencil, and is easy to make and decorate. We cut out the butterfly shape with scissors and decorated the card with stickers. You can embellish yours with whatever you like, such as crayons, markers, glitter, or paint. You'll need:
Colored card stock or heavy construction paper
Scissors
Old-fashioned candy sticks (keep the wrappers on!) or colorful pencils
Pipe cleaners
Valentine's Day-themed stickers
Crayons, markers, paint, glitter glue, etc.
To make this craft a little easier, we've created a template that you can download here. Print the template onto the card stock and have your child cut it out with kid-friendly scissors. Cut the slots (indicated by dashed lines) for the candy-stick or pencil. Open the wings and weave the candy stick or pencil down into one slit and up through the other.
To make the antennae, wind the pipe cleaner tightly around one end of the candy stick so that two equal lengths extend upward and then curl the ends. Finally, decorate your butterfly with stickers, crayons, markers, or glitter glue and write your message on the back.
Foil Heart Cut-Out Cards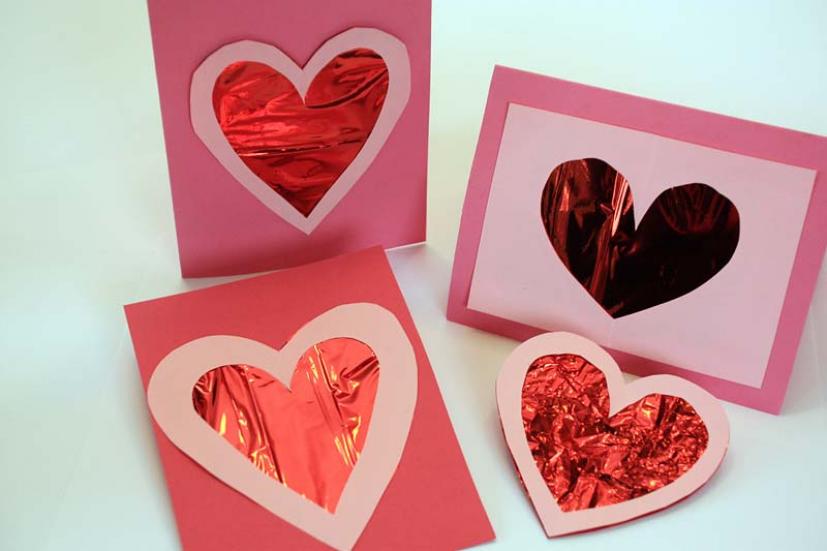 These heart cut-out cards look really sophisticated, especially when you use a shiny material like foil tissue (which I found at Michael's). For these cut-out Valentines you'll need:
Red foil tissue
Pink, red, and white card stock
Scissors
Glue sticks or craft glue
To make these, we cut a sheet of card stock in half and folded it to make two small cards. We then cut out another square of card stock in a contrasting color, folded it in half, and cut out a heart-shaped window.
We then glued a piece of red foil tissue to fill the heart shape, trimmed it to fit with scissors, and glued it to the card. We made a few different versions of this, one with a rectangular cut-out, and some where we followed the contours of the heart shape.
Tissue Paper Mosaic Hearts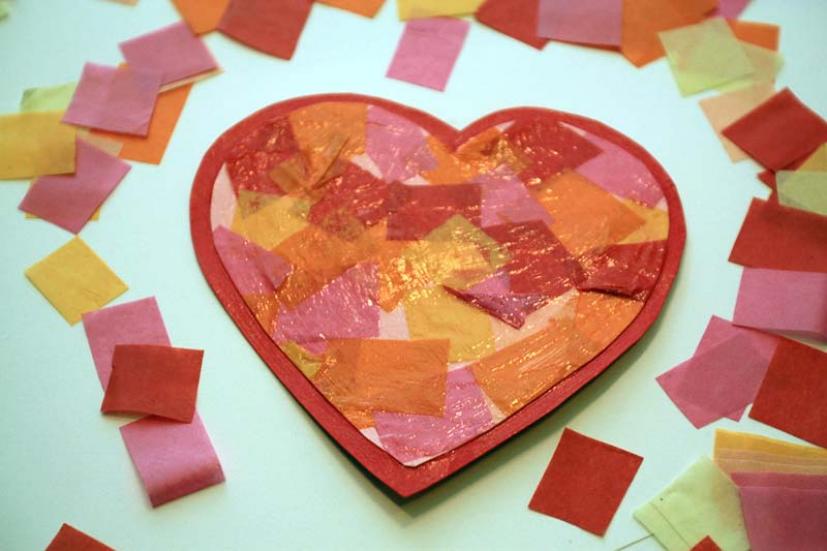 These tissue heart cards are one of my favorites. They have a lovely sort of "stained glass" effect and are really easy to make. You'll need:
Tissue paper in assorted colors cut into half-inch squares
Red and white card stock
Glossy Mod Podge
Scissors
Foam craft brushes
Cut heart shapes out of colored card stock. (We actually used a big cookie cutter to trace the heart shape.) Cut out a slightly smaller heart shape in white card stock and coat it thoroughly with a thin layer of Mod Podge. (If you don't have Mod Podge, you can use Elmer's white glue thinned with a little water; it won't have the same glossy finish, though.)
Let the kids go wild covering the Mod Podge with pieces of tissue. Make sure you overlap the pieces so that all the white paper is covered. Once you're happy with your creation, carefully brush another layer of Mod Podge over the top and let dry.
When dry, trim the extra tissue from the edges of the heart, then glue it to the larger heart with more Mod Podge. You'll then want to give it another final Mod Podge coating. Let dry thoroughly and then write your Valentine's Day message on the back.
Sign up for tips & news for Marin families!