Back to top
Awesome Music Stores in Marin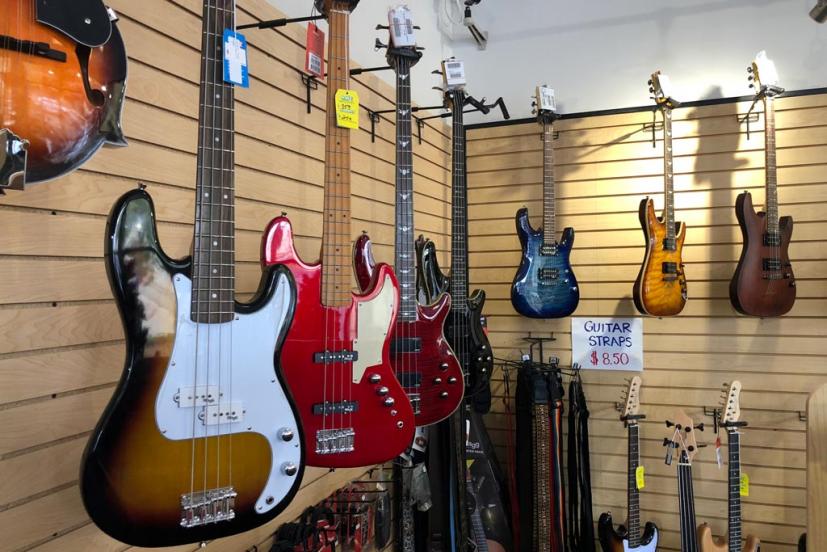 Making music is a fun activity for the entire family, whether its learning some basic ukulele chords or mastering the piano. We're fortunate to have some great music stores here in Marin County, all of which are currently open for in-person shopping or curbside pickup during the COVID-19 pandemic.
If you're looking to purchase or rent an instrument, browse for sheet music, or find a teacher for music lessons, these locally owned shops have you covered. We've shopped at most of these stores and have always had great customer service from knowledgeable staff who really know their music. All of these shops have been fixtures in the community for literally decades, so you can't go wrong with any of them.
Marin Music Center, Novato
1205 Grant Avenue, Novato 94945
marinmusic.com
(415) 897-4131
This long-time Marin music fixture (it's been in business since 1965) recently changed owners and moved to a brand new location on Grant Avenue in downtown Novato. They have a wide range of instruments for sale, sheet music, accessories, and more, and have an awesome roster of music teachers available for lessons. The also offer instrument repairs and rentals.
The Magic Flute, San Rafael
182 Northgate 1, San Rafael 94903
themagicflute.com
(415) 479-3112
The Magic Flute in San Rafael's Northgate 1 boasts a huge selection of instruments, from ukuleles and guitars to drums and brass instruments. They also have a massive assortment of sheet music, instrument repairs and rentals, and a great list of music instructors.
Bananas at Large, San Rafael
1654 2nd Street, San Rafael 94901
www.bananas.com
(415) 457-7600
If your family is leaning toward rock or jazz, Bananas at Large is the place to go! This legendary music store stocks a wide range of guitars, basses, amps, keyboards, drums, pro audio equipment, and more. The also have a great selection of ukuleles and used instruments. Music lessons are available as well.
Amazing Grace Music, San Anselmo
91 Red Hill Avenue, San Anselmo 94960
amazinggracemusicmarin.com
(415) 456-0414
Located on the Miracle Mile between San Rafael and San Anselmo, Amazing Grace Music is yet another legendary Marin music shop. Specializing in acoustic instruments, Amazing Grace is the place to go for banjos, acoustic guitars, ukuleles, mandolins, tin whistles, autoharps, Uileann bagpipes and more! They're currently open for curbside pickup. They do instrument restoration and repair work and offers lessons, too.
Sign up for tips & news for Marin families!