Back to top
Bay Area Classes & Drop-in Play for 0–5 Year Olds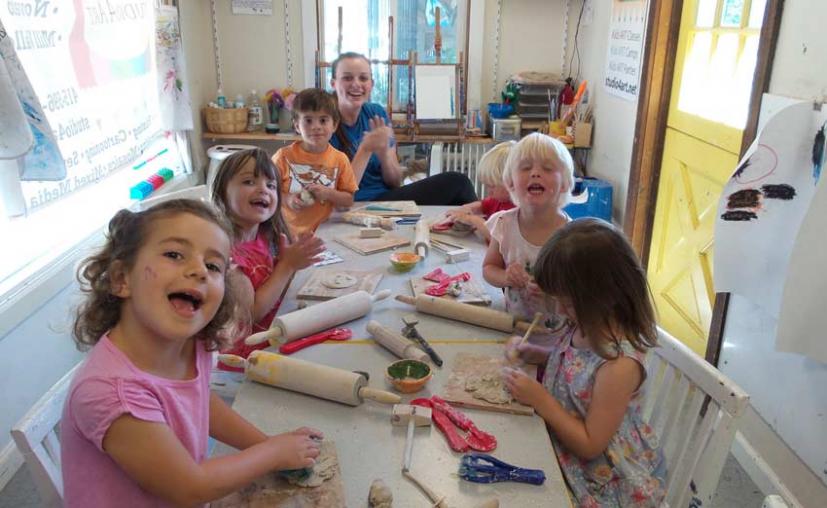 Photo: Studio 4 Art
Looking for a fun class or indoor play spaces for the little ones this fall? There are several places to take the kids to get them out of the house to get creative or to burn off some extra energy. Here are a few ideas for fun indoor drop-in activities in Marin County and the Bay Area:
Berkeley
Habitot Children's Museum
2065 Kittredge Street, Berkeley
(510) 647-1111
Website
Habitot is a hands-on museum for young children, toddlers and infants. Fun activities, hands on exhibits, arts and crafts, fun classes, music and much more. Museum admission applies.
Fairfax
New Moms and Babies Group
Fairfax Community Center (next to Peri Park)
16 Park Road, Fairfax
(415) 458-2340
Website
Join us for an ongoing drop in group on Tuesdays 11 am–12:30 pm. Our group offers a safe and supportive environment conducive to sharing about topics such as emotional and physical recovery after birth, expectations surrounding being a mother, changes in lifestyle and in relationships, finding support and trusting caregivers, life balance and sleep, navigating medical care, child development, play and temperament, among other topics and issues.
Larkspur
Tutu Toddlers
Tutu School
1201 Larkspur Landing Circle, Larkspur
(415) 419-5610
Website
Our goal in our Tutu Toddlers division is to work with you to engage your little one and give them an introduction to ballet they'll never forget. For ages 18 months to 3 years. At Tutu School we believe that exposing children at the earliest possible age to creativity, movement, and music can only lead to good things, and that dancing out stories not only exercises little bodies but also nurtures big imaginations.
Mill Valley
Novato
Busy Bees-Indoor Play Days (Oct 7-Dec 20)
503 South Palm Drive, Hamilton Community Center, Novato
(415) 899-8279
Website
Parents and little ones are invited to join Recreation Staff for a morning of safe and secure indoor fun! Hours: Monday, Wednesday, Saturday, 9 am-noon. Enjoying learning and playing with your toddler/preschooler in this parent-participation class featuring age appropriate toys, tumbling mats, sensory bins, crafts and parachute play. No registration required. Drop-in fee is $5 per family at the door. Parents and/or caregivers are required to stay the duration of class and are responsible for their child(ren). Parents and/or caregivers will be asked to sign-in daily.

Cal Star Gymnastics Indoor Power Play
70 Digital Drive, Suite #3, Novato
(415) 382-7827
Website
Cal Star Gymnastics offers drop-in fun for ages 5 years and under on Monday, Wednesday, and Thursday from 9:30–11:30 am (fall through spring only). Weekend drop-in takes place Saturday and Sunday from 9–10:30 am (year-round). Participants can run, jump and play in an open gymnastics environment.

Sing Dance Play!
5420 Nave Drive, Stuite F, Novato
(415) 419-7454
Website
Come let your kids play in an environment of free exploration and movement on Mondays 10:30 am–12:30 pm and Wednesdays 3:30 - 5:30 (closed Thanksgiving week). A great way to connect with other families and just have downtime in an enclosed space with lots to do. Pack a (peanut and nut-free) snack and enjoy it in our snack alcove. Babies to age 4, (older siblings okay). Drop in $10 per child ($0.28 fee for credit card), $5 for siblings 1 and over (no charge for siblings under 12 months).
Preschool Gymnastics
Novato Gymnastics Center
950 7th Street, Novato
(415) 899-8279
Website
Novato Gymastics offers classes for little ones starting at 1 yr. Classes are broken up by age. Find out more about each class at their website above.
Studio 4 Art
1133 Grant Avenue, Novato
(415) 596-5546
Website
Studio 4 Art offers drop-in hands-on art and crafts for all ages on. My kids really love this place.
Petaluma
Redwood Empire Gymnastics
434 Payran St, Petaluma
(707) 763-5010
Website
Redwood Empire Gymnastics offers drop-in gymnastic classes for children ages 1–3.5 years.
Rohnert Park/Cotati
Pump-It Up
374 Blodgett Street, Suite 1, Cotati
(707) 794-9533
Website
You and your child are invited to come and play on giant, soft, fun-filled interactive inflatables during Pump It Up Pop-In Playtime. This is a perfect outing for your next playgroup.
Rebounderz Rohnert Park
555 Rohnert Park Expressway, West, Rohnert Park
(707) 416-4445
Website
Families looking for active indoor fun should head up north to Rohnert Park and check out the new Rebounderz Indoor Trampoline Arena with a dedicated toddler play structure.
San Anselmo
Little Tree Art Studios
14 Ross Avenue, San Anselmo
(415) 295-7073
Website
The new Little Tree in San Anselmo offers open studio sessions for both kids (ages 2 and up) and adults, as well as movie nights, camps, and more.
Play-Well TEKnologies
Marin Engineering Center, San Anselmo
(415) 460-5210
Website
Play-WEll TEKnologies in San Anselmo offers drop-in LEGO play during the week.
Toddler Tumbling
Gymnastic Center
Isabel Cook Community Center
1000 Sir Francis Drake Blvd., San Anselmo
(415) 258-4640
Website
Our toddler tumbling classes (ages 1–2 yrs)  combine instructor initiated activi-ties with children's freedom of exploration. There is circle time with songs and rhymes and plenty of time for free play, which helps the young child to develop large motor skills through age appropriate activities. Parent participation is required for all Toddler Tumbling classes.
San Francisco
House of Air
926 Mason Street, Crissy Field, San Francisco
(415) 345-9675
Website
The Presidio's House of Air indoor trampoline park offers a variety of programs for little ones. Reservations for trampoline sessions are required. Reserve weekend time slots in advance as they sell out! They're located in an historic aircraft hangar at Crissy Field.
San Rafael
Santa Rosa
Children's Museum of Sonoma County
1835 W Steele Lane, Santa Rosa
(707) 546-4069
Website

The Children's Museum of Sonoma County provides hands-on, interactive exhibits and activities in a safe environment that are custom designed for families with children aged ten years old and younger. Closed on Tuesdays.

Epicenter
3215 Coffey Lane, Santa Rosa
(707) 708-3742
Website

The new Epicenter indoor sports complex offers a variety of activities, from a trampoline park to indoor sports courts. There's even an on-site restaurant and a Starbucks, too.

Snoopy's Home Ice *Closed until October 2019*
1667 W Steele Lane, Santa Rosa
(707) 546-7147
Website

Snoopy's Home ice in Santa Rosa offers a full range of skating activities with both public and private time, as well as a café. You can even visit the nearby Charles M. Schulz Museum for more fun!
Sausalito
PlayLand Sausalito
610 Coloma Street, Saualito
(415) 381-1241
Website
PlayLand is an indoor bounce house playground for ages 7 and under. Come jump in the bouncy zone, play games, have fun at the train tables, or even spend some quiet time in the arts room. There's also free organic coffee, tea, and cookies for the grownups!
Bay Area Discovery Museum
557 McReynolds Road, Sausalito
(415) 339-3900
Website
BADM is a perrenial favorite with Marin parents and children. They have a number of different indoor play and activity areas as well as a variety of programs for all ages.
Sign up for tips & news for Marin families!