Back to top
Bay Area Zoos & Wildlife Experiences for Families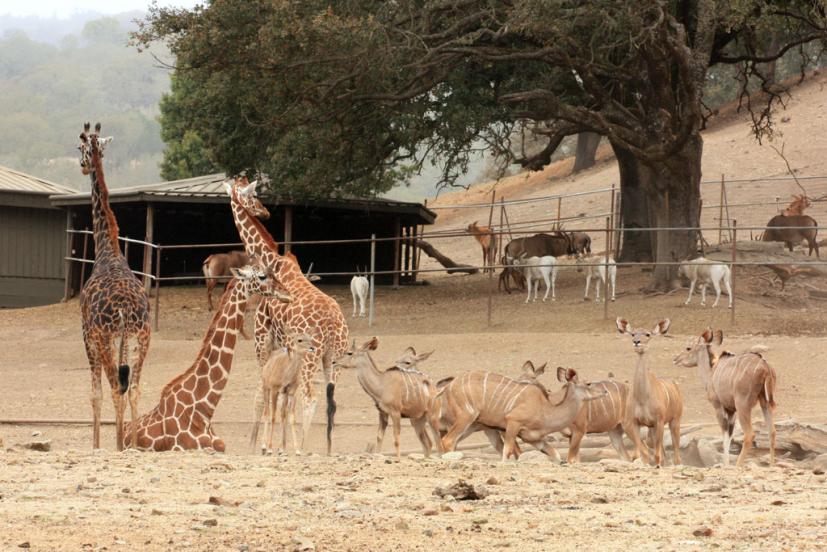 A trip to the zoo has always been a treasured outing for families, and today's zoos offer a chance to not only observe and meet animals in naturalistic habitats but to learn about conservation and how we're working to protect them in the wild as well. In the San Francisco Bay Area, we have a variety of zoos for families to experience, from traditional parks like the Oakland and San Francisco zoos to a chance to meet Bay Area native animals at CuriOdyssey in San Mateo to unique wildlife preserves like Santa Rosa's Safari West (where you can even stay overnight after your tour).
Oakland Zoo
The Oakland Zoo offers a variety of amazing animal exhibits, cable cars that whisk you to spectacular views, and the stunning California Trail that's a who's who of our state's wildlife. It's a fun and educational place to visit at any time of year. The zoo is divided into several sections: the Tropical Rain Forest, the African Veldt, the African Savanna, Wild Australia, the California Trail, and the Wayne and Gladys Valley Children's Zoo, with the appropriate animals grouped around each area. All the exhibits have been recently build or updated, and the animal enclosures are modern, natural, and spacious. There's also a zoo train to ride and the Adventure Landing area where you can experience carnival rides with wildlife themes. Location: 9777 Golf Links Road, Oakland 94605. www.oaklandzoo.org

San Francisco Zoo & Gardens
A longtime family favorite near Ocean Beach, the San Francisco Zoo is always worth a visit. Animals at this 100-acre zoo include gorillas and other great apes, big cats, hippos, grizzly bears, birds, insects, and more. Our favorite section is the African Savanna, where you can see giraffes, zebras, and antelope in a naturalistic environment. Family with younger kids will want to visit the Family Farm to pet and feed goats, sheep, and other friendly farm denizens and play at the Eleanor Friend Playground. Make sure you take a ride on the zoo's historic Dentzel Carousel and the Little Puffer steam train, too! Location: Sloat Boulevard at the Great Highway, San Francisco 94132. www.sfzoo.org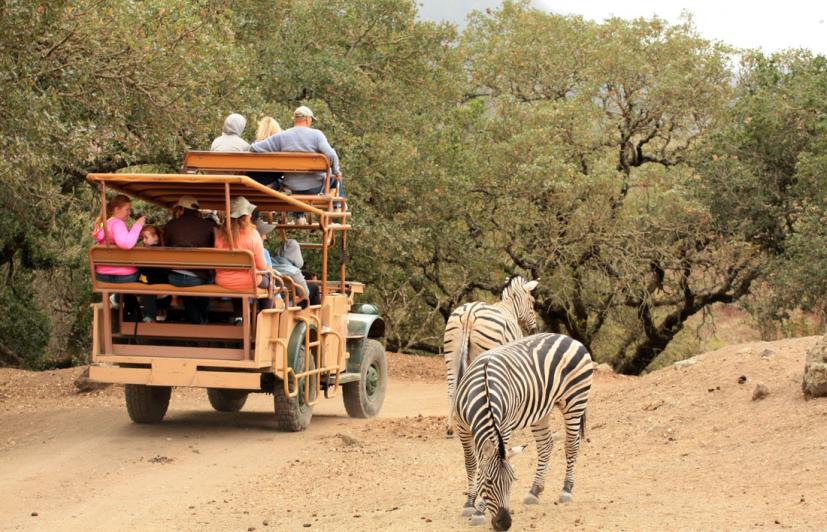 Safari West, Santa Rosa
How would you like to take your family on an amazing African Safari adventure, but still have the convenience of being in the Bay Area? Safari West, the amazing wildlife preserve and private zoo located near Santa Rosa, is just the place! Take a tour at this 400-acre preserve in Sonoma County and get up-close-and-personal with giraffes, rhinos, zebras, monkeys, cheetahs, and a huge variety of birds and African antelopes. Not only can you tour Safari West, but you can stay overnight in one of their luxury "glamping" tent cabins, too. It's really an experience that you and your family will never forget. Location: 3115 Porter Creek Road, Santa Rosa 95404. www.safariwest.com
CuriOdyssey, San Mateo
CuriOdyssey, San Mateo's zoo and science playground, offers families a chance to meet a variety of animals and birds as well as explore interactive educational exhibits. Animals residents of CuriOdyssey's zoo include nearly 100 mostly native California animals and birds in 20 natualistic exhibits and a 4,000-square-foot walk-through aviary. Meet a porcupine, raccoons, bobcats, river otters, a golden eagle, California king snake, and more. Location: 1651 Coyote Point Drive, San Mateo 94401. curiodyssey.org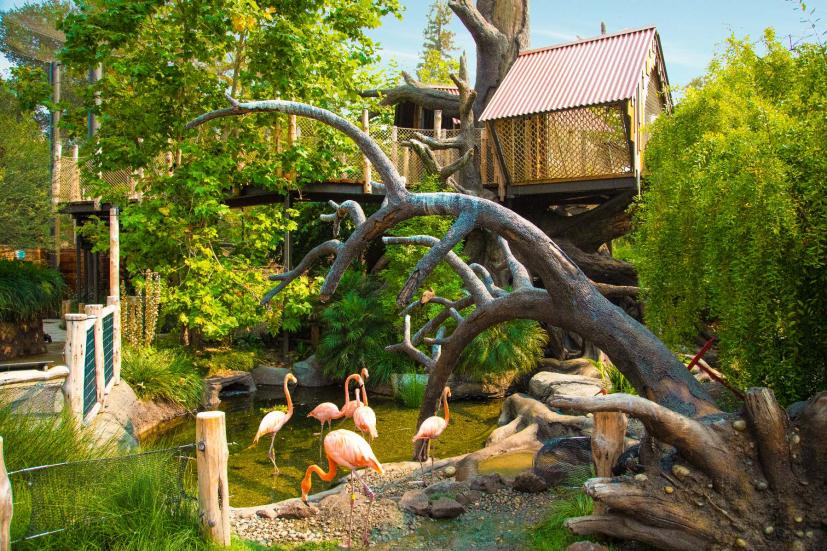 Palo Alto Junior Museum & Zoo
The Palo Alto Junior Museum & Zoo features a netted aviary where animals roam freely and safely with visitors in a beautiful, naturalistic setting. Designed for children ages 0 to 9, the zoo's outdoor exhibits include the Tree House, Meerkat Desert, Raccoon Creek, Cichlid Lake, Rabbit Meadow, Tortoise Savannah, and Wildlife Circle. Marvel at fascinating birds like flamingos, macaws, ducks, and many more. Inside, you'll find hands-on science exhibits and experiments for kids and even a special space for babies. Location: 1451 Middlefield Road, Palo Alto 94301. www.paloaltozoo.org
Happy Hollow Park & Zoo, San Jose
San Jose is home to the 16-acre Happy Hollow Park & Zoo, which features both a zoo and and family-friendly amusement park . The zoo features 60 animal species including a red panda, jaguar, lemurs, capybaras, giant anteaters, alligators, and a variety of birds. In addition, this city-run park and zoo offers entertainment, educational programs, camps, and more. Location: 748 Story Road, San Jose 95112. happyhollow.org
Sign up for tips & news for Marin families!