Back to top
Bel Marin Keys Warehouse Sale: A Holiday Shopping Tradition for Over 40 Years!
Twice a year, warehouses in the Bel Marin Keys area of Novato open their doors to the public to offer terrific wholesale deals. This sale has become the best "underground" sales event in Marin County.
Taking place this weekend, November 15, 16, and 17, this sale brings together over 16 Novato businesses, many offering unique products at prices that won't be found elsewhere. Come explore the latest in home accessories, candles, Italian glass and ceramics, kitchenware, jewelry, furniture and personal care products from both acclaimed international brands to local artists and artisans.
 
You will find unique and special gifts at this sale for everyone on your list, as well as award-winning wines which is perfect for entertaining this holiday season. Also, visit the cafes or restaurants nearby to keep your energy going with a great snack or a meal.
 
See our website, www.novatowarehousesale.com, for more details and a copy of the map.
 
Bigger and better than ever, we have over 15 businesses participating this year, including:
Santa Venetia Candleworks — Natural soy candles, exquisitely designed. Artisan private label candels.  20 Galli Drive, Suite 2
Via Graceffo Collection / My Italian Décor — Museum-quality Murano glass vases, bowls, wine glasses, jewelry, home décor, and gifts. Gorgeous Florentine leather bags and wallets. Deruta ceramic serving and dining pieces. Gifts galore from Italy and beyond. 27 Commercial Blvd, Suite F
 Also participating:
Circa Home, 27 Commercial Blvd, Ste J, in the back
Kuhn Rikon Switzerland, 16 Digital Dr, Suite 220
Maui Mike's, 20 Galli Dr. #7
On The Road Treasures, 19 Digital Drive, Suite T
Paperproducts Design, 60 Galli Drive, Suite 1
Seabenefit Soap Works, 42 Digital Drive, #1 (Warehouse side)
Shebobo Designs, 16 Pamaron Way, Unit 1
Starry Night Winery, 359 Bel Marin Keys Blvd, #10
and more!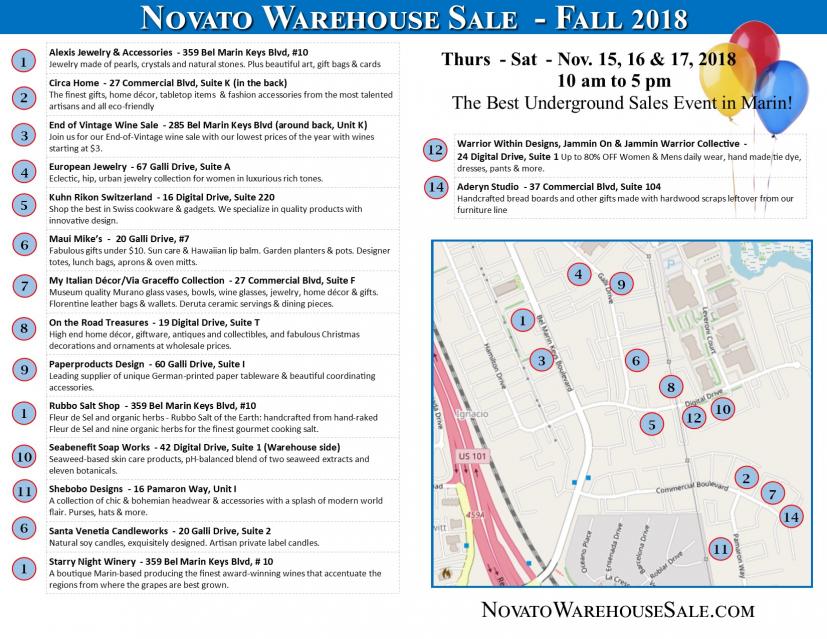 Sign up for tips & news for Marin families!