Back to top
Best Music Summer Camps in Marin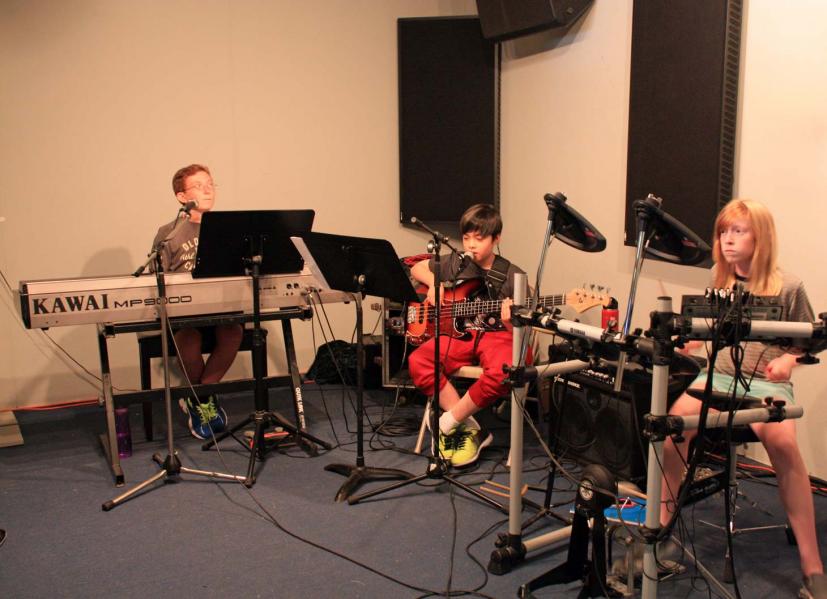 Musically-inclined kids in Marin have quite a few options to choose from when it comes to music summer camps. From a rock band camp overseen by a former rocker and songwriter to a Marin Idol Camp that teaches kids all about the various aspects of performance, there's something for every musical taste and skill level. Here are Marin's summer music camps as listed in our Marin Summer Camp Guide.
BandWorks Sunnbolt Studios
150 Mitchell Boulevard, Suite 260
San Rafael 94903
(510) 843-2263
For kids 8 and up, BandWorks Rock n' Roll Camp is open to beginners through advanced, older teen players. Professional musician-instructors create a fun and supportive environment while teaching kids skills needed to play in a rock band-and make new friends, too! Week-long Summer Full-or-Half-Day Camps offer a variety of classes throughout the summer. By the end of camp, students are rocking out in a live performance. Camp info.
Fairfax Music Camps
Soundwire Studios
Suite 8d School St Plaza,
Fairfax, CA 94930
(415) 596-3257
For kids ages 9+ and have at least some experience playing an instrument or singing. Kids are given the experience of playing music with other kids, forming bands, learning songs, how to perform, and how to produce recordings. Camp counselors Jeff Miller and Christopher Krotky are professional musicians who will lead the way. Camps take place from June 15–July 31 and run on a weekly basis. Camp info.
Marin Idol Performance Camp
Chaiken Music Studio
Mill Valley 94941
(415) 383-5395
Marin Idol is a musical performance camp designed to transform and empower people between the ages of 9–18. It offers an unforgettable multi-day singing and performance immersion program in a fun and nurturing environment. Week-long and one-day camps are available starting on June 15. Camp info
Marin Music Center Rock Band Camps
Grant Avenue, Downtown Novato
Novato 94945
(415) 897-4131
Summer Rock Band Camp is a great opportunity for kids grades 5–10 to learn songs and play together under the supervision of professional musicians. Players are grouped by age and experience. Bands rehearse from 9 am to 1 pm June 15–July 24. At the end of the week there's a concert performance for parents and friends! Camp info
N.Y Broadway Training Programs
Mill Valley 94941
Taught by New York Broadway professionals, these half-day and full-day camps include a Signature Broadway Camp, with classes in dance, voice, musical theater, acting, and more and a Broadway Training Intensive. Daily snack provided, and there's a pizza party on the second Friday. Camp info
Wow! Music Studios Summer Rock Band Camp
145 Lomita Drive, Suite B
Mill Valley 94941
(415) 388-9691
You bring the attitude, we teach you to rock! Get the full rock star treatment in this super popular summer rock band camp. No auditions or previous music experience required! Campers get to experience what it like to form bands, write, rehearse, and record originals, cover rock and pop hits, create band promo materials and play an end-of-camp gig for family and friends. Camp info
YPI'S Legendary Summer Music Camp
Marin Lutheran Church
649 Meadowsweet Dr
Corte Madera 94925
(415) 420-2960
Young Performers International offers a unique Summer Music Camp experience to young musicians of all ages and all ability levels. Offering include jazz and rock band, world music, vocal music, body percussion, fun music theory games, and even internships for teens. Camp info
Sign up for tips & news for Marin families!