Back to top
Ab Rehab Semi-Private Physical Therapy with Alicia Willoughby
Pomegranate Prenatal Yoga & Parent Center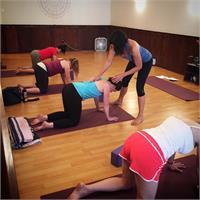 Ab Rehab is a postpartum rehabilitation class designed for women to heal abdominal separations, treat incontinence, strengthen postnatal core weakness and learn invaluable information that every woman should learn after having a baby.
Each session includes 4 1-hour classes and is limited to 5 women taught by a licensed physical therapist.
The series begins with anatomy education of the postpartum body and hands-on assessments of the present condition of your core and/or separation. Alicia provides hands-on guidance as the exercises begin with foundation work to reconnect the brain to the pelvic floor and deep abdominals. Each week the exercises will progress to include different positions, dynamic movements and use of resistance bands. The final week includes re-assessments of abdominal separations and guidance on how to safely resume your desired exercise routines with the knowledge and strength gained in the class.
This class is appropriate for any mom, with kids of any age.
$280 Weekday sessions include childcare for 1 child.
Additional children in childcare- $20.