Back to top
Celebrate Diwali with Brooke Bond Taj Mahal Tea and a spectacular Fireworks show over the San Francisco Bay!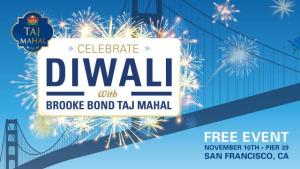 There's no better way to celebrate the festival of lights than with family and friends at a magical firework show that'll illuminate the sky over the bay! This celebration, sponsored by Brooke Bond Taj Mahal Tea, will whisk you away to a far-away land inspired by the sights, sounds, and smells of India.
Come have fun at Pier 39 starting at noon with fireworks at 7:00pm. Open to all ages and admission is FREE!
Enjoy delicious tea samplings from the Brooke Bond Taj Mahal Tea Cart
- Tea cup rides
- Henna tattoos
- Paint-your-own diyas
- Color pages of Diwali designs
- Participate in a photo mosaic wall
- DIWALI FIREWORKS SHOW starts at 7:00 PM!