Back to top
The Curtain Theatre: Two Gentlemen of Verona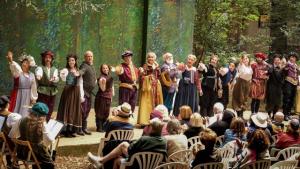 Enjoy live Shakespeare from the Curtain Theatre in Mill Valley's Old Mill Park. This season's production: Two Gentlemen of Verona.
Free! No reservations or tickets necessary.
The Curtain Theatre, which has been operating since 2000, is dedicated to putting on the world's best plays in one of the Bay Area's most beautiful settings. The company's free outdoor productions in Old Mill Park are designed for first-time viewers as well as long-time theatre buffs. The shows rely heavily on music and dance, supported by instruments that include fiddle, mandolin, concertina, flute and guitar.