Back to top
Godmother's Pumpkin Patch
Marinwood/St. Vincent exit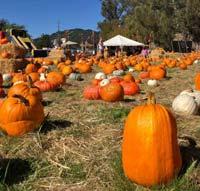 One of Marin County's most beloved Halloween traditions is the Godmothers of Timothy Murphy School Pumpkin Field, AKA the St. Vincent's Pumpkin Patch. This popular seasonal fixture is located in St. Vincent's field near St. Vincent's School for Boys just south of Novato.
As usual, this year's pumpkin patch is really well done. It's attractive both for adults and children, with colorful plywood cutouts for photos ops, and plenty of spooky decorations, figures, and props to keep everyone interested. They don't actually grow their pumpkins here, but have a large selection of them ready to choose. There are wheelbarrows and red Radio Flyer wagons available for you to haul around your pumpkins (or your kids).
Pumpkins prices are comparable to other Bay Area pumpkin patches. Small pumpkins can be had for $5, while largest jack-o-lantern pumpkins are $30. Gourds and mini pumpkins are $1 and up. There's a snack shack selling drinks and goodies, as well as a gift shop with Halloween decorations and toys, all pretty inexpensive.
To get there, take the Marinwood/St. Vincent's exit off Highway 101. Head east toward St. Vincent's and you can't miss it. When my kids were really little, we lived pretty much right across the freeway from St. Vincent's and always visited this pumpkin patch several times during the Halloween season.
Admission is free, but tickets must be purchased for the bounce house and slide. They're open Wednesday through Sunday, through October 27 from 10 am to 5 pm. For more info, call them at (415) 785-3264 or visit www.godmothers.org.