Back to top
Iceless Skating Rink–Bay Area Discovery Museum
Bay Area Discovery Museum
557 McReynolds Road
Fort Baker (Golden Gate Recreation Area)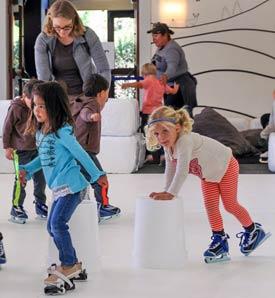 Winter fun arrives at the Bay Area Discovery Museum (BADM) on December 1. Slide onto our synthetic ice rink!
Experience Iceless Skating - all the fun of ice skating with no winter gear required. Opens December 1.
Skates and shoe covers are included for children and caregivers so the whole family can enjoy the fun.
Included with general admission - advance ticket reservations are required.
BADM is open extra days for winter break! December 15 – December 31, BADM will be open daily, 9 a.m. - 4 p.m. (Closed Christmas Eve and Christmas Day).
General Admission tickets include access to all indoor and outdoor exhibits, plus a wide range of daily programs.
General Admission
$1 – For EBT Cardholders ($1 per family member of the household)
$15 – Baby (ages 6-11 months)
$18 – Child (ages 1-17)
$18 – Adult (ages 18-64)
$16 – Senior (ages 65+)