Back to top
San Domenico Middle School presents Roald Dahl's Matilda The Musical
San Domenico School Carol Franc Buck Hall of the Arts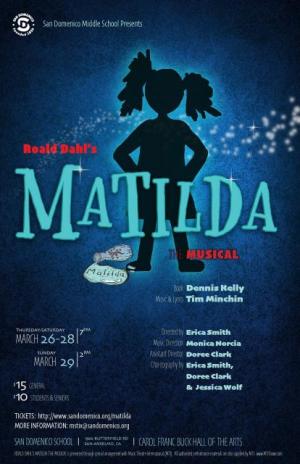 ROALD DAHL'S MATILDA THE MUSICAL
Inspired by the twisted genius of Roald Dahl, the Tony Award-winning Roald Dahl's Matilda the Musical is the captivating masterpiece from the Royal Shakespeare Company that revels in the anarchy of childhood, the power of imagination and the inspiring story of a girl who dreams of a better life. With book by Dennis Kelly and original songs by Tim Minchin, Matilda has won 47 international awards and continues to thrill sold-out audiences of all ages around the world. Matilda is a little girl with astonishing wit, intelligence and psychokinetic powers. She's unloved by her cruel parents but impresses her schoolteacher, the sweet but timid Miss Honey.
Matilda's school life isn't completely smooth sailing, however – the school's terrifying headmistress, Miss Trunchbull, just loves thinking up cruel punishments for those who don't abide by her rules.
Packed with raucous, athletic dance numbers and catchy songs, Matilda is a joyous, magical and inspiring show, celebrating the irrepressible spark inside all of us.
For more information, please email mstix@sandomenico.org
ROALD DAHL'S MATILDA THE MUSICAL is presented through special arrangement with Music Theatre International (MTI). All authorized performance materials are also supplied by MTI. www.MTIShows.com