Back to top
Shabbat in the Park for Young Children
McGee Avenue and Virginia Street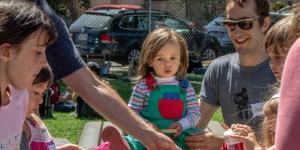 Jewish? Jew-ish?
Join other families with young children to connect, play, and relax at a casual Shabbat hangout in the park.
This celebration is especially for children 1-5 and their loved ones. Older and younger siblings are also invited.
Sing Shabbat songs and enjoy challah and grape juice with Rabbi Bridget Wynne. We'll also have Shabbat-oriented toys, books, a hands-on project, and a story.
Bring snacks if you want, and join us any time between 10:00am and noon. We'll sing together and share challah and juice at 10:30.
There are picnic tables and we'll have blankets available for those who want to sit on the grass.
WHO: All are welcome, including interfaith, intercultural, LGBTQIA, and adoptive families; people of color; single parents; and grandparents. No Jewish experience is necessary.
Feel free to invite friends!
QUESTIONS? Contact Jewish Gateways at info@jewishgateways.org or 510-545-9977.
Holidays for Young Children: This event is part of Jewish Gateways' series of holiday and Shabbat celebrations for families with young children, presented in collaboration with Sprout East Bay and PJ Library East Bay.
Photo by Mary DeShaw.