Back to top
Terra Marin Tour - A New School & A Fresh Perspective!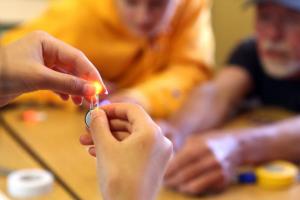 Terra Marin School - Sparking Curiosity & Intellectual Wonder
Tours every Tuesday at 9:30am
Terra Marin School (TMS) is a special addition to Marin's educational landscape as it brings together a unique and progressive set of offerings into one effective and highly focused program. TMS is a new private K-8th program in Mill Valley led by a highly qualified team of teachers and mentors who guide their students through a diverse, holistic and effective educational model focused primarily on the healthy social, emotional and physical growth of its students. TMS provides a place where each child feels known and celebrated for his/her own unique strengths, safe to be him/herself and is comfortable trying new things and being challenged in new ways. We help each student grow through indoor and outdoor environments (Earth Education - proven to reduce anxiety in children and increase levels of concentration in the classroom) with a curriculum built on the art of inquiry, open discussion (Harkness philosophy of teaching) and focused on inspiring critical thinking, empathy, self-confidence, independence, creativity and awareness of self and place in the world. Learn more about our program by touring our campus. RSVP at www.terramarin.org. Feel free to contact us directly at: kim@terramarin.org; 415-906-2220.