Back to top
Day Out in Point Reyes Station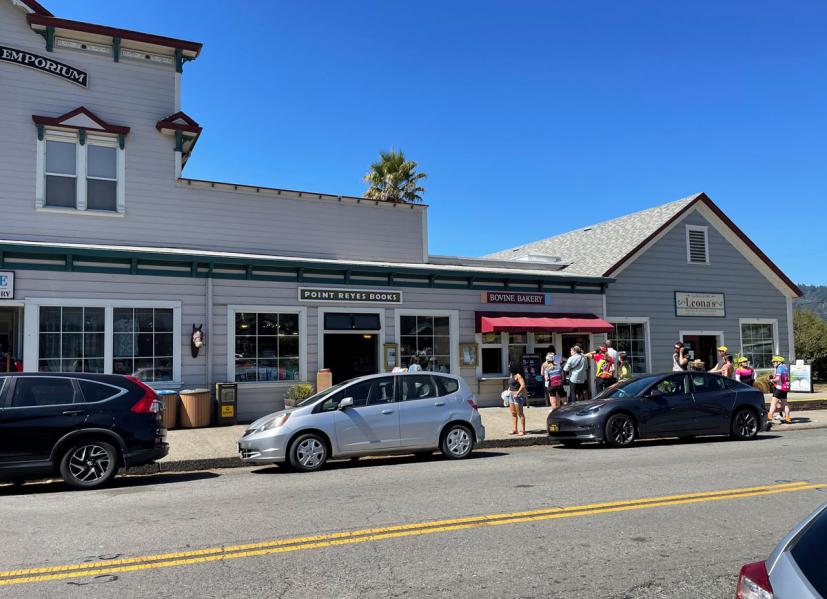 Point Reyes Station is the social and cultural hub of West Marin, and a fantastic destination for a day out with the family. While the railroad that gave this small town its name is long gone, Point Reyes Station has become something of a tourist mecca in recent years, with a focus on sustainable agriculture, locally produced artisanal and organic foods, outdoor activities, and art. On weekends, the main street of this quaint and charming gateway to Point Reyes National Seashore bustles with West Marin locals, Bay Area day trippers, bicyclists, motorcyclists, hikers, and visitors from around the world.
Even though many of Point Reyes Station's attractions are geared toward grownups, families will find plenty to do here, making it an attractive destination for an outing in and of itself, or a worthwhile stop on the way to or from the beaches and hiking trails of the Point Reyes National Seashore. Most of Point Reyes Station's businesses are clustered around Highway One (AKA A Street, Main Street, or Shoreline Highway). A walk down Main Street's sidewalks takes you past art galleries, boutiques, and gourmet restaurants, as well as businesses more traditionally associated with small rural towns, like a feed store, tack and saddle shop, hardware store, and saloon.
Here are a few of our favorite places to visit when we find ourselves in Point Reyes Station with children in tow.
Point Reyes Dining & Food
It's not exactly a secret that many people come to Point Reyes Station with dining on their minds. West Marin's agricultural focus means there are plenty of locally grown and produced food, much of which you probably see at the farmer's market. Bread from Brick Maiden, amazing artisanal cheese from Cowgirl Creamery, oysters from Hog Island or Tomales Bay Oyster Company, and fresh organic produce are all readily available here. But don't worry—there are plenty of places to get food that your kids will actually eat, too.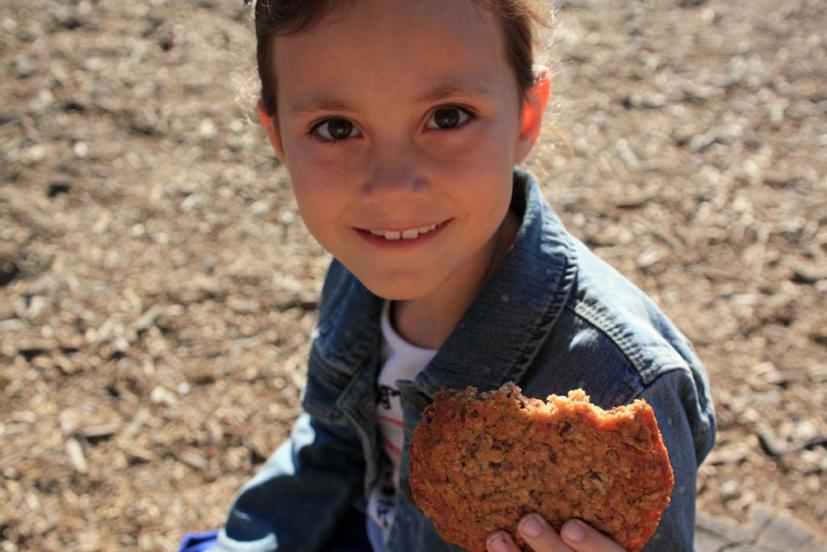 For a must-do treat, swing by tiny Bovine Bakery and grab some fantastic baked goods. We love their giant oatmeal chocolate chip cookies and fresh organic coffee. Be forewarned—Bovine Bakery proclaims itself an "espresso-free establishment", so don't ask for a latte here. You can also get pizza slices here for lunch, which you can eat in the little picnic area nearby since there's no place to sit and eat in the little shop. Bovine Bakery often has a line out the door, but don't worry, it moves pretty quickly.
The Station House Cafe has been a fixture in Point Reyes Station for over 30 years, offering up local and sustainable food for breakfast, lunch, and dinner six days a week (they're closed on Wednesdays). Their kids' menu features favorites like grilled cheese, fish and chips, a burger, and even a kids' cobb salad. The Station House Cafe can get really crowded on weekends and holidays, so expect to wait for a table at peak times. Read our review of the Station House Cafe here.
A great spot for an inexpensive, tasty, and uncrowded lunch or dinner in Point Reyes Station is Cafe Reyes. Right around the corner from downtown on Highway One, it's a great local hangout that makes fantastic Neapolitan-style pizza in a wood-burning oven. Read our review of Cafe Reyes here.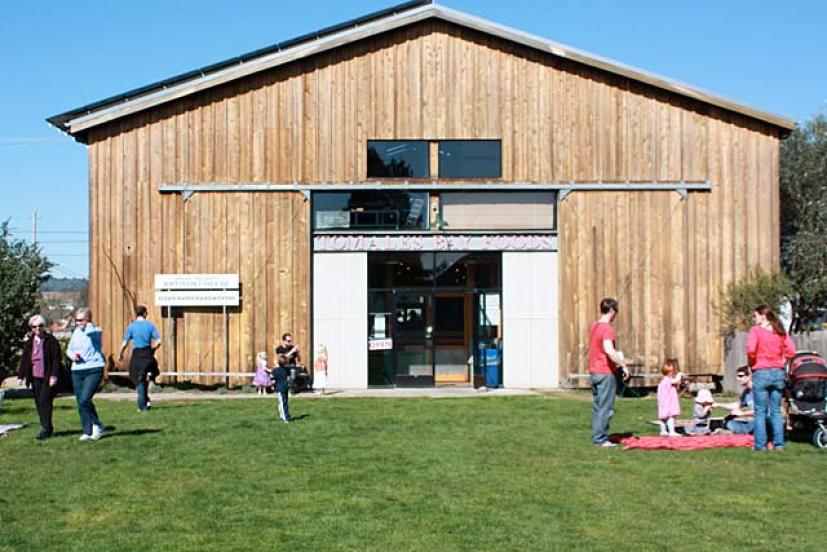 For amazing cheese and more, head to Cowgirl Creamery in the Tomales Bay Foods building, located just off the main drag on 4th Street. Grab some dreamy creamy cheese (the Mt. Tam is our favorite) and some locally baked Brick Maiden sourdough bread and you've got a feast. We like to picnic on the lawn in front of the building, or at one of the tables on the side. If you want more than cheese and bread, Cowgirl Cantina serves up sandwiches, soup, salads, and more. Bonus: kids can watch the cheesemakers at work Wednesdays–Sundays. Read our review here.
The world famous Point Reyes Farmers Market (Prince Charles and Camilla made it a point to stop here on their last visit to the California) takes place on Saturday mornings in the summer and fall from 9 am–1 pm. Find locally produced fresh produce, grass-fed beef, cheeses, flowers, clothing, and body care products, as well as chef demonstrations, live music, and food vendors like Point Reyes Grilled Cheese. The market takes place at Toby's Feed Barn on Main Street starting June 23. Check their website for a schedule of offerings.
Just outside of town—over the bridge on the way to Olema—you'll find the Marin Sun Farms butcher shop, which serves up grass-fed beef, lamb, and even goat(!) burgers, sandwiches, salads, and fries and onion rings cooked in real pork lard. All ingredients are locally sourced and most are organic.
If you're not looking to endure the whole restaurant experience, head to one of Point Reyes Station's two markets: Palace Market and Whale of a Deli and Market. Palace Market boasts an extensive deli counter with huge, reasonably priced sandwiches and a wide variety of salads and other prepared foods—a perfect place to pick up your picnic. On weekends, there's often a BBQ grill set up outside cooking reasonably priced hot dogs, burgers, and more. Whale of a Deli, at the opposite end of Main Street, offers Mexican food, deli sandwiches, and pizza, as well as ice cream and snacks.
Point Reyes Shopping
While most of the shops, boutiques, and galleries in Point Reyes Station are geared to adults with a lot of disposable income, there are a few spots that families should check out while in town.
Point Reyes Books is a small independent bookstore with a great selection of new and used books, as well as a well-stocked children's section and plenty of titles of local interest. My kids always love to stop in here when we're in town, and it's right next door to Bovine Bakery. They're open daily 10 am–6 pm.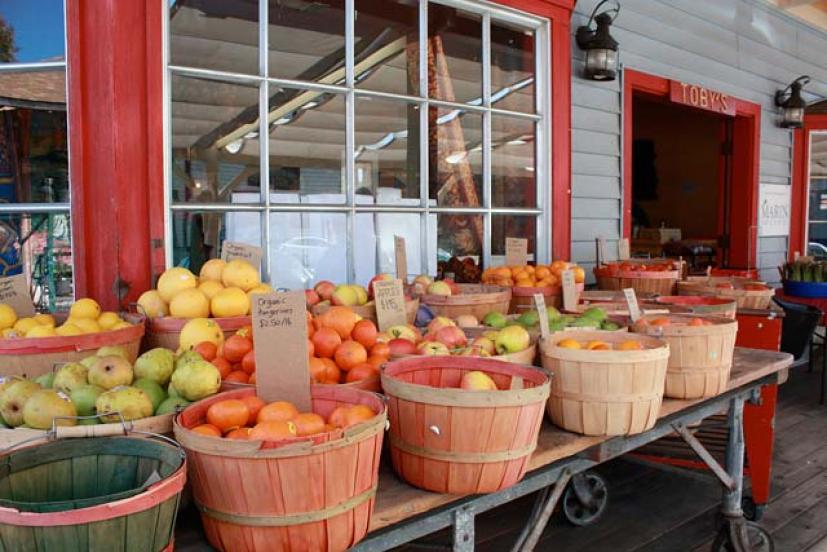 A fixture in the center of town since 1942, Toby's Feed Barn is a place where you can buy bales of hay, salt licks, and bags of rabbit food, but it's also home to a coffee bar, art gallery, yoga studio (yes, really), gift shop, and of course the Saturday morning Point Reyes Farmer's Market. Browse Toby's for pet supplies, gourmet snacks, t-shirts, cards, books, toys, jewelry, souvenirs, and more.
West Marin Community Thrift is a great place to browse for bargain-priced treasures and help support the local community. Check out their Instagram feed to see some of the cool stuff they offer.
Play at Point Reyes
Most of the recreational opportunities in the area lie outside of town on the lands of Point Reyes National Seashore and Tomales Bay State Park.
Little ones can blow off some energy—if you haven't already tired them out at the beach—at Point Reyes Playground, AKA Toby's Community Park, located behind Toby's Feed Barn at the corner of Mesa Road and Toby Street. This small park has a climbing structure, a sand-play area, tot swings, restrooms, drinking fountains, and a picnic area. It's also a great place to take your picnic lunch and eat on a nice day.
For more serious play, at Point Reyes National Seashore offers beaches, hiking trails, and other attractions, including whale- and Elephant Seal-watching in the winter and spring. Browse all our articles on family friendly activities and destinations in Point Reyes National Seashore and nearby areas.
If You Go
Point Reyes Station is located in West Marin on Highway 1. To get there from southern and central Marin, take Sir Francis Boulevard west through the San Geronimo Valley and Samuel P. Taylor State Park. Follow Sir Francis Drake Boulevard to Highway 1 in Olema. Turn right (north) on Highway 1 and follow it into Point Reyes Station. To get there from northern Marin, take Novato Boulevard west, turn left on Point Reyes–Petaluma Road and follow it to Point Reyes Station; alternately, take Lucas Valley Road west to Nicasio and then follow Nicasio Valley Road to Point Reyes–Petaluma Road.
West Marin weather is notoriously fickle, so make sure you dress in layers. We've experienced some of the coldest and foggiest weather there in the summer and some of the nicest days in the middle of winter, so be prepared for anything! If you plan to go out to the beaches and trails of Point Reyes National Seashore, hiking books or sturdy walking shoes are recommended, as is a wind-proof shell or parka.
Sign up for tips & news for Marin families!