Back to top
Sonoma & Napa Wine Country Family Holiday Fun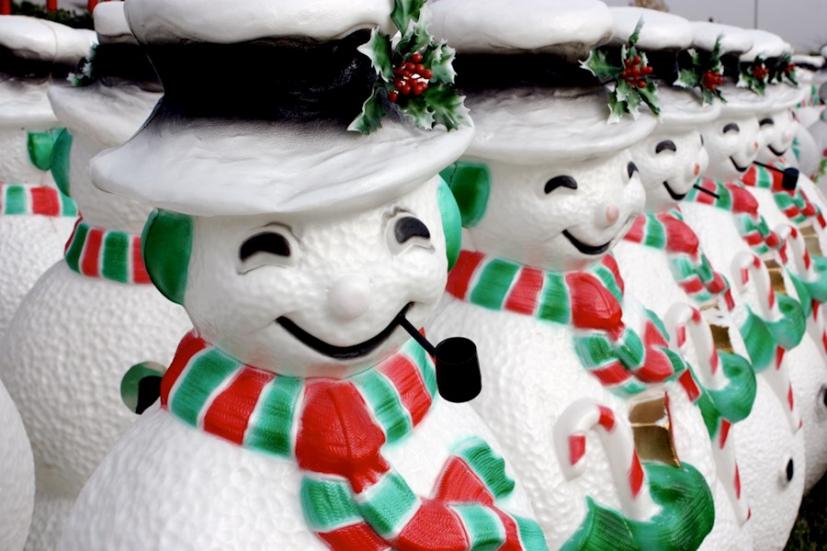 Don't miss the annual Lighting of the Snowmen Holiday Festival at Cornerstone Sonoma
One of the benefits of living in the North Bay is having the Wine Country of Sonoma and Napa right in our own backyard. It's a short trip from Marin but a world away, especially during the holidays, when the area does itself up in style.
Here are some selected family-friendly holiday events and happenings in Sonoma and Napa, as well as a few of our favorite places to visit in the Wine Country. Some of these events require tickets or advance reservations, so make sure you check for availability before you go.
Sonoma Valley Holiday Events
Lighting of the Historic Sonoma Plaza
Downtown Sonoma
Saturday, November 16, 5–8 pm
The kick-off to the popular Holidays in Sonoma, join thousands of residents and visitors as we fill the historic Sonoma Plaza with the bright glow of a quarter-million lights. The evening will include music, performances, food trucks and the chance to visit the holiday displays around the 8-acre Sonoma Plaza. Event details
Cirque de Bohème presents "A Paris"
Cornerstone Sonoma
November 29 & 30, December 1, 7, 8, 14, 15, 21 & 22, 1, 3 & 5 pm
Created in Paris during a period called "les Années Folles," this old-style show is based on the French tradition of a 1920s Circus. Cirque de Bohème transports audiences back in time for an hour of mystery and entertainment. Presenting A Paris! An original spectacle with poetry, music, mystery, lots of laughs, and amazing circus talents! Delight in the work of world-class performers including a Magician, Hand Chair Balancing, Hula Hoop, Mime, Spinning Plates, Slack Rope, Jugglers, and more! Event details
Holiday Open House & Photos with Santa at Larson Family Winery
Larson Family Winery, Sonoma
Saturday & Sunday, December 7 & 8, 11 am–3 pm
Larson Family Winery near Sonoma is a great family-friendly winery. Take your family photos with Santa and get your holiday shopping done! Enjoy samples of exclusive estate wines and gourmet food items, music, and special prices on gifts! Bring your camera! Larson Family Winery is located at 23355 Millerick Road in Sonoma. Event details
Lighting of the Snowmen Holiday Festival
Cornerstone Sonoma
Saturday, December 7, 4–8 pm
Bring the family to watch the annual 15th annual Lighting of the Snowmen. Enjoy live holiday music, lights and decorations, wine and beer tasting, delicious food, kids' crafts, and much more. Free admission. Parking $10 (benefits local charities). Location: 23570 Arnold Drive, Sonoma. Event details
Holidays on the Norther Frontier & Christmas at the Mission
Downtown Sonoma
Saturday, December 14, 4–8 pm
Join the community at this festive, traditional holiday event! Family-friendly activities take place throughout the historic park in downtown Sonoma. Experience living history, a campfire, caroling, live music, craft activities, and more. Four ticketed candlelight sing-along sessions take place in the Sonoma Mission Chapel. Tickets for the Mission Chapel performances will be distributed on Saturday November 23 at 10 am in front of the Mission. A donation of $2.50 per ticket is suggested, maximum four tickets per person. More information
Other Sonoma Valley Destinations for Family Fun
While you're in Sonoma Valley, check out some of our favorite family destinations, including Cline Cellars (where you can feed the fish) and the Missions Museum, Larson Family Winery, which offers outdoor games and even ride-on toys for kids, Sonoma Train Town (open Friday–Sunday, 10 am–5 pm), Jack London State Historic Park, and the historic Sonoma Plaza.
Napa Valley Holiday Events
Napa Valley Wine Train Santa Train
Mondays–Thursdays November 19–December 23
Napa Valley Wine Trains' Santa Express Trains are a magical experience for the whole family. Santa and some special friends will be on board, of course. Tickets do sell out very early, so check for availablity at (800) 427-4124. Tickets start at $59.99 per person. Refreshments available for purchase on board. Event details
Napa's Christmas Parade
Downtown Napa
Saturday, November 30, 5–8 pm
The theme of this year's annual Christmas parade is "'12 Days of Christmas". Napans build floats, decorate cars, animals and children, and march down the street in full Holiday spirit. Free admission. Event details
Calistoga Lighted Tractor Parade and Christmas Faire
Main Street, Calistoga
Friday, December 6, 4–8 pm & Saturday, December 7, 7–8 pm
This small town holiday celebration features vintage and modern tractors and other vehicles decked out in dazzling lights on Lincoln Avenue, Calistoga's charming main street. Santa will make a special appearance, of course. Faire and tree lighting on Friday; parade on Saturday. Admission is free. Event details
9th Annual Holiday Tree Lighting and Celebration at Robert Mondavi Winery
Saturday, December 7, 3–5 pm
Welcome the holiday season with Robert Mondavi Winery's 9th Annual Holiday Tree Lighting and Celebration. This holiday party includes the tree lighting celebration, horse and buggy rides through the To Kalon Vineyard, wine tasting, hot apple cider, holiday caroling, Italian cookies and cheese, and charcuterie appetizers. A holiday tradition! Admission: $25 per person; free for children under 12, Wine Club Members, and guests who bring a non-perishable food donation for Napa Valley Food Bank. 7801 St. Helena Highway, Oakville. Event details
Pioneer Christmas at Bale Grist Mill
Saturday, December 7, 10 am–3 pm
Every Christmas season, Bale Grist Mill hosts a 19th-century Christmas celebration, pioneer style. Make a clove pomander or wreath of rosemary for your home, or string popcorn and cranberries for the tree. Write a letter to Santa in calligraphy and seal with red wax. Children especially enjoy decorating gingerbread cookies, cutting paper snowflakes and making "leavings dolls" out of scraps of fabric. There are demonstrations throughout the day: lace making, wool spinning, waxed egg decorating and milling demonstrations. Cookies and cider too! Admission $5, kids under 5 free. Bale Grist Mill State Historic Park is located between St. Helena and Calistoga along Highway 29/128. Event details
Sign up for tips & news for Marin families!