Back to top
Riding the Rails at Sonoma TrainTown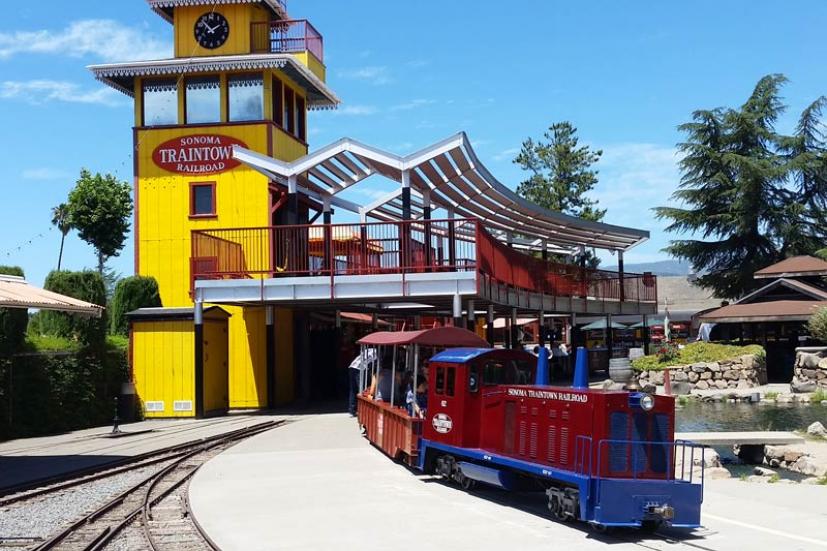 When we're in the Wine Country, we always make sure we visit TrainTown, the fun and fantastic miniature railroad located in the town of Sonoma. It's a place that I used to visit back when I was a kid, and it's the kind of destination that takes you and your family back to a simpler, less hectic time.
Sonoma TrainTown offers train-related activities that are fun for everyone, from toddlers to grade school kids (and adults, too), as well as a selection of carnival-style rides. It's also a short drive from pretty much anywhere in Marin, which makes TrainTown a must-visit attraction for North Bay families.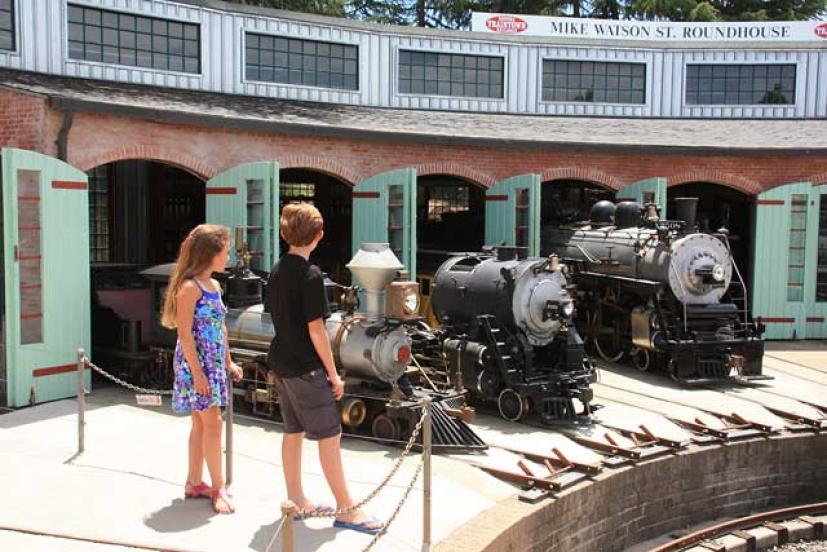 A Sonoma Valley landmark since the 1960s, TrainTown has that old-fashioned roadside-attraction kind of charm associated with a bygone era. Located right on Broadway as you head into town, it's impossible to miss. Park your car, buy your tickets at the admission booth, and hop on when the train arrives at the station. Train rides last approximately 20 minutes, and are drawn by a variety of engines, both diesel and steam.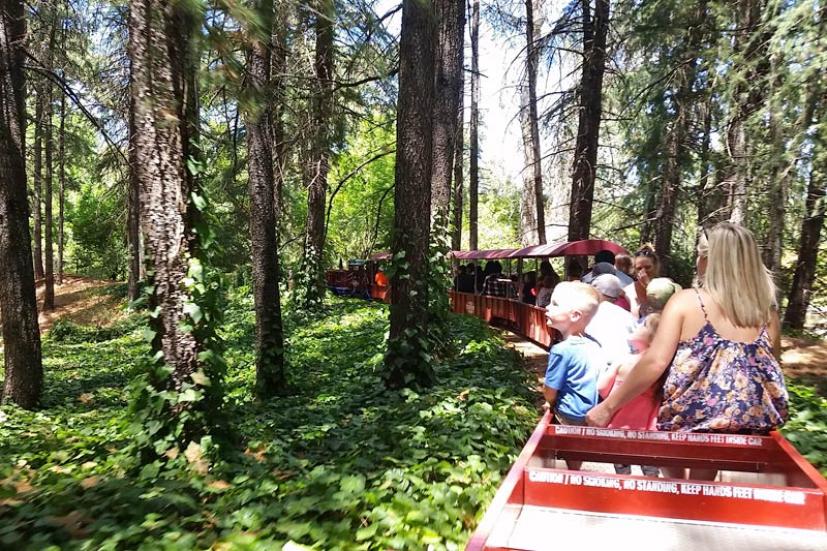 During the mile-and-a-quarter train ride, you make a short stop at the quarter-scale model town of Lakeville, which has a number of buildings to explore as well as a petting zoo populated by friendly and eager goats, alpacas, chickens, and ducks. This is always the highlight of our visit to TrainTown. You can purchase food out of machines to feed the animals, so make sure to have some quarters on hand.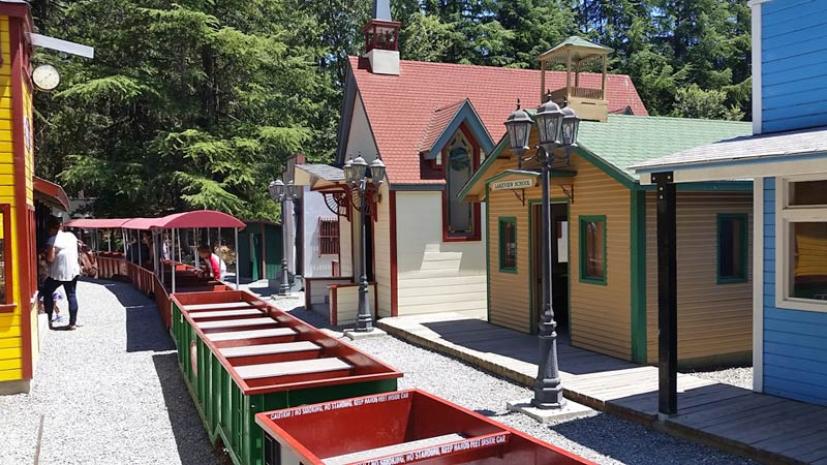 We also strolled in and out of the church, jail, firehouse, and other buildings in the little Old West-style town. After the stop, we got back on board and headed back to the station, taking in the scenic grounds as we rode over bridges and through tunnels.
Once the ride was over, my kids wanted to head to the railroad-themed amusement rides, which include a carousel, Ferris wheel, plane ride, swing chairs, roller coster, and a scrambler. Kids can also play on the three full-sized cabooses on the grounds. There's also a gift shop that sells railroad-related toys, T-shirts, engineer caps, whistles, and other train souvenirs.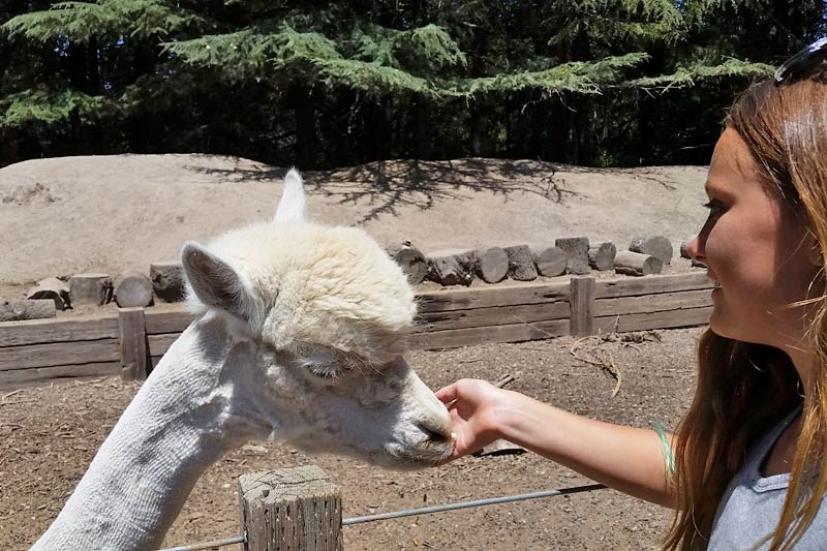 Sonoma TrainTown is a great destination for a summer vacation day or any other time, for that matter. Of course you have the added bonus of being up in the world famous Sonoma Valley, with its renowned restaurants, wineries, and historic sites.
TrainTown also offers birthday parties. Reserve a picnic table ($225 for a two-hour reservation), host is responsible for train ride tickets, food and drink, decorations, etc. Call TrainTown at (707) 938-7156 or email info@traintown.com for more birthday party information.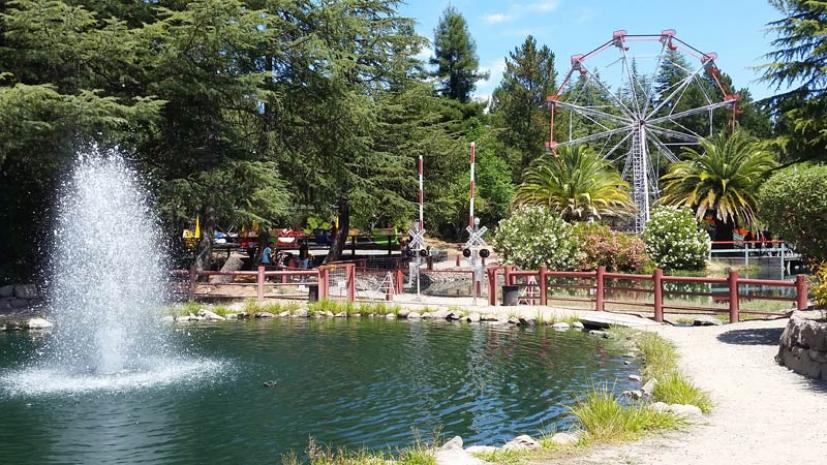 If You Go
Sonoma TrainTown is located at 20264 Broadway in Sonoma 95476, and is open from 10 am to 4 pm on Saturdays and Sundays through June 11 and daily June 17 through August 13. TrainTown is closed on Thanksgiving and Christmas and during inclement weather. Some days not all attractions are operating (usually just the train, airplane ride, and carousel); check their schedule for details.
Admission to the grounds and parking are free. Train ride tickets cost $9.25 per person for all ages; children under 12 months old are free. Tickets for the carnival rides are $3.95 each or 5 tickets for $16.75. Train rides are handicapped-accessible. No advance reservations are required. For more information, visit www.traintown.com or call (707) 938-3912.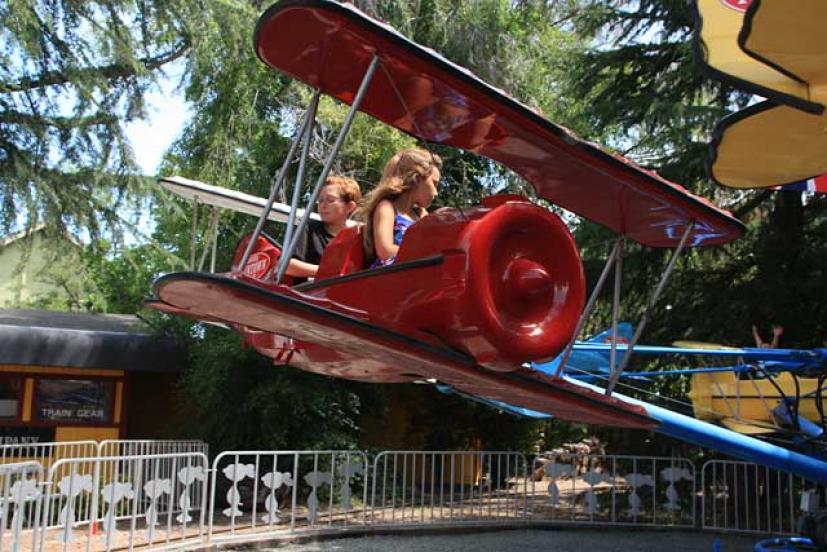 No outside food or beverages are allowed, but they sell hot dogs, sausages, corn dogs, French bread pizza, popcorn, and other snacks and drinks at their concession stand. (You could always bring a lunch and picnic up the street at the Sonoma Plaza afterwards, or grab something to eat at one of the numerous restaurants in downtown Sonoma.)
Make sure you bring your camera, as TrainTown is a fantastic place for family photo ops!
To get there from Marin, take Highway 101 to Highway 37 east, then turn off onto Highway 121 at Sears Point. Follow Highway 121 north and bear right at Schellville, following the signs to Sonoma and Napa. Turn left on Broadway/Highway 12 and follow it into Sonoma. TrainTown will be on your right, just after Napa Road.
Sign up for tips & news for Marin families!