Back to top
Dining with Kids in Marin: Grilly's Mill Valley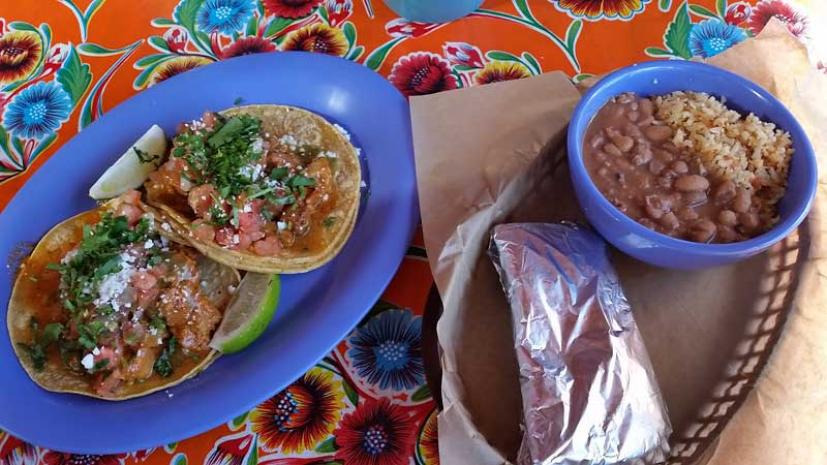 When we're in Mill Valley and are in need a quick and healthy lunch, we often stop at Grilly's on Miller Avenue for fresh and tasty Cal-Mex fare. Grilly's has been a fixture in Mill Valley for over 24 years, and specializes in traditional Mexican-style favorites prepared with fresh and healthy ingredients.
Here you'll find the usual taqueria offerings of grilled meats and veggies served as burritos or burrito bowls, tacos (with organic corn tortillas), quesadillas, nachos, and more. Grilly's also offers enchiladas, tamales, and breakfast burritos. Vegetarian and vegan offerings are available, too, and you can order brown rice in place of the traditional Spanish rice for a healthier option. There's an extensive kids' menu, too, with kid-sized burritos, quesadillas, and even just rice and beans with a tortilla. When we dine there we always order their sparkling lemonade and house-made agua frescas, the flavors of which depend on the season.
Grilly's is clean, comfortable, and nicely decorated, with rustic wooden furniture and oilcloth covered tables. We like to sit out on the patio along Miller Avenue on a nice day. Service can be a bit perfunctory at times, but it's on order-at-the-counter-and-pick-it-up-when-it's-ready kind of place, so it's not a big deal.
Grilly's is located at 493 Miller Avenue in Mill Valley, and is open Monday through Saturday from 9 am to 9 pm and Sunday from 9 to 8:30 pm. Plenty of free parking is available in the lot to the side of the building and along Miller Avenue. Grilly's has another location in downtown Fairfax at 1 Bolinas Avenue, but it's tiny and more of a take-out kind of place. For more info and menus, visit grillys.com or call (415) 381-3278.
Today's Events
Wednesday, February 21, 2018