Back to top
Experience the Wizarding World of Harry Potter and More at Universal Studios Hollywood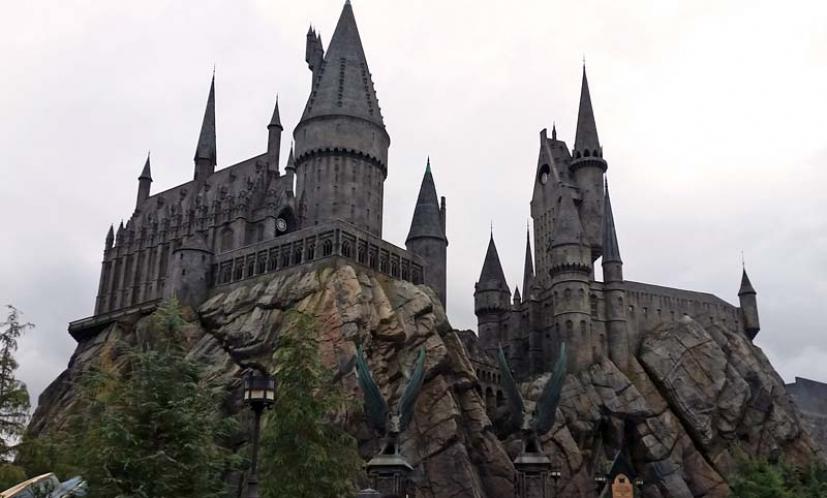 When you're in the LA area with the kiddos, Universal Studios Hollywood is a must-visit destination. It's even more exciting now the the long awaited Wizarding World of Harry Potter is now open! We had a chance to visit on our last trip to the southland, and it tied in to the Hollywood theme of our trip. There's really something for everyone here, and to top it off, you can take a tour of the famous Universal back lot and get a glimpse of movie magic in action.
While Universal Studios doesn't boast as many rides as competitors like Disneyland, there's still plenty to see and do here, and you'll find yourself immersed in realistic and detailed settings like Hogsmead, complete with train station, shops, snowy rooftops (even in the middle of a Los Angeles summer!), and the Hogwarts castle looming over everything and downtown Springfield, USA, home to the Simpsons and complete with Moe's Tavern, a Krusty Burger, and the Kwik-E-Mart.
The Wizarding World of Harry Potter
The kids have been begging to visit Universal ever since they heard the Wizarding World of Harry Potter attraction was opening in spring 2016. Well, the wait was worth it! The whole area, representing the village of Hogsmead and Hogwarts School of Witchcraft and Wizardry from the Harry Potter books and movies, is so extremely detailed and convincing you really feel like you're there!
Stroll the streets and visit shops like Honeydukes candy store and Zonko's joke shop, where you can stock up on chocolate frogs and your supply of Bertie Bott's Every Flavor Bean. Don't miss visiting Ollivander's wand shop, where lucky visitors can be selected for a fitting to determine their perfect wand. My son got selected and was paired with an ivy wand. (Good thing he brought some Christmas money—or muggle cash, as the staff here call it—to buy souvenirs!) After you get your wand, you can practice your spell casting at shop windows throughout Hogsmead, too.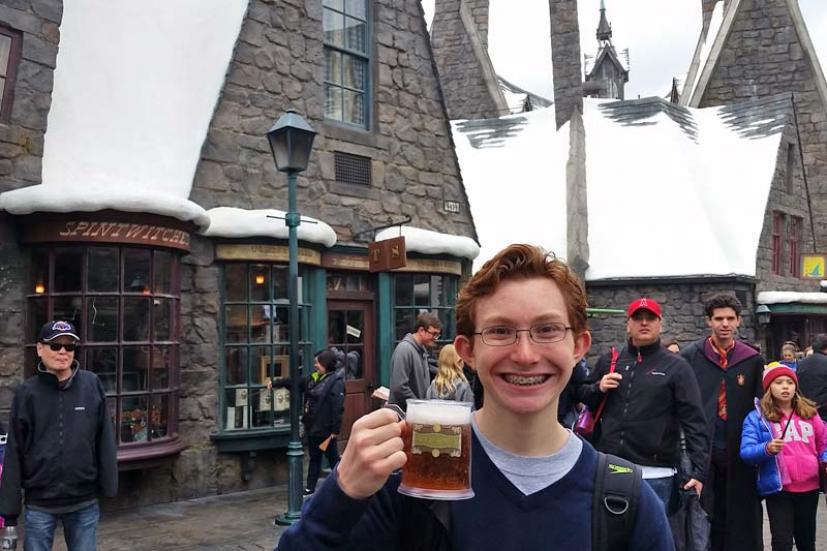 You can't escape the Wizarding World of Harry Potter without trying a glass of butterbeer. This non-alcoholic drink from the Harry Potter series is available in cold, frozen, or hot versions, and all are surprisingly good. Think butterscotch soda or Icee for the first two, and a hot-chocolate type butterscotch drink for the hot kind. We ate lunch at the Three Broomsticks tavern here, and it was really some of the best food we've ever had in a theme park. It's relatively authentic British pub fare like fish and chips, bangers and mash, and Sunday roast. Prices are surprisingly reasonable, and portions are generous.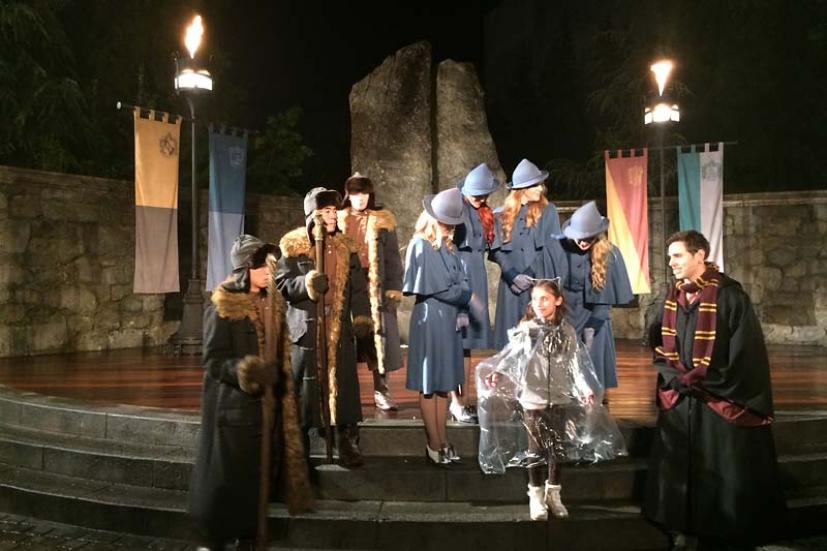 You might want to save lunch at the Three Broomsticks for after you ride on either of the Harry Potter-themed rides in this part of the park. Harry Potter and the Forbidden Journey is, like most of the rides at Universal, a sophisticated motion simulator that takes you on a flight around Hogwarts and even through a quidditch match. The other ride, Flight of the Hippogriff, is pretty much a standard roller coaster with a Hogwarts theme. While you're waiting in line for both rides you get to explore faithful re-creations of scenes from the Harry Potter movies, including Hagrid's hut and Hogwarts itself. If you choose to skip Harry Potter and the Forbidden Journey, you can still walk through the Hogwarts castle.
You'll also be able to take in live performances from the Tri-Wizard Tournament and of course spend your money on countless Harry Potter souvenirs, including wands, apparel, toys, and practically anything else you can think of.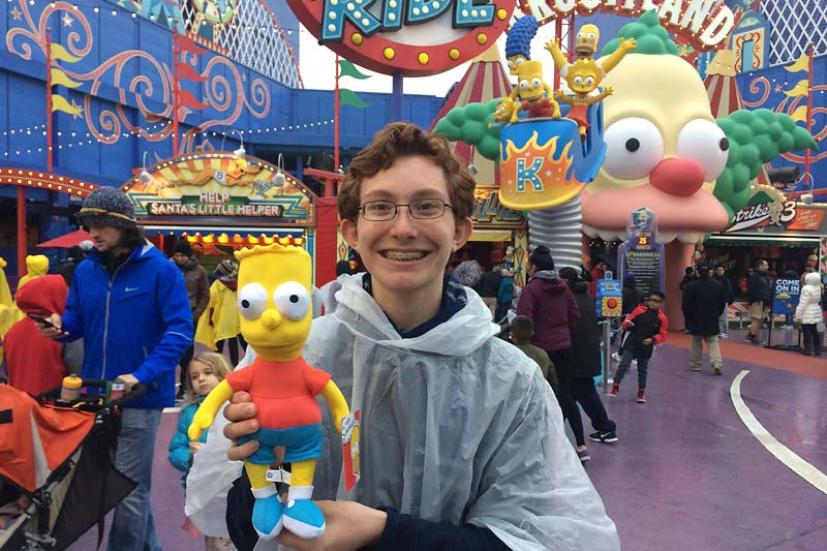 Meet the Simpsons at Springfield USA
Next to the Wizarding World of Harry Potter, our next favorite part of Universal was Springfield USA, especially for my husband, who's a die-hard Simpsons fan. Like the Harry Potter attraction, Springfield is really well thought out and detailed, with sly references to Simpsons gags and characters sprinkled throughout the area.
Visit Krustyland, a theme park within a theme park, to ride the Simpsons ride and play carnival games. Everybody wins at the midway games, where you can choose a Bart or Lisa Simpson doll as a prize.
You can also dine at the Krusty Burger and get a Flaming Moe and even a tall glass of Duff beer at Moe's Tavern. Flaming Moes are non-alcolohic drinks poured over dry ice so they appear to smoke, and Duff beer is surprisingly decent (it's brewed locally especially for Universal).
Simpsonophiles can shop for all sorts of souvenirs at the Kwik-E-Mart. You can't leave without trying one of the enormous donuts from Lard Lad or the Kwik-E-Mart. They're surprisingly good and the whole family can share one since they're the size of a dinner plate.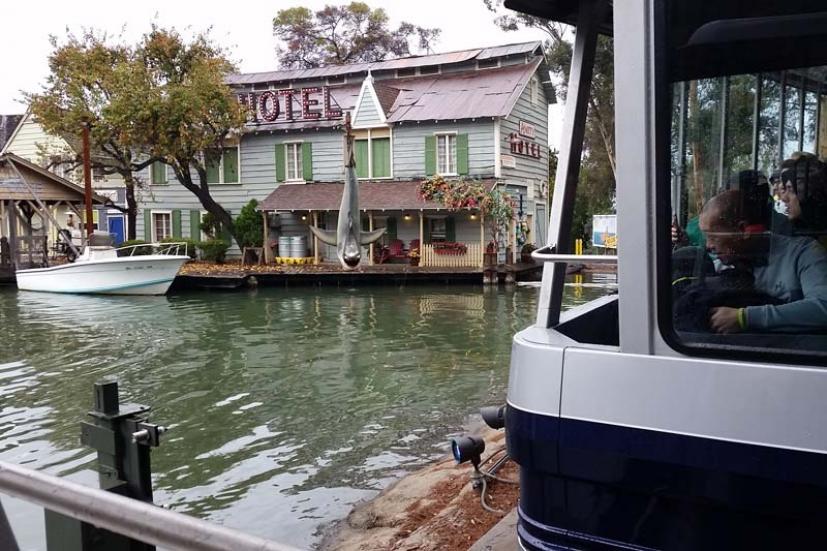 The Universal Studio Tour
No trip to Universal is complete without the famous Studio Tour. Board a tram and ride into over a century of movie-making history on the Universal Studios backlot. You'll see startlingly familiar locations used in movies like Dracula, Back to the Future, and War of the Worlds and TV shows like Leave it to Beaver, The Munsters, and Desperate Housewives.
Tour guides are funny and knowledgable and do a great job telling you all about the history of the site. You'll get attacked by the famous Bruce the Shark from Jaws, and when your tram passes by the infamous Bates Motel from Alfred Hitchcock's Psycho you might catch a glimpse of Norman Bates disposing of one of his mom's victims.
The tour includes two motion-simulator rides based on Peter Jackson's version of King Kong and The Fast and the Furious series. Both are fun and exciting—if a little a corny—but that's all part of the fun! We got a chance to go on the nighttime studio tour, too which gives you a different perspective on the backlot with special lighting and effects. As a family of movie buffs, this was really our favorite part of the whole Universal experience.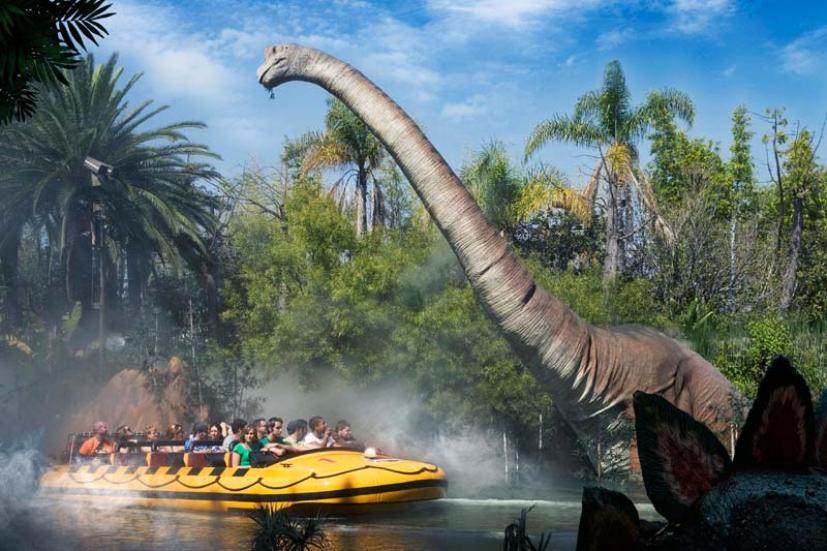 Photo: Universal Studios Hollywood
Other Attractions
Of course there's much more to Universal than just Hogsmead, Springfield, and the backlot. Other areas of the park transport you to places like Jurassic Park, ancient Egypt, Lord Farquaad's dungeon in Duloc, and Gru's laboratory from Despicable Me.
We loved the chance to take a break and watch Coraline as part of a special Laika Studios exhibit. They even served free hot chocolate, which was a welcome treat on the rainy afternoon we were there. We didn't get a chance to hit all the rides and attractions we wanted to on our visit, so we can't wait to go back later on this year and check out what we missed.
If You Go
Universal Studios Hollywood is located in the Los Angeles area at 100 Universal City Plaza, Universal City 91608. It's open daily year-round; check their online calendar for exact hours as time vary. Tickets start at $105 each and go up to $329 for the VIP Experience. Season passes start at $129; blackout dates apply. Parking rates start at $20; many local hotels offer shuttles to the park. Learn more and order advance tickets at www.universalstudioshollywood.com.
Keep in mind that most of the rides at Universal are motion simulators similar to Star Tours at Disneyland. They're a lot of fun, but do feature plenty of sudden movements and might not be for everyone. We enjoyed all the ones we went on, but even my husband, who never gets motion sickness at all, admitted to getting a little queasy on the Simpsons ride (not that it would stop him from going on it again).
On our visit we stayed in nearby Burbank at the Tangerine, a cool, reasonably priced, family-friendly hotel. It's an old mid-century motel that's been modernized and upgraded, with unique artistic murals in each room. It has a pool and complimentary pastries, coffee, tea, and hot chocolate in the mornings. It's spotlessly clean and the staff are friendly and helpful, too. Universal Studios is only about a 10-minute drive away.
The surrounding Burbank/Toluca Lake neighborhood is relatively quiet, safe, convenient, and in close proximity to some great dining options, including the original 1949 Bob's Big Boy (where the Beatles ate during their 1965 US tour), Lemonade, and the Smoke House, an old-school Hollywood hangout. Bob's Big Boy also hosts a classic car show every Friday night from 4 to 10 pm—Jay Leno often shows up with a car from his extensive collection! While we were there we also visited Warner Bros. for their studio tour, which was also a lot of fun. Read more about the Warner Bros. Studio Tour.
Sign up for tips & news for Marin families!