Back to top
Explore Berkeley's Tilden Park for Family Fun and Adventure
For a fun family day out this summer (or any time of year, actually), head east over the Richmond–San Rafael Bridge and up into the Berkeley Hills, where you'll find Tilden Park, a 2,000-acre playground where there's literally something for everyone. Part of the East Bay Regional Parks system, Tilden is so big and there's so much to do here, that it really bears repeat visits!
From hiking trails and campgrounds to a historic carousel and scale steam trains, you'll find a lot to do here. Best of all, many of the attractions are free or very inexpensive. Here are our favorite things to do when visiting Tilden!
Tilden Nature Area and Little Farm
One of the busiest areas of Tilden Park is the Nature Area, and for good reason. This part of the park is home to the Little Farm, the Environmental Education Center, and numerous family friendly hiking trails, as well as group campgrounds, picnic areas, and a playground. It's located right off Canon Drive at the north end of the park.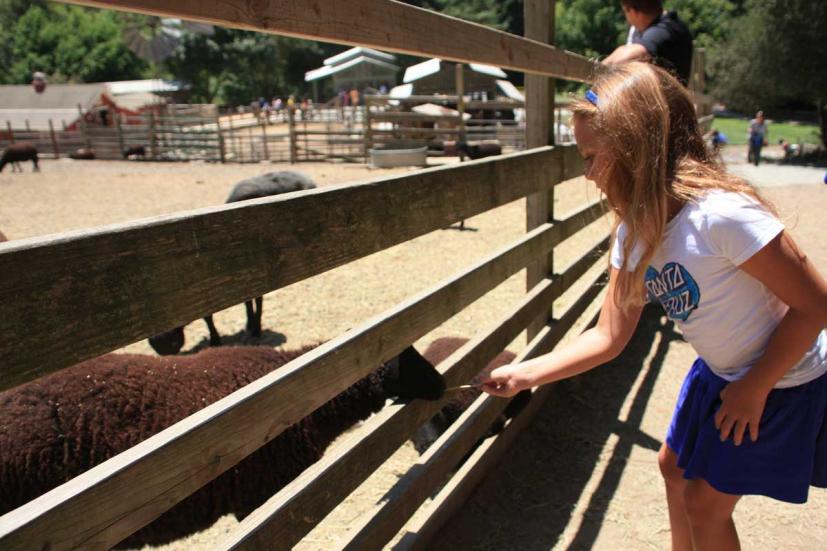 The Little Farm has been a destination for Bay Area families since 1955. You can visit with all kinds of farm animals, including goats, sheep, cows, chickens, ducks, geese, and rabbits. Make sure you bring lettuce or celery (but nothing else) to feed to the animals.
As the name and the amount of strollers parked here imply, this is a popular spot for families with toddlers and preschoolers, but it's a lot of fun for older kids and grownups, too. The Little Farm is open daily year-round from 8:30 am to 4 pm.
Nearby, you'll find the Environmental Education Center, which offers exhibits on the natural and cultural history of the area, naturalist-led programs, and a small gift shop. The life-size dioramas are fun to explore here, and tell the story of the Tilden area and the Wildcat Creek watershed. It's open Tuesdays through Sundays, 10 am to 4:30 pm.
Families looking to take a fun and easy hike should head out on the Jewel Lake Nature Trail. It's about a half-mile round trip, and includes a boardwalk section that winds through the woods on the way to the small Jewel Lake, where you can look for birds and turtles. You can buy a book at the Environmental Education Center that guides you along the way; stops are marked by wooden duck signs.
The Nature Area is a place where you can spend all day exploring and relaxing. Bring your hiking boots, your picnic, and your folding chairs and enjoy all it has to offer. But there's much more to Tilden than just this…
The Tilden Park Merry-Go-Round
Down the road from the Nature Area is the historic Tilden Park Merry-Go-Round. This is usually our first stop in the park. Housed in a big domed building, Tilden's antique Herschel-Spillman carousel was built over 100 years ago and has been a fixture in the park since the 1940s. Rides are only $4 each, or $22 for seven. The Tilden carousel is on the National Register of Historic Places, and its whimsical hand-carved animals, lights, and band organ really make for a magical experience.
Buy your tickets or check at the snack bar, where you can also get ice cream, candy, drinks, hot dogs, sausages, burgers, popcorn, cotton candy, grilled cheese sandwiches, and other tasty treats. The food here is really well prepared, and the service is friendly. In addition, healthy and gluten-free options are available. You can also make advance reservations online.
The Tilden Park Merry-Go-Round is a popular place for birthday parties, and the big lawn out front picnic tables encourage you to hang out for a while and enjoy the atmosphere. It's open daily through Labor Day from 11 am to 5 pm Monday through Friday and 11 am to 5:30 pm Saturday and Sunday. The Merry-Go-Round is located off Central Park Drive south of the Nature Area.
The Tilden Park Steam Trains
At the south end of Tilden lies another Bay Area gem: the Redwood Valley Railway. This little railroad winds through its namesake redwood trees, and features miniature live steam engines, which are incredibly detailed and authentic scale reproductions of the real things.
The railway offers 12-minute rides; tickets are $3 each or five for $12. It's free for kids under two. Climb into one of the cars and enjoy an open-air ride through the redwood forest.
The Tilden Park Steam Trains are open through Labor Day from 11 am to 5 pm Monday through Friday and 11 am to 6 pm on Saturday and Sunday and on weekends the rest of the year, weather permitting. The trains are located at the intersection of Grizzly Peak Boulevard and Lomas Cantadas Road, at the very south end of the park.
More Family Fun at Tilden
Like I mentioned before, there's so much to do here, that you can't really fit it all in on one visit! (The kids will probably be tired out from all this fun at some point, too.) Another Tilden treasure that we love to visit is the Botanic Garden. This free garden of native California plant life offers 10 acres to explore, with plenty of winding pathways, stone stairs, trails, and little bridges crossing the creek.
Every part of California is represented here, from the high Sierras to the Pacific rain forest. Admission to the Botanic Garden is free, and it's open from 8:30 am to 5:30 pm from June to September and 8:30 am to 5 pm from October through May.
Other fun family activities here including swimming and fishing at Lake Anza, an 18-hold golf course and driving range, and of course nearly 40 miles of trails suitable for hikers, cyclists, and equestrians.
If You Go
Tilden Park is open daily from 5 am to 10 pm unless otherwise indicated. We've listed hours for individual attractions with their descriptions above. Admission to the park and parking is free. Attraction prices are noted above.
To get there from Marin, take Highway 101 to Highway 580 and cross the Richmond–San Rafael Bridge. Follow 580 to Albany and take the Buchanan Street exit. Turn left onto Buchanan Street and follow it onto Marin Avenue. Follow Marin Avenue across San Pablo Avenue and uphill until you get to the Marin Circle, a traffic circle, where you'll bear right onto Los Angeles Avenue. Follow Los Angeles until you get to Spruce Street, where you'll turn left. Where Spruce intersects Grizzly Peak Boulevard, you'll go straight through the intersection and then take an immediate left onto Canon Drive, which leads right into Tilden Park. It sounds a little confusing, but the route is clearly marked, so just follow the signs to the park! Tilden Park is also served by AC Transit buses.
Most of the picnic areas and attractions have restrooms and drinking water. Food is available for sale at the Merry-Go-Round. Weather can vary here, just like in the rest of the Bay Area, so layered clothing is the rule.
For more information, including maps, hours, and GPS coordinates, visit www.ebparks.org/parks/tilden.htm or call (888) 327-2757 option 3, extension 4562.
Sign up for tips & news for Marin families!