Back to top
Explore the Wonders of Space & Time at Italian Street Painting Marin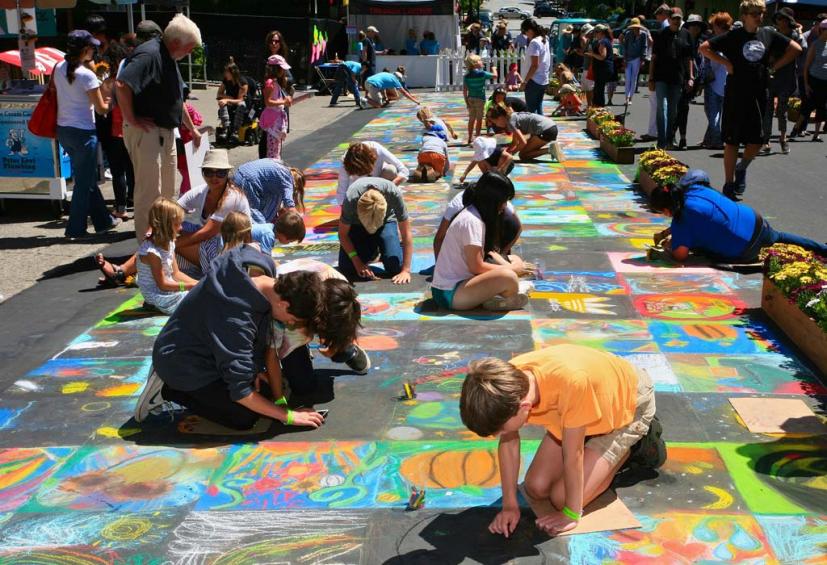 Over 100 madonnari, or street painters, come to downtown San Rafael on June 23 and 24 to show off their talents at Italian Street Painting Marin. This year's theme, "Wonders of Space & Time", offers infinite possibilities for attendees to experience the past, present, and future of our universe and the human experience. This event features amazing artwork by the participating madonnari, as well as great live music, children's activities, food and drink, and more.
Highlights of this year's festival include interactive STEAM (science, technology, engineering, art, and mathematics) activities that bridge art and science, live music from some of the Bay Area's best musical groups, a silent auction, a raffle, and the EveryLife Foundation for Rare Diseases' Rare Artist Gallery.
Kids ages 2 to 12 can create their own 2' x 2' stree painting masterpieces at the Children's Avenue. The cost is $10 and includes a 2' x 2' artist square, admission to the festival, and a set of professional artist's pastels to take home.
Street painting with chalk is an Italian tradition dating back to the 1500s. Street painters became know as madonnari for their practice of creating the image of the Madonna on public squares and streets. The tradition was revived in Italy in the 1970s, and came to California in 1987.
Italian Street Painting Marin takes place in downtown San Rafael at Fifth Avenue and A Street on Saturday, June 23 from 10 am to 8 pm and Sunday, June 24 from 10 am to 6 pm. Tickets are $10 per person or $15 for a two-day pass; children 12 and under are free. Order advance tickets online; tickets at the event are cash only.
For more information, visit www.italinstreetpaintingmarin.org.
Photos: Italian Street Painting Marin
Sign up for tips & news for Marin families!