Back to top
Family Fun at the New Presidio Officers' Club in San Francisco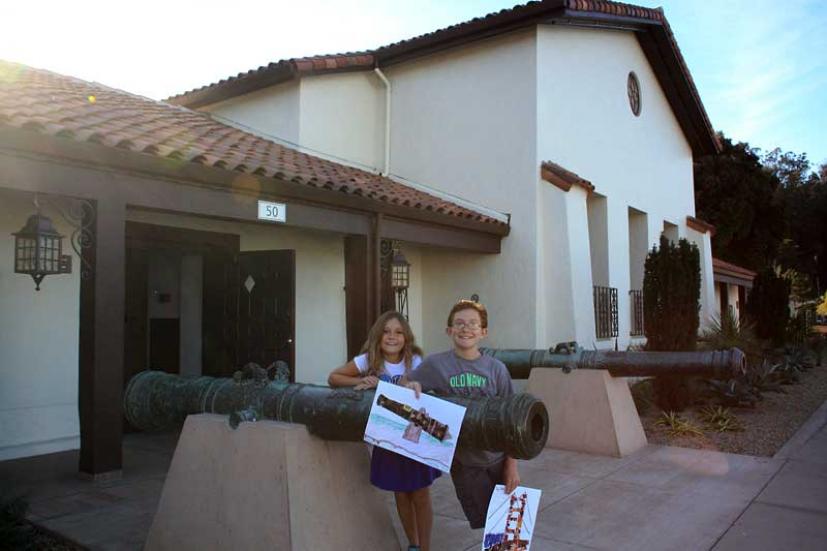 The Presidio Officers' Club re-opened to the public back in October, and if you haven't had a chance to check it out yet you definitely should put it on your list of things to do with the family! This "new" destination is actually one of California's most historic buildings, with portions dating back over 200 years to when it was created as part of the Spanish colonial El Presidio in 1776.
Once a gathering spot for military officers and their families, the Presidio Officers' Club underwent a $30-million-dollar renovation and now serves as a public space offering fascinating exhibits, fun family activities and public programs, unique works of art, and more. Admission is free, too! We had a chance to visit last weekend, and it's a fantastic destination for families in the Bay Area.
The Presidio Officers' Club offers permanent exhibits that chronicle the fascinating story of San Francisco's Presidio and the role it played in over 200 years of California history. (Families of fourth graders take note!) The huge Presidio Heritage Gallery tells the story of the Presidio through artifacts and multimedia installations. You'll also find rotating special exhibitions here.
The best thing about the Presidio Officers' Club is the great program of free family activities and events they offer on Weekends. On Saturdays and Sundays from 10 am to 3 pm, visiting families can create fun crafts and art projects with themes drawn from the Presidio's natural and cultural heritage. Different arts and crafts are offered every weekend, and are recommended for children ages 5 to 12. On our visit, the kids made beautiful paper mosaics of Presidio scenes using recycled magazines.
Special family events are offered on select Saturdays at 2 pm, with performance-based activities like theater, live music, dance, and more. Activities include a shadow puppet performance and workshop Saturday, November 15 and December 6, and holiday revels mask-making, in partnership with the San Francisco Shakespeare Festival on December 13.
Other activities at the Presidio Officers' Club include live music on Friday evenings, an on-site archaeology lab where visitors can observe, and even participate in, the research taking place (from May through October), and even installations by renowned artist Andy Goldsworthy.
The Officers' Club is definitely a must-visit part of any trip to the Presidio. Even on days without family programs, you can take in the exhibits and even relax and plan your Presidio activities in the comfortable and inviting Moraga Hall. The Presidio is beautiful, and there's definitely no shortage of things for families to do in the area.
For more information and a schedule of events and programs, visit www.presidioofficersclub.com. You can also call them at (415) 561-4400.
If You Go
The Presidio Officers' Club is located at 50 Moraga Avenue, at Arguello Boulevard, in the San Francisco Presidio's Main Post. It's open Tuesday through Sunday from 10 am to 6 pm (closed for the holidays from November 24 through December 1 and December 22 through January 5). Admission and all programs are free, and sponsored by the Presidio Trust.
To get there from Marin, take Highway 101 south across the Golden Gate Bridge and head down Presidio Parkway. Turn right onto Lyon Boulevard into the Presidio, and bear right onto Gorgas Avenue. Turn left on Girard Road, then right on Lincoln Boulevard, and left again on Graham Street, and follow it to Moraga Avenue and the Officers' Club.
Clean restrooms and drinking fountains are available at the Presidio Officers' Club. Food is available at the on-site restaurant, Arguello, which offers Mexican food and drink, with a kids' menu.
San Francisco weather can be fickle, especially by the Golden Gate, so layered clothing is a must.
Today's Events
Thursday, February 22, 2018