Back to top
Magical Holiday Concerts at Grace Cathedral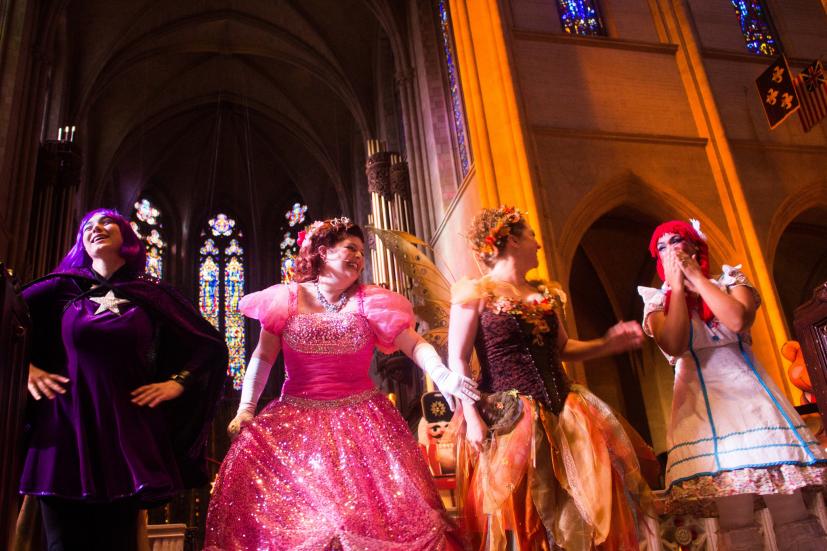 I can't imagine a more spectacular setting for a Bay Area holiday concert than San Francisco's magnicifent Grace Cathedral. This Gothic revival Episcopal cathedral on Nob Hill boasts soaring architecture, amazing acoustics, stunning stained-glass windows, and a beautiful, serene atmosphere that make Christmas concerts here really something special. In addition, families will find enough fun activities nearby to make for a fun holiday day out.
This December, Grace Cathedral offers a variety of concerts for all ages. Families with younger children will love Sing You a Merry Christmas, where you can join the with the toys of St. Nicholas's workshop in singing along with your favorite Christmas carols. Performances take place on Saturday, December 14 and 21 at 11 am, and Friday, December 20 at 3 pm and Monday, December 23 at 3 pm. It's affordable, too, with tickets ranging in price from $5 to $25!
You can also attend their Snowflake Tea before the Friday, December 20 performance. Ticketholders will get to meet members of the cast in a private pre-show reception and will get premium front-row seats! The cost is $200 for four.
A Cathedral Christmas features the Cathedral's Choir of Men and Boys, a full orchestra, organist, and guest soloist performing classic Christmas carols and other sacred music for the holiday season. There are even a couple opportunities to sing along, too. We had the opportunity to take in this concert this weekend and it was wonderful, with fantastic performances in an amazing setting. It was a truly unforgettable experience. Performances take place Saturday and Sunday, December 14, 15, 21, and 22 at 3 pm and Friday, December 20 at 7:30 pm. Tickets range in price from $15 to $70.
Christmas concerts at Grace should really be on your holiday to-do list! We got to experience A Cathedral Christmas last year and it was one of the highlights of our holiday season. Learn more about Grace Cathedral and its Christmas offerings and order tickets at www.gracecathedral.org/christmas.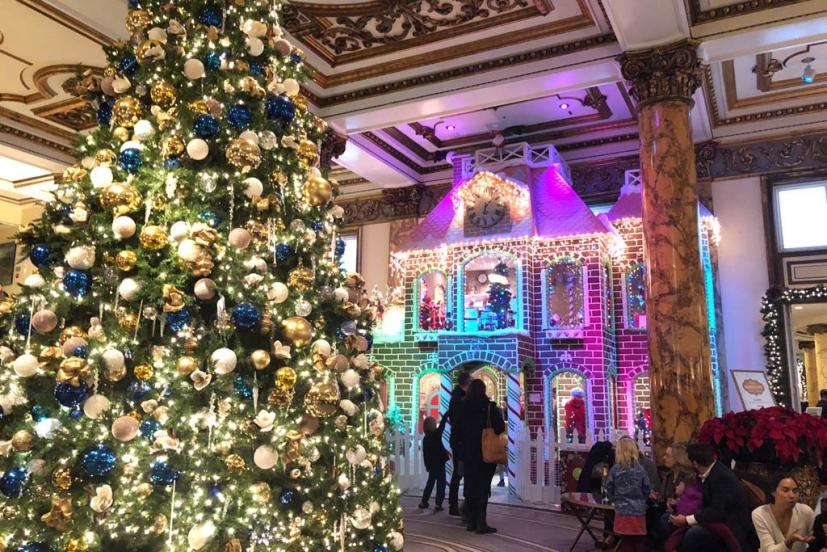 While you're there, take advantage of Grace Cathedral's Nob Hill location and enjoy some more holiday fun at the Fairmont Hotel, located just a block away. The Fairmont's elegant lobby is dominated by an enormous Christmas tree, and you can't miss the amazing two-story gingerbread house right behind it! You can walk through the house, made from over 6,000 pieces of real gingerbread (you can smell the spices), and even reserve a kids' tea party in there.
It's fun to hang out in the Fairmont lobby with a glass of champagne or a cup of hot chocolate and savor the holiday decor. Kids can also visit the Santa Room, write letters to Santa and watch holiday videos. Snacks and drinks like hot chocolate, tea, and coffee are available for purchase.
Huntington Park is yet another option for families on Nob Hill. It has a children's playground and plenty of areas to run, play, and burn off some energy. You may even see a cable car decorated for the holidays as it goes by!
To get to Grace Cathedral and Nob Hill, take Highway 101 across the Golden Gate Bridge and follow Doyle Drive to Lombard Street. Turn right on Gough and take Gough to California Street where you'll turn left. Follow California Street up to Nob Hill. Street parking is available, although limited, but there's plenty of parking in the Grace Cathedral, Masonic, and Crocker garages.
Sign up for tips & news for Marin families!