Back to top
Holiday Teas for the Family in Marin and the Bay Area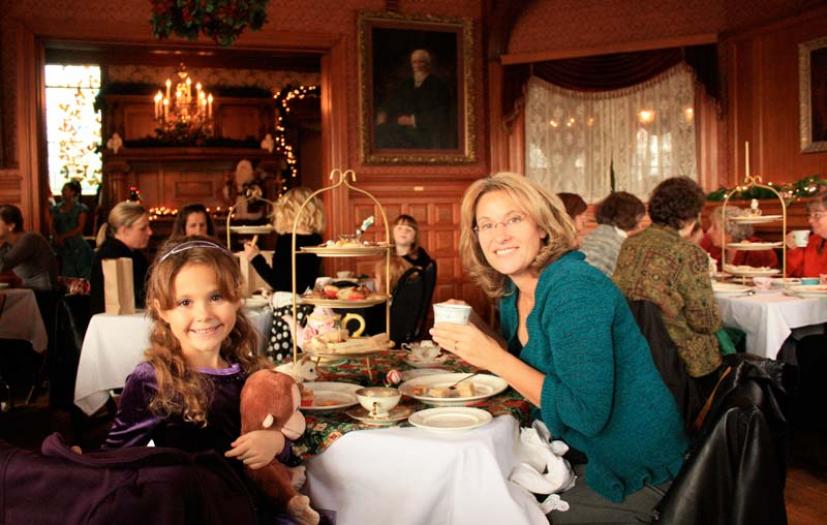 Holiday teas are a fun seasonal treat for children and their parents. Holiday teas are popular and space is limited, so reserve your spot as soon as possible if you plan to go. All of these events do require advance reservations. Here are a few of our favorites in Marin, San Francisco, and the East Bay.
Marin County Holiday Teas
10th Annual Teddy Bear Tea à la Française
Saturday, December 7, 10:30 am–noon
Red Hill Church of San Anselmo
Join us for tea and hot coco, finger sandwiches, holiday cookies and FUN! You and your little ones will enjoy a tea service, traditional holiday music, fireside story time, and a professional photo seating. Each child should dress up in dapper holiday style and bring their own favorite Teddy Bear pal from home to share tea with! The story of the Very First Christmas will be presented for the children during the Tea in English AND in French!! Very limited seating for our Anniversary Celebration! Reserve online–$26 each seat (adults and children all same price). Purchase tickets here. Adults AND children must all purchase a seat to be sure we have proper count for seating and food.Locations: 921 Sir Francis Drake Boulevard, San Anselmo and 542 First Street East, Sonoma. Event details
Magic Toy Box Tea at Falkirk
Saturday and Sunday, December 14 & 15, seatings at noon & 3 pm
1408 Mission Avenue at "E" Street, San Rafael
The tea is an old-fashioned tour de force in the elegant Queen Anne Victorian Falkirk Mansion. Homemade tea sandwiches and sweets are served, along with tea, hot chocolate, and other beverages. Features include life-sized toys, a raffle, and plenty of photo opportunities. Make sure you bring your teddy bear or other favorite toy! The Magic Toy Box Tea is hosted by the Cultural Affairs Service League. This extremely popular event is by reservation only and always sells our early! Reserve your spot by calling (800) 838-3006 or online. The cost is $28 for adults and $24 for children or $50 for an adult-and-child combination ticket. Event details
East Bay Holiday Teas
Holiday Tea at the Claremont
Saturdays, December 7–29, noon–4 pm
41 Tunnel Road, Berkeley 94705
Celebrate the holiday season with this grand Claremont tradition made extra special for the holiday season. Reservations recommended, call 510-549-8556 or email us here. Pricing per person: $109+ Adults; $69+ Children ages 5 - 12. Event details.
Holiday Tea with Princess Elsa at the Claremont
Saturdays, December 14, noon–4 pm
41 Tunnel Road, Berkeley 94705
Visit our Frozen themed gingerbread display with a special visit from Princess Elsa during Holiday Tea! Enjoy enhanced menu options and special Frozen themed giveaways for the kids! Space is limited – make your reservations now! Reservations strongly encouraged, please call 510-549-8556 or
email us here
. Pricing per person: $109+ Adults - with one glass of sparkling wine; $79+ Children ages 5 - 12.
Event details
.
Dunsmuir Hellman Estate Holiday Tradition High Tea
Sundays, December 9 & 15, 11 am–1 pm
2960 Peralta Oaks Court, Oakland 94605
Create one of the most magical traditions this Holiday season and join us for our Holiday High Tea at the Dunsmuir Hellman Historic Estate. Celebrate this season enjoying the breathtaking views of the estate during the winter.Tea will be served in the Dikelspiel House along with an unmatched selection of sweet and savory bites to choose from. Tickets: $60. Event details
San Francisco Holiday Tea
Holiday Victorian Teas at the Haas-Lilienthal House
Friday–Sunday, December 13–15, 2–5 pm
2007 Franklin Street, San Francisco 94105
This holiday season, join SF Heritage for their annual Victorian Teas at the Haas-Lilienthal House. Enjoy a full buffet of delicious tea sandwiches, warm scones, and delectable petit fours plus unique tea blends served from silver pots. Docent-led tours of the magnificent mansion will be offered after tea service. Proceeds benefit the continued maintenance and restoration of the Haas-Lilienthal House. Period costumes are always encouraged, but not required. $75 VIP, $60 adults, $30 children 10 and under (tickets go on sale Nov. 4). Event details
Gingerbread Holiday Tea at the Fairmont Hotel
Saturdays & Sunday, November 30–December 11, 1 & 3:30 pm
Thursday–Sunday, December 12–31 (also available on December 25 & 31), 1 & 3:30 pm
600 Stockton Street, San Francisco 94108
At the Fairmont's Gingerbread Holiday Day, children will receive a Nutcracker ornament and a gingerbread cookie to decorate. A Christmas fairy and balloon elf will be on hand to entertain young guests. Cost: $129 adults and $89 children 12 and under. Reserve your spot here.  Event details
Top of the Mark Children's Magical Tea
Friday & Saturday, November 29, Dec. 6, 7, 13, 14, 20, 21
Thursdays, Dec. 19, 26
Tea Seatings: 12 pm & 12:30 pm
999 California Street at Mason, San Francisco 94108
Join us for a magical afternoon at our Children's Magical Tea, featuring The Master Baloonatic, Face Painting with Fire Pixie, and a Cookie Decorating Station. Santa Claus will be in the lobby on Saturdays, Dec. 7, 14, 21 from 12:30 pm to 4:30 pm. Cost: $80 per person; $75 with toy donation to the San Francisco Firefighters Toy Drive. Advance reservations required: (415) 616-6941. Event details
Teddy Bear Tea at the Ritz-Carlton
December 1, 8–9, 15–16, 21–23, 10 am and 1 pm
December 2, 10 am
December 20, 1 pm
600 Stockton at California Street, San Francisco
The hotel's famous Afternoon Tea will be offered with a fun-filled seasonal twist in the elaborately decorated Terrace Room at The Ritz-Carlton, San Francisco. Children will enjoy hot cocoa, sweet teddy bear treats, and assorted sandwiches while being captivated by a lively holiday show starring an entertaining elf, his animated sidekick, and a giant Teddy Bear. Adults may choose from specialty holiday cocktails which will also available for purchase. Each child will receive a teddy bear gift and commemorative photo with the giant Teddy Bear to take home. $2 per ticket sold will benefit Make-A-Wish® Greater Bay Area. Tickets: $130 per guest, exclusive of tax and gratuity; advance purchase required. Reservations can be placed by calling (415) 773-6168. Event details
Tea Under the Tree at the Sir Francis Drake
Saturdays, November 26–December 30
Daily, December 7–29
11 am–3 pm
450 Powell Street, San Francisco
Crown & Crumpet partners with the Sir Francis Drake Hotel this holiday season to serve a very special children's afternoon tea (11 years old and younger) under the Sir Francis Drake's 20-foot tree display on the lobby mezzanine. They also offer an adult afternoon tea for grown ups and older kids too. Tea includes sparkling apple cider, champagne, a selection of tea sandwiches, warm savories, scones and clotted cream, crumpets, tasty sweets and treats, and a choice of various teas. Last seating at 3 pm. No teas on December 24 and 25. Cost: $45–$115, gratuity included. Early bird discount available before Dec. 1. Event details
Snowflake Tea at Grace Cathedral
Friday, December 20, 2 pm
1100 California Street, San Francisco
Grace Cathedral's beloved sing-along Sing You a Merry Christmas holiday concerts are a sell-out hit for children of all ages. Count your party in with premiere seats in the front orchestra and a private pre-show reception with members of the cast and holiday refreshments. Tickets: $200 for 4. Event details
Sign up for tips & news for Marin families!