Back to top
First-time Family Camping Spots in Marin and Beyond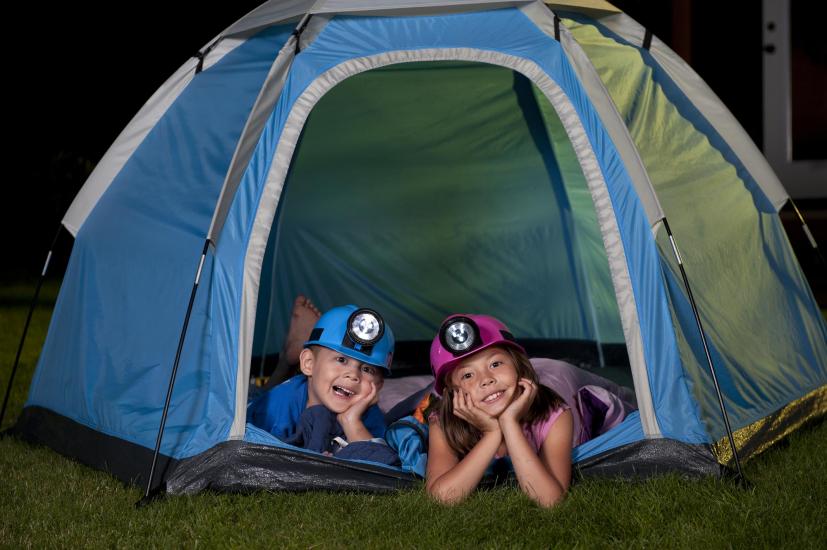 It's never too early to get the little ones introduced to camping and the outdoors, but let's face it—camping with small kids in tow isn't always easy, especially when you have gear to pack in and camp at a site that's lacking some expected creature comforts. With that in mind, we've put together this guide to perfect places for a first-time camping experience with the kiddos. All these are family friendly car camping spots where you can pull up to your campsite, set up your tent, and then have fun.
Many of these campgrounds are booked up for spring and summer weekends months in advance, but you can often find reservations during the week, and cancellations are common, too. California state parks, like Samuel P. Taylor and Sugarloaf Ridge accept reservations online through ReserveCalifornia or by phone at (800) 444-7275. 1-800-444-7275
Slide Ranch's Family Campouts, at an amazing site overlooking the Pacfic, are a fantastic way to introduce little ones to camping! The whole family will have fun spending the day taking part in farm activities, making crafts, and exploring nature. In the evening, gather together for a potluck dinner and a cozy campfire before settling in to sleep under the stars.
Campouts begin at 10 am on Saturday and end by 12:30 pm on Sunday and take place at various times throughout the year. The next ones are schedule for May 9 and May 17, 2020. Participants must bring their own camping gear, including a tent and sleeping bags. More info and reservations at slideranch.org. These popular campouts often sell out way in advance, but you can still sign up for their wait list in case a spot opens up.
Samuel P. Taylor State Park near Lagunitas offers one of Marin's most popular camping experiences. The park's campgrounds, many located in groves of towering new-growth redwood trees, include tent and RV sites, as well as the Madrone Cabins, which offer a more civilized camping experience. Samuel P. Taylor State Park is close the Point Reyes National Seashore and makes a great base for exploring the area.
Campsites and cabins are available on a first-come, first-served basis from late September through March; reservations are required during the spring and summer. Campsites include fire rings and charcoal barbecue grills. Drinking water, restrooms, and showers are available. For more information, visit www.parks.ca.gov or call (415) 488-9897. Make online reservations on ReserveCalifornia.
This beautiful park in the mountains north of Sonoma boasts 47 family camping sites around a large meadow with a year-round stream. Each site has a picnic table and fire ring, and the park has new showers, restrooms, a campfire area, a picnic area, and a visitor center with free wifi. Firewood is available for purchase. In addition to tent sites, smaller RVs and campers (up to 27 and 24 feet in length, respectively) can also be accommodated. To promote a family atmosphere, the campground at Sugarloaf Ridge is alcohol-free.
Sugarloaf Ridge offers families some great easy hikes from one to two miles in length, many of which have amazing views. The park is also home to the Robert Ferguson Observatory, which holds star parties throughout the year. For more information visit www.sugarloafpark.org. Make online reservations on ReserveCalifornia.
This campground north of Petaluma off Stony Point Road is always full of families, and for good reason—there's so much to do here. While it might not qualify as "camping" for some the Petaluma KOA has activities and amenities galore, including a huge pool with cabanas, a giant bounce pillow, a petting zoo, a playground, outdoor movies, a 30-foot climbing wall, banana bikes, hay rides, karaoke night, traditional camp games, and even tours of San Francisco.
Although this campground seems to be pretty RV-centric, it offers tent sites in a forested area, some of which even have electricity for those creature comforts. All tent sites have fire rings and picnic tables. Cabins, some of which have their own bathrooms can kitchens, are also available. The KOA is pet-friendly and even has an on-site dog park. More info and reservations: koa.com/campgrounds/san-francisco or (707) 763-1492
While largely catering to the RV crowd, the Olema Campground also offers 107 tent sites on its property between Point Reyes Station and Olema, bordering Olema Creek and Highway One. Each site has a fire ring and picnic table, and onsite amenities include a bathrooms and showers; a playground; games like horseshoes, shuffleboard, and volleyball; a general store and post office; a laundromat, and even wifi access. Plus the Point Reyes National Seashore is right next door! More info and reservations at (415) 663-8106 or www.olemacampground.net.
Located along one mile of the Russian River in the tiny Sonoma County town of Duncans Mills, Casini Ranch is family friendly and pet friendly, and boasts tons of amenities and activities to keep everyone busy. Activities include beach bonfires, hayrides, movie nights, hiking, fishing, swimming, kayaking, canoeing, inner tubing, and more. They also have playgrounds, areas for horseshoes, volleyball, and softball, a general store, game room, dog parks, and gees, ducks, and horses to feed. There's also a general store selling food, beverages, camping gear, and other supplies.
Casini Ranch offers spots for tents, RVs, and campers, and they also have cabins, cottages, and RVs available to rent. More info and reservations at www.casiniranch.com or 1 (800) 451-8400.
Sign up for tips & news for Marin families!