Back to top
Free Summer Outdoor Concerts in Marin 2018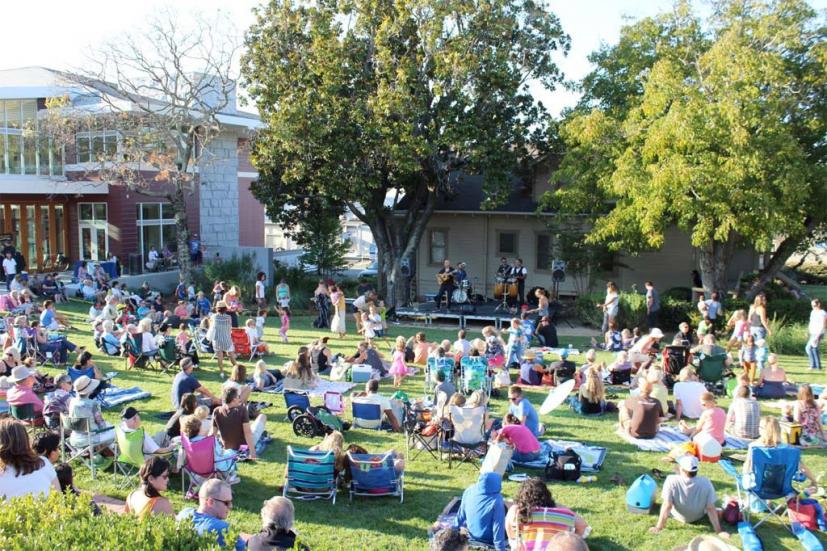 Photo: Concerts on the Green, courtesy City of Novato
One of my favorite things about summer in Marin are the free outdoor concerts that take place throughout the county. There's something about the warm weather and the long days that make events like these really special. From Novato to Sausalito, there's something for every family!
Pack a picnic and your folding chairs and check out a free summer concert near you. Here's our list of events taking place this summer. If we've missed your favorite, please let us know.
Belvedere
Belvedere Concerts in the Park Summer Series
Belvedere Community Park
Sundays, 3:45 or 4 pm, June 17, July 15, August 14 & September 2
Belvedere presents four fabulous and free Sunday afternoon concerts for your enjoyment this summer, from Father's Day through Labor Day. Bring a blanket, a picnic, your family and friends, and have a great time with local performers like LaVay Smith and Her Red Hot Skillet Lickers and Neon Velvet. For complete list of entertainment, visit their website.
Corte Madera
Summer Sunday Concerts at Piccolo Pavilion
Old Corte Madera Square
Sundays, 5–6:30 pm, June 10–August 26
Bring the family to the free outdoor summer concerts at the Old Corte Madera Square. Bring lawn chairs, a blanket and a picnic and enjoy the amazing line-up of fine local bands, including Todos Santos, Bubba's Taxi, the Corte Madera Town Band, and Danny Click and the Heck Yeahs!. See the entertainment schedule here.
Larkspur
The Marin Country Mart at Larkspur Landing offers two free concert series this summer, in addition to live music during its farmer's market on Saturdays from 9 am–2 pm. Food and drink are available from local restaurants like El Huarache Loco, Rustic Bakery, Belcampo Meat Co., and Three Twins Ice Cream. Learn more on their website.
Folkish Festival
Marin Country Mart, Larkspur
Sundays, 12:30–2:30 pm
The Folkish Festival presents performances by talented folk and American roots musicians. The festival coincides with the weekly Off the Grid food truck extravaganza, so grab a bite to eat and listen to some great tunes!
Friday Night Jazz
Fridays, 6–10 pm
Marin Country Mart's free outdoor jazz series takes place on Friday evenings throughout the summer. For more info, visit their website.
Mill Valley
Tam Valley's Creekside Fridays
Tennessee Valley Cabin, Mill Valley
Fridays, June 15–August 10, 6 pm
Bring the family, pets, chairs, and blankets to this weekly free musical event. Creekside Fridays is a series of music events for the whole family to enjoy. Each week features local musicians playing great music, a kids' area with face painting, bounce house, cotton candy, food and more. Doors open at 5:30 pm and food available starting at 6 pm. Location: 60 Tennessee Valley Road, Mill Valley. For more info, visit their website.
Concerts on the Plaza
Depot Plaza, Downtown Mill Valley
Sunday, August 5, 12, 19 & 26, 3–5 pm
The Mill Valley Arts Commission hosts free outdoor concerts on the Downtown Plaza on each Sunday in August, featuring one or two musical acts. Performers include Sony Holland, Michael LaMacchia's Kauai Project, and Solid Air. For more info, visit their website.
Novato
Concerts on the Green
Novato City Green
Saturday, June 2 & 16, July 7 & 21, August 4 & 18, 5–7 pm
Novato's free 2018 summer concert series features soulful blues from Marty O'Reilly and the Old Soul Orchestra, classic jazz by Lavay Smith and Her Red Hot Skillet Lickers, and Caribbean grooves from La Mixta Criolla. Beverages for sale by Finnegan's Marin. Location: Novato City Green, 901 Sherman Avenue (adjacent to Novato City Hall). For more info, visit their website.
Hot Amphitheater Nights
Hamilton Amphitheater
Saturday, June 30 & August 25, 5–7 pm
Gather your friends and family, grab your lawn chairs and picnic blankets, and Join Novato Parks & Recreation for this free outdoor concert series held at the Hamilton Amphitheater in Novato. Acts this season are Midtown Social and Frobeck. For more info, visit their website.
Summer Music Concert Series
Pacheco Plaza
Friday, July 20 & August 10
Come to Pacheco Plaza for live music featuring the Bay Area's top musicians playing danceable Cajun, Zydeco, Funk and R&B. Dine al fresco, grab a bite to-go from one of our tasty eateries or bring a picnic and enjoy a music-filled evening under the stars. Feel free to bring lawn chairs but be sure they are low seating so everyone can enjoy the music. Event details
San Anselmo
Picnics on the Plaza
Town Hall Lawn, San Anselmo
Friday, August 3, 10, 17, 24, 31 and August 7
Come enjoy some live local music on the Town Hall lawn! Bring a picnic blanket or chairs, your family and friends, and come enjoy a beautiful evening in downtown San Anselmo. Event details
San Rafael
Music in the Park Series
Marinwood Park, San Rafael
Fridays,

, 6–8 pm


June 29, July 13, August 10 & 24
Marinwood's most popular event returns this summer! Enjoy delicious BBQ by Marinwood Market and a bar for the grownups. Entertainment lineup TBA. Concerts are free. Location: 775 Miller Creek Road. For more information, visit their website.
Sausalito
Jazz and Blues by the Bay
Gabrielson Park, Sausalito
Fridays, 6:30–8 pm, June 1–August 24
Jazz and Blues by the Bay at Gabrielson Park in Sausalito is a free event. Lawn seating available (first-come first-served). Performers include Hella Fitzgerald, LaTiDo, the US Navy 32nd Street Brass Band, Eugene Huggins and Friends, and Honey B and the Pollinators. Food available to purchase. For more information, visit their website.
Tiburon
Friday Nights on Main
Main Street, Downtown Tiburon
Fridays, May 25, June 29, July 27, August 31 & September 28, 6–9 pm,
Bring the family to some outdoor dining, live music and dancing on Main Street in downtown Tiburon. Events take place the last Friday of the month in May, June, and July and September. Acts include Spirit of the Caribbean, Neon Velvet, and the Fundamentals. For more information, visit their website.
Angel Island Live
Ayala Cove, Angel Island State Park
Saturdays & Sundays, 2–4:30 pm, June–August
Hop on the ferry from Tiburon or San Francisco and enjoy live music on the Angel Island Cantina's deck, from bluegrass to reggae. Band lineup TBA. For more information, visit their website.
San Francisco
Stern Grove Festival
San Francisco
Sundays, June 17–August 19, 2 pm
Head to the park for the Stern Grove Festival, a popular, admission-free concert series in a beautiful outdoor amphitheater. This year, Ziggy Marley, Ronnie Spector and the Ronettes, Peabo Bryson and Jeffrey Osborne, the San Francisco Symphony, San Francisco Ballet, and more will get the whole family into the musical spirit. You'll want to arrive super early (like 7 am… really); people will be setting up blankets trying to save a seat first thing in the morning. Food is available at the Grove Café, and you are also welcome to bring your own goodies. Location: Sigmund Stern Grove, San Francisco. For more information, visit their website.
Summer JAMBand Family Festival
The Park Chalet, San Francisco
Sundays, August 6, September 16 & October 28
Grab your kids and your dancing feet and cruise on down to the Park Chalet for a summerful of free outdoor family concerts on the lawn. The popular JAMband Family Festival is in it's eighth year and features the music of local favorite and nationally acclaimed Charity and the JAMband, along with guest family artists and themed activities. Park Chalet food and beverages are available for a fee, and you can even celebrate your child's birthday party at a concert with a JAMband song dedication and more. Location: the Park Chalet, the Great Highway and John F. Kennedy Drive, San Francisco. For more information, visit their website.
Sign up for tips & news for Marin families!