Back to top
Get Your Garden Started with a Trip to the Petaluma Seed Bank
This time of year always has a way of making us ready for the warm days of spring and summer, especially with the beautiful weather we've been having this week. To us, this warm winter weather respite means it's time to plan our summer vegetable garden. We always make an effort to put in a substantial vegetable garden in our backyard. The kids have always loved helping pick out the seeds and taking care of the garden, and of course picking and eating the veggies, so it's a fun, educational, and tasty experience for them. We also like the fact that we get to eat our own organically grown produce!
Our first task of the season is to go get our seeds. We try to go the heirloom route—they're so much more fun than your plain old (ahem) garden variety vegetables—and we always buy our seeds at the Petaluma Seed Bank, the West Coast outpost of the fantastic Baker Creek Heirloom Seeds in Mansfield, Missouri. They stock a vast array of seeds for a wide variety of vegetables, many of which you probably didn't know existed!
In case you're not familiar with heirloom vegetables, they're the old-fashioned types, usually at least 50 years old, that have been handed down from generation to generation, and exist not because they are easy to grow or look perfect, but because they taste great! Baker Creek's seeds are also all natural, open-pollinated, and non-GMO, so they're good for your family and the environment.
As luck and the Bay Area's reputation as a foodie paradise would have it, Baker Creek opened up a branch in Petaluma back in 2009. Occupying a storefront in the heart of the historic downtown district, Baker Creek's Petaluma Seed Bank is a retail store that stocks everything in their catalogue and then some. Grab a bakset by the front door to carry your seeds and start choosing your seeds.
The Seed Bank used to be located in an iconic 1920s bank building on the corner of East Washington Street, but they downsized (both in size and inventory) in 2018 to their current location at 110 Petaluma Boulevard North.
It's almost overwhelming, but the Seed Bank's friendly and knowledgeable staff can help guide you through a seemingly bewildering array of choices. It's probably a good idea to get one of their catalogues or go online first to find out what you want, but part of the fun poring through all the seed packets and seeing what catches your fancy.
These wonderful vegetables are so much fun to shop for that you find yourself tossing seed packets into your bucket just for the novelty. I mean, how can you not love the idea of a green-and-red striped banana-shaped tomato variety from the former Soviet Union, purple pole beans, little round zucchini from the south of France, Australian winter squash, purple carrots, and even a melon variety grown by Thomas Jefferson?
At some point we have to stop and regroup and decide what we really need, because, after all, we don't have acres of farmland in which to grow our potentially massive garden. We did a quick edit of our seed selection, settling on a three kinds of tomatoes, runner and bush beans, carrots, a couple different kinds of sweet peppers, and sunflowers.
Baker Creek's Seed Bank is really worth a visit, especially if you want to get away from the usual old garden-center varieties of vegetables. You'll also find seeds for herbs and flowers at the Seed Bank as well as garden tools, seed starter kits, books, and supplies. They were doing a brisk business when we were there last week—I guess it is that time of the year, isn't it?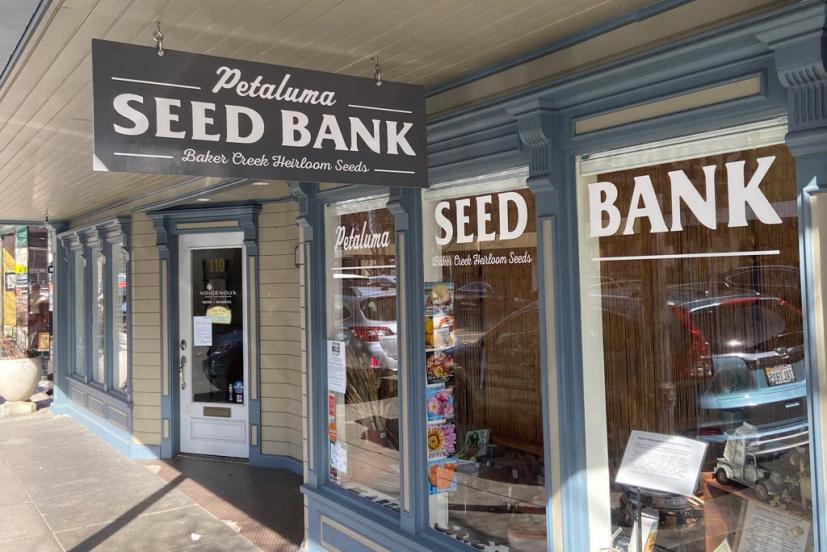 If You Go
The Petaluma Seed Bank is open Friday from 10 am to 4 pm, Sunday, and Monday from 10 am to 5 pm and Tuesday, Wednesday, and Thursday from 10 am to 6 pm. The Seed Bank is closed on Saturdays and major holidays.
The Seed Bank is located at 110 Petaluma Boulevard North, between Washington Street and Western Avenue, in downtown Petaluma. To get there, take Highway 101 to the East Washington Street exit in Petaluma, then head west on East Washington to Petaluma Boulevard North. Turn left on Petaluma Boulevard North; the Seed Bank in on the right side of the street. Cash and credit cards are accepted. There's plenty of parking in the area, especially around the corner on Kentucky Street and in the free Downtown Garage on Keller Street (one block west of Kentucky).
For more information, call the Seed Bank at (707) 773-1336. If you can't make it up to Petaluma and want to order seeds, browse Baker Creek Heirloom Seeds' online catalogue at www.rareseeds.com. 
Sign up for tips & news for Marin families!