Back to top
Get Your Tickets for Glowfari at the Oakland Zoo!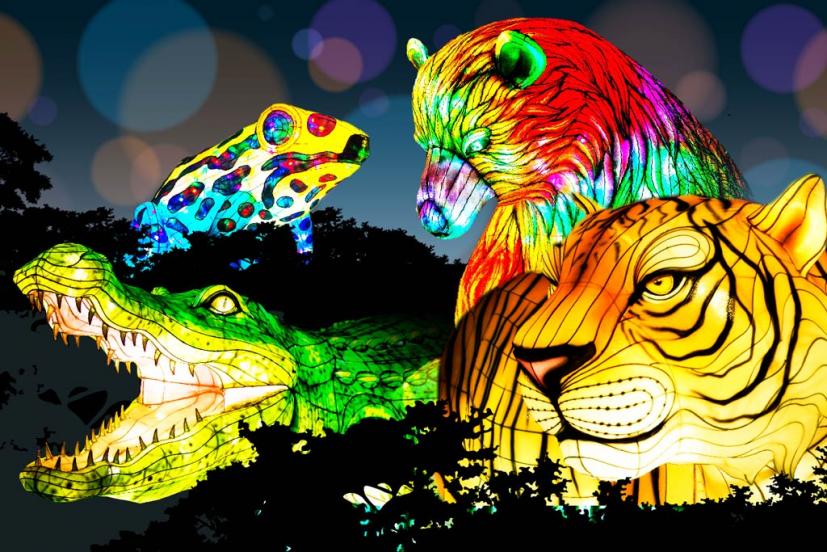 Join the Oakland Zoo this fall and winter for Glowfari! This all-new, family-friendly experience features hundreds of giant glowing animal lanterns throughout the zoo, depicting the ongoing journey of wildlife, the importance of every species on the earth, and the Oakland Zoo's commitment to conservation.
Take a mile-long, socially-distanced stroll through these dazzling illuminated lanterns, ranging from the ice-capped 15-foot tall penguin corridor to breathtaking full-size elephants, giraffes, and lions to enormous, fluttering butterflies floating against the night sky. Glowfari visitors can also ride the zoo's gondolas to visit California Trail where you'll be transported back in time to a dinosaur world with T-rex, stegosaurus, pterodactyls, and more!
Glowfari opens Friday, November 20, 2020 and runs through Sunday, January 17, 2021. Timed and dated tickets go on sale today, November 2, 2020, and cost $20 for adults 15–64 and $18 for children 2–14 and seniors 65–75. Admission is free for children under 2 and seniors over 76 (advance tickets are still required). Glowfari takes place in the evenings from 5:30–10 pm. Order tickets online.
Remember that masks must be worn at all times by visitors age 3 and older, social distancing rules are in place, and some attractions are closed to the public. Learn about the Oakland Zoo's reopening and COVID-19 safety precautions here. Note that other attractions like Adventure Landing will be closed, and zoo animals will not be on view during Glowfari.
The Oakland Zoo is located at 9777 Golf Links Road in Oakland. For more info and to reserve your tickets visit www.oaklandzoo.org.
Sign up for tips & news for Marin families!