Back to top
Haircuts for Kids in Marin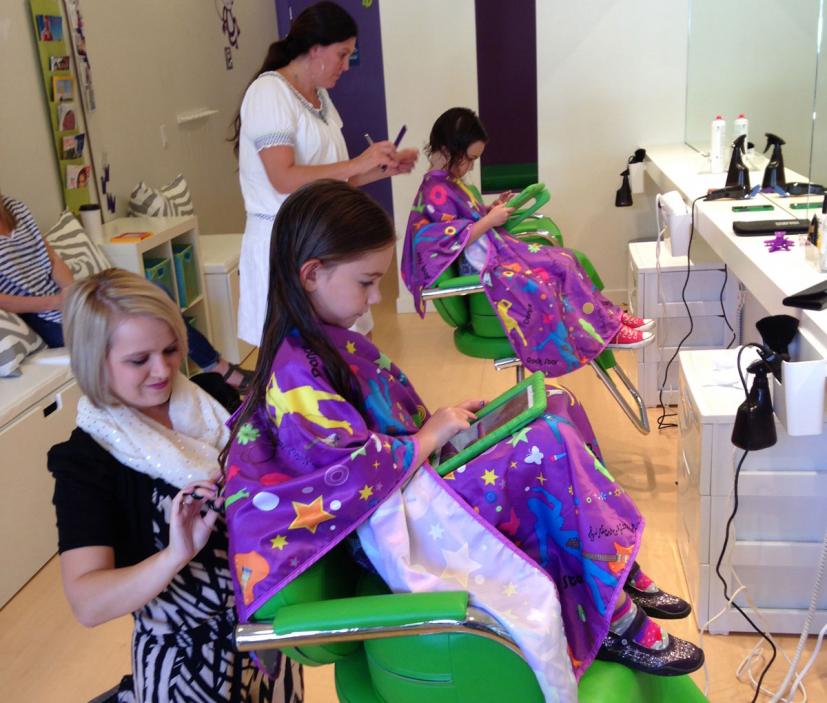 It's almost back-to-school time, so get your kids looking their best with a great haircut! Getting a good kids' haircut can be a real challenge, though. Finding a great stylist and, above all, getting the kids to sit still and get their hair cut are often more difficult than they should be. Fortunately, here in Marin we have some great kids' salons that making getting those haircuts a much easier for both parents and kids, and even—dare we say it—fun!
Here they are, listed from north to south. If we've missed your favorite kids' hair salon, please let us know! We'd love to hear about it and add it to the list.
1550 Tiburon Boulevard, Suite N
Tiburon
(415) 789-KIDS
Tiburon's Purple Monkey Hair salon offers haircuts for kids (and the whole family, too). They use high quality natural hair care products, and keep everyone entertained with iPads loaded with movies and apps. A first haircut package with a lock of hair, certificate, and photo costs $35. Book an appointment at (415) 789-KIDS or visit www.purplemonkeyhair.com for more info.
401 Miller Avenue, Suite C
Mill Valley
(415) 326-5223
The new FamilyCuts in Mill Valley offers affortable and professional haircuts for the entire family. Walk-ins welcome. Visit their Facebook page for more info.
121 Corte Madera Town Center
Corte Madera
(415) 924-2288
The Panda Room, in Corte Madera Town Center, offers a fun kid-friendly environment with stuffed pandas, panda wall paintings, and panda pictures all over. They also provide the requisite basket of toys for kids to play with during the haircut. They offer the baby's first haircut with photo, lock of hair and certificate. Schedule an appointment by calling (415) 924-2288. Visit thepandaroom.com for more info.
132 Vintage Way, Suite F3
Novato
(415) 858-2982
Snipz kids' hair salon in Novato offers basic haircuts for $28, as well as a variety of additonal services including special occasion styles, feather application, and shampooing and conditioning. A child's first haircut with photo keepsake and certificate and lock of hair is $34. They even offer kids' birthday parties! Make an appointment at (415) 858-2982 or visit www.snipzsalons.com for more info.
4176 Redwood Hwy
San Rafael
(415) 492-1000
Eddie, the owner and barber, has created a very kid-friendly environment, with lots of toys and children's books as well as a foosball table. He offers haircuts for kids ($28–$29), as well as a special "first haircut" package which includes photo and a certificate with a lock of hair ($30). Eddie also is experienced with serving special needs children. To make an appointment, call (415) 492-1000 or go to www.childrenshairclub.com.
Photo: Purple Monkey Hair
Sign up for tips & news for Marin families!