Back to top
Glowfari Lantern Festival Lights Up the Oakland Zoo
Families should make the trek to the Oakland Zoo this holiday season for Glowfari, an all-new, family-friendly outdoor experience that features hundreds of giant glowing, LED-illuminated animal lanterns throughout the zoo! We had a chance to check out Glowfari last week, and it was an amazing nighttime experience that everyone in the family will enjoy.
We got to check it out at the beginning of December, right before things closed due to California's COVID-19 stay-at-home order. We're happy to report that Glowfari will open again on Friday, February 5, 2021 and will run through Saturday, March 13, 2021.
Enter the zoo and take a mile-long, socially-distanced walk through an array of dazzling illuminated lanterns depictiing plants and animals ranging from life-size elephants and giraffes to larger-than-life undersea creatures and insects. Many of the lanterns are animated too, moving realistically and changing color as you watch.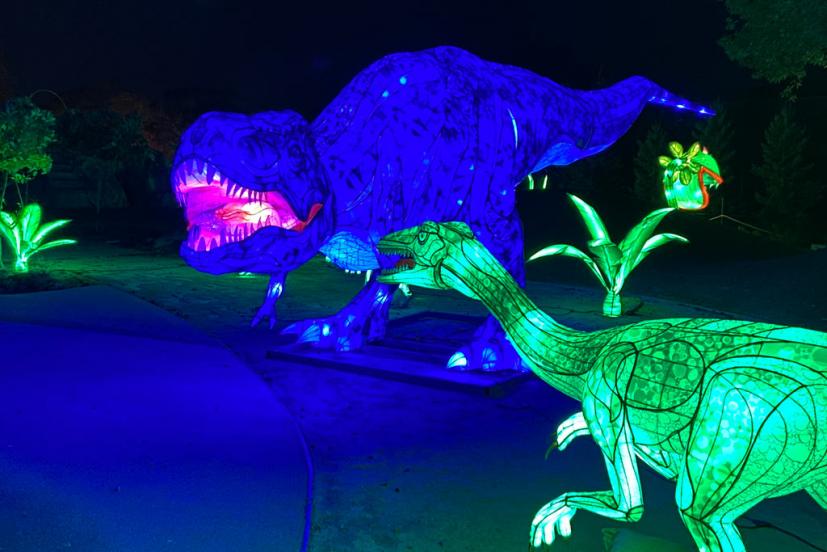 Make sure you board a lighted gondola to travel up the hill behind the zoo to visit California Trail, where you can travel back in time and see both animatronic dinosaurs and brilliantly lighted prehistoric creature lanterns. All your dinosaur favorites are here, including stegosauras and T-rex. The nighttime views of the lights of Oakland and the entire Bay Area are unforgettable, too!
Our favorite part of Glowfari was the "Blue Planet" section that depicted aquatic and undersea creatures like sea turtles, jellies, and penguins, as well as giant color-changing fish. Don't miss the series of colorful lighted tunnels that make you feel as though you're exploring under the ocean.
Glowfari is really an incredible experience, and you'll find new and more amazing surprises around every corner. We had a great time exploring the zoo at night and marveling at all the colorful and brilliant lanterns. The zoo did a fantastic job setting this up and making sure that visitors enjoy themselves and maintain social distancing, too. It's a highly recommended holiday experience for everyone in the family!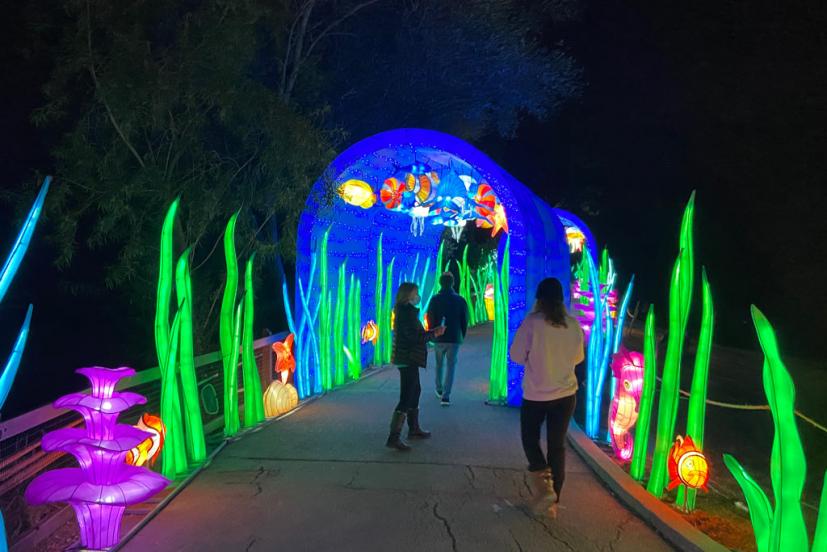 If You Go
Glowfari is open Friday, February 5 and runs through Saturday, March 137, 2021. Timed and dated tickets are required and cost $20 for adults 15–64 and $18 for children 2–14 and seniors 65–75. Admission is free for children under 2 and seniors over 76 (advance tickets are still required). Glowfari takes place in the evenings from 5:30–10 pm. Order tickets online. Advance tickets go on sale on Frirday, February 5, at 10 am.
Glowfari takes place entirely outside, so make sure you dress warmly and wear good walking shoes. Dinner, hot chocolate, and snacks are available for purchase at the zoo during Glowfari.
Masks or other face coverings must be worn at all times by visitors age 3 and older, social distancing rules are in place, and some attractions are closed to the public. Learn about the Oakland Zoo's reopening and COVID-19 safety precautions here. Note that other attractions like Adventure Landing will be closed, and zoo animals will not be on view during Glowfari.
The Oakland Zoo is located at 9777 Golf Links Road in Oakland. For more info and to reserve your tickets visit www.oaklandzoo.org.
Sign up for tips & news for Marin families!