Back to top
Glowfari Lights Up the Night at the Oakland Zoo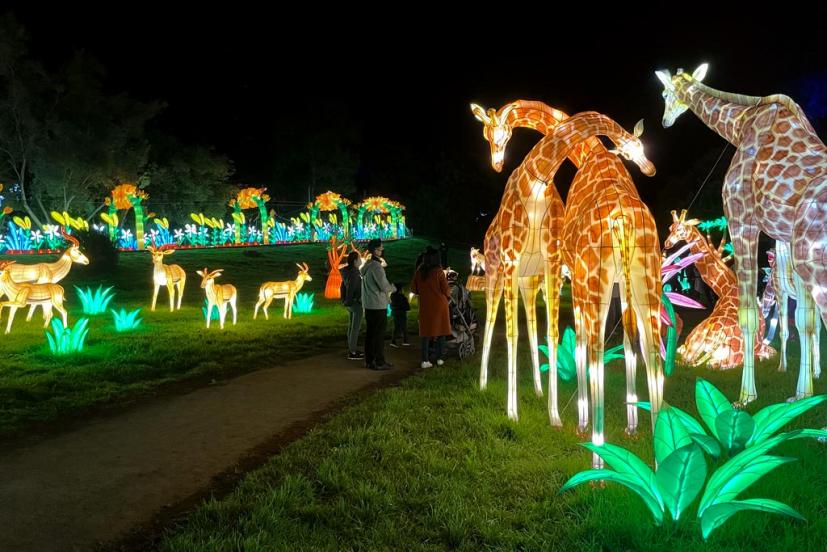 Families should make plans to visit the Oakland Zoo this holiday season for the return of Glowfari, a family-friendly outdoor experience that features hundreds of giant, glowing, LED-illuminated animal lanterns throughout the zoo! We had a chance to check out Glowfari last night, and it was an magical nighttime experience that everyone in the family will enjoy. It's also totally different than last year's version, with all-new animal lanterns
Enter the zoo and take a mile-long walk through an array of dazzling illuminated lanterns depicting plants and animals ranging from life-size elephants and giraffes to larger-than-life birds and insects. Many of the lanterns are animated too, moving realistically and changing color as you watch.
Make sure you board a gondola to travel up the hill behind the zoo to visit the California Trail, where you can explore the World of Bugs, which features dozen of different insects and arachnids, all on a massive scale. Don't miss the 65-foot queen ant tunnel! The nighttime views of the lights of Oakland and the entire Bay Area are unforgettable, too.
Our favorite part of Glowfari was the Savanna Watering Hole section, which features a wide variety of African animals, from elephants, antelope, and zebra to leopards, lions, and crocodiles. Make sure you walk up the hill through the giant illuminated flower tunnel for amazing views of this illuminated African safari.
On your way out, head to the Adventure Landing rides area, where you can board the zoo's Outback Express train and travel through the Winter Wonderland and experience the icy world of polar bears and penguins. Santa Claus himself will be there for visits during the month of November and December 1–23 from 6 to 9:30 pm.
Glowfari is really an incredible experience, and you'll find new and more wonderful surprises around every corner. We had a great time exploring the zoo at night and marveling at all the colorful and brilliant lanterns. It's a highly recommended holiday experience for everyone in the family! To learn more about Glowfari and the Oakland Zoo and to reserve your tickets, visit www.oaklandzoo.org.
If You Go
Glowfari is open now through Sunday, January 30, 2022. Timed and dated tickets are required and cost $24 for adults 15–64 and $20 for children 2–14 and seniors 65–75. Admission is free for children under 2 and seniors over 76 (advance tickets are still required). Oakland Zoo members receive a 10% discount. Glowfari takes place in the evenings from 5–10 pm. Advance tickets are required for all visitors. Order your tickets online.
Glowfari takes place entirely outside, so make sure you dress warmly and wear good walking shoes. The zoo's restaurants, snack spots, and gift shop will be open during Glowfari.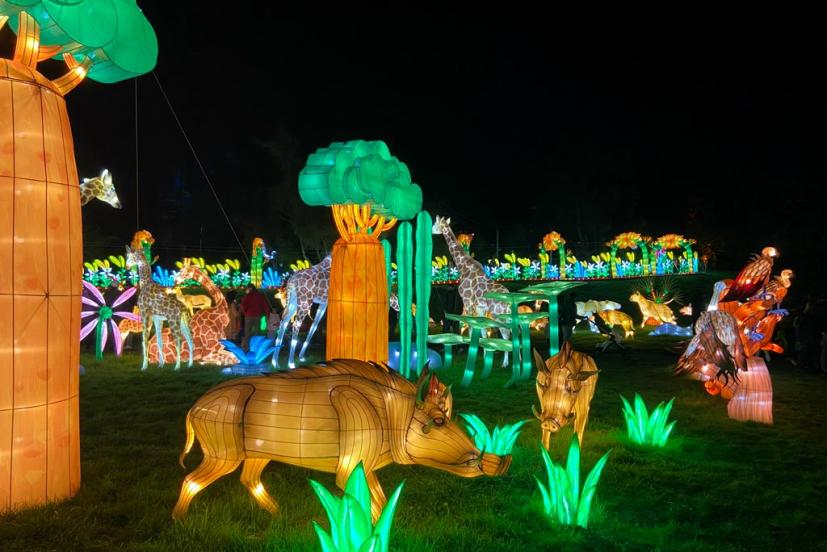 Masks or other face coverings must be worn in indoor areas by anyone not fully vaccinated against COVID. Note that will be closed and zoo animals will not be on view during Glowfari.
The Oakland Zoo is located at 9777 Golf Links Road in Oakland 94605. To get there from Marin, take Highway 101 to Highway 580 in San Rafael and head east over the Richmond–San Rafael Bridge. Follow 580 through the MacArthur Maze to Oakland and follow the signs for 580 East Downtown Oakland/Hayward/Stockton. Continue on 580 until you reach the Golf Links Road exit (Exit 29A). Turn left onto Golf Links Road and then right into the Oakland Zoo and follow the road to the parking area.
Sign up for tips & news for Marin families!