Back to top
Great Summer Reads for Kids from Diesel Bookstore in Larkspur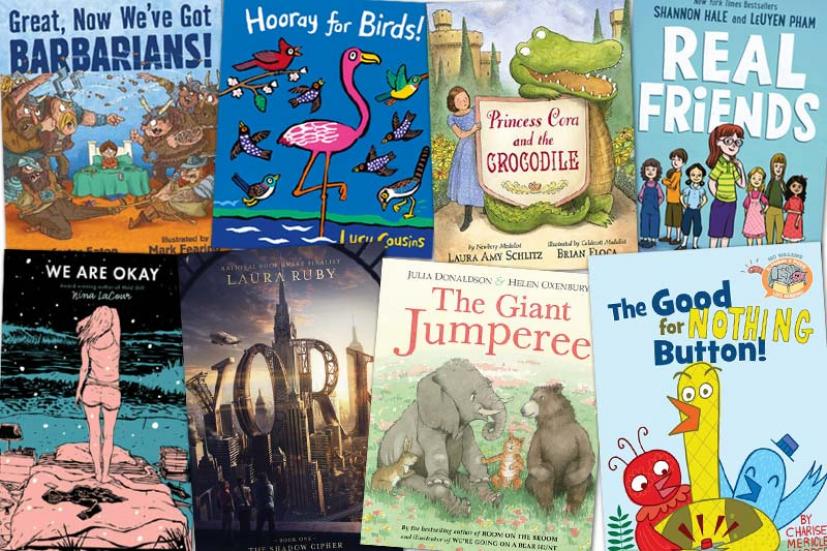 Marin Mommies presents a guest article highlighting some fantastic summer reading selections from Clare Doornbos, the children's book expert at DIESEL bookstore in Larkspur. Diesel is located in Marin Country Mart at 2419 Larkspur Landing Circle. Visit their website at www.dieselbookstore.com or call them at (415) 785-8177.
School's almost out and summer is almost here! Your kids are booked into camp, the trip to Grandma's house is all planned out, and the beach is calling. Now you just need to get some books together. There are so many great books to choose from for toddlers to independent readers. You already know many of the classics, so Clare from Diesel bookstore in Larkspur has picked out some new books that will keep your kids reading all summer long.
Picture Books for 2–4
Book of Mistakes by Corinna Luyken
If you draw a cat and it looks more like a "frog-cat-cow thing", then maybe that's an invitation to cleverly fix your drawing. Or maybe you could draw something completely different. This is one of the most beautiful and creative picture books I've seen in a long time. A great book to read with any young artist.
The Giant Jumperee by Julia Donaldson & Helen Oxenbury
There's a Giant Jumperee in Rabbit's burrow, he has a loud voice and says he's taller than a tree. Most of the animals are scared of the Giant Jumperee, even Bear and Elephant. The only animal who isn't afraid is Mama Frog, she's heard that voice before. A wonderful story about fear of the unknown with classic watercolor illustrations and a charming sense of humor.
Hooray for Birds by Lucy Cousins
Imagine being a bird for a day, hopping, pecking, swooping, crowing. This bright and engaging book asks young children to flap their wings and tweet along with a busy bird-filled day.
Picture Books for 4-8
Great, Now We've Got Barbarians by Jason Carter Eaton & Mark Fearing
Some kids are really messy. But if you leave half-eaten sandwiches in bed, you might attract pests. Eventually you might even get an infestation of Barbarians. Which sounds fun, until they eat everything in the kitchen and keep you awake at night. An absurd look at the importance of cleanliness and the habits of a cartoon Viking horde.
Dad and the Dinosaur by Gennifer Choldenko & Dan Santat
Nicholas is afraid of the dark, but he has a small plastic dinosaur he carries around with him. Dinosaurs are never afraid and that gives Nicholas the courage to face anything. When the dinosaur is lost during soccer practice Nicholas has to tell his Dad that he's not as fearless as he seems. With beautiful warm illustrations, this is a sensitive tale about recognizing a little kid's worries.
Green Pants by Kenneth Kraegel
Jameson loves his green pants and when he wears them he can do anything. Which is why he won't wear pants of any other color. But when his cousin gets married he has to wear a black tuxedo. What will he do? Jameson's quirky personality shines through in the expressive illustrations and we feel his distress. Don't worry though, it all works out well in the end.
Books for New Readers 6–8
Princess Cora and the Crocodile by Laura Amy Schlitz and Brian Floca
Princess Cora's parents are very strict, there isn't a second of the day when she isn't being trained to run the kingdom. So Cora asks for help from her Fairy Godmother. That help comes in the form of an ill-mannered crocodile who is happy to pretend to be the princess while Cora gets a day off. This illustrated early chapter book balances a sweet-natured fairy tale with crocodile chaos to create a story about love, responsibility and the importance of taking a break.
The Good for Nothing Button by Cherise Mericle Harper
Three cheerful cartoon birds find a button, one bird says that when he presses it, nothing happens, but the other two are not so convinced. A funny book about imagination and one of a new series of early reader books in the style of the Mo Willems Elephant and Piggy stories.
Barkus by Patricia MacLachlan and Marc Boutavant
Barkus is the best kind of dog. The kind you can have little adventures with. Barkus is the hero of a new early chapter book series that is simple, but not boring. The illustrations have a cheerfully retro feel with bright colors and lots of dynamic movement. The stories are charming, sweet and also funny. Even the typesetting is fun and easy to read.
Books for Confident Readers 8–10
Sputnik's Guide to Life on Earth by Frank Cottrell Boyce
Prez is used to looking after himself and his Grandad. But when his Grandad starts to get confused, Prez is sent to a farm to live with a big family. On his first night there, Prez meets a strange and dangerous little alien called Sputnik. Everyone else thinks Sputnik is a clever stray dog. But Prez understands every woof and Sputnik can read Prez's thoughts. What follows is a destructive, hilarious and heartwarming race to reunite Prez with his Grandad and save the planet Earth.
Real Friends by Shannon Hale & LeUyen Pham
A graphic novel memoir of the author's experience with friendship between kindergarten and fifth grade. It's an emotional roller-coaster that follows the highs of belonging to a group and the lows of being bullied or rejected. The content will feel familiar to many adults and might actually be a lifeline for elementary age kids.
Outside In by Jennifer Bradbury
The story of Ram a twelve-year-old homeless boy in Chandigarh, India who meets the outsider artist Nek Chand and helps him with his incredible sculpture garden. Based on a real artist and featuring a kid-friendly retelling of The Ramayana this is a great book for kids who want to read outside of their own experience and learn more about the wider world.
Books for Kids 10–12
York by Laura Ruby
In an alternate New York, three kids must solve a hundred-year-old mystery to save their building from demolition. Along the way they'll tangle with really bad henchmen, a runaway subway train and a secret society, pledged to solve the puzzle themselves at any cost. My favorite kids book of the year so far.
Frogkisser by Garth Nix
An epic fantasy adventure in which a young woman sets out on a quest to save her sister and finds out that all is not right in the kingdom. A smart and funny book where all the main characters are female and handsome princes are not required.
Beyond the Bright Sea by Lauren Wolk
The story of Crow, a young girl abandoned as a baby and raised on the remote Elizabeth Islands in Massachusetts. She longs to solve the mystery of where she came from, but her guardian Osh is reluctant as he knows she probably came from a leper colony and he has secrets of his own. This is a beautifully written book with a detailed emotional depth that lends a realism to the adventure-driven plot.
Books for Teens 12+
The Lines We Cross by Randa Abdel-Fattah
Mina is a refugee, from Afghanistan settled in Australia. Michael's parents are Australian nationalists. When they meet, everything changes. This is a Romeo and Juliet romance with a twist. The book doesn't shy away from the brutal or uncomfortable elements of the couple's story and it takes a long time for Michael to win Mina over. An excellent and thought-provoking read.
Royal Bastards by Andrew Shvartz
Tilla is the 16-year-old illegitimate daughter of Lord Kent. She and the other highborn bastards witness Kent killing both the king and his supposedly impervious mage. They are forced to run for their lives through the Western kingdoms, framed for the murders and hunted by their own kin. A high fantasy adventure that elegantly ticks all the boxes for an escapist summer read.
We Are Okay by Nina LaCour
Marin is spending the winter break alone in her student residence in New York when her best friend Mabel turns up, uninvited but persistent, all the way from California. Marin and Mabel haven't seen one another since Marin's grandfather disappeared and Marin left the West coast for good. This is a beautifully written and emotionally deep story that unfolds slowly, revealing layers of secrets and finally Marin's true heart.
Today's Events
Wednesday, February 21, 2018