Back to top
Halloween Popsicle Stick Crafts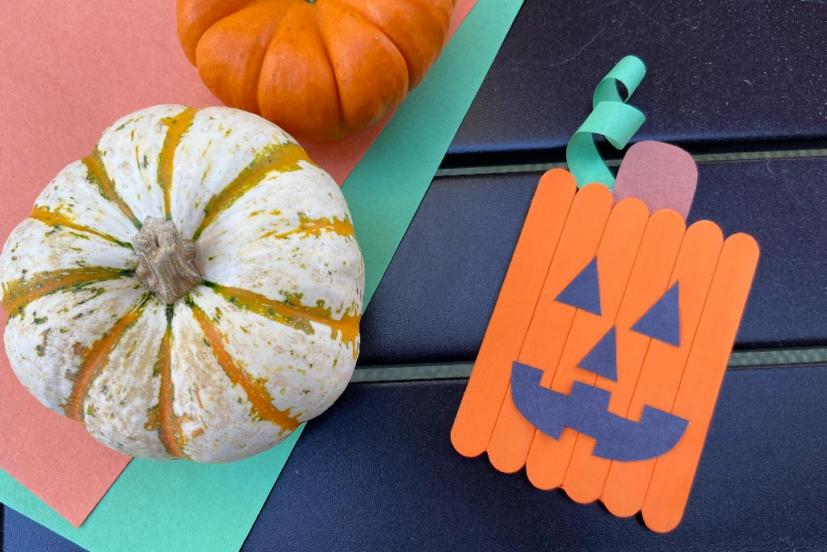 Using popsicle sticks (AKA "craft sticks"), which you can find at craft stores or even the Dollar Tree, acrylic paints, and some other materials like construction paper and felt, you can make a variety of fun Halloween figures in thie easy-to-make craft. We made a pumpkin, but you can find more designs and ideas on this post on Best Ideas for Kids. While this craft is fun and easy, it does require parental supervision due to the use of a hot glue gun.
Materials
Wooden mini popsicle sticks
Acrylic poster paints
Paint brushes
Construction paper or colored card stock: black, brown, and green
Scissors
Hot glue gun and glue sticks
Directions
Line up 5 mini craft sticks in a row. This will form the body of your pumpkin. Lay another stick diagonally across the sticks and hot glue it in place so it holds everything together.
Turn the sticks over and let the kiddos get to work painting the front orange. Let the paint dry thoroughly.
While you're waiting for the paint to dry, design and cut out the pumpkin face in black construction paper. Cut a stem out of brown paper and and a vine out of a thin strip of green paper. Wrap the green paper tightly around a pencil or pen to make it curl.
Glue the face on with hot glue. Turn the pumpkin over and glue on the stem and the vine. Turn it back over and admire your work!
Sign up for tips & news for Marin families!