Back to top
Petaluma Pumpkin Patch and Amazing Corn Maze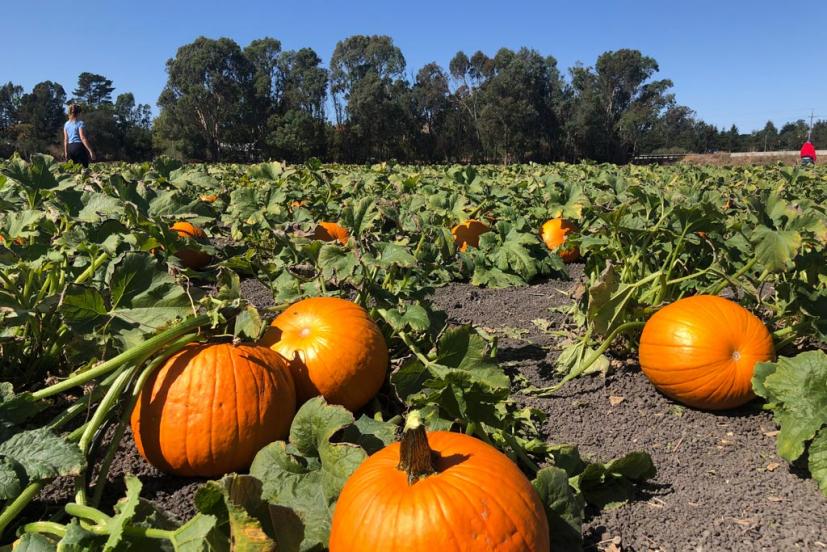 Petaluma Pumpkin Patch, a Halloween fixture in Sonoma County for over 25 years, is popular with Bay Area families for a number of reasons. For one, it's a real pumpkin patch that's not too far from civilization—it's right off the North Bay's major freeway. Second, it offers a nice mix of real country attractions and other more commercial activities like bounce houses, climbing walls, and pony rides. Third, their pumpkin prices are pretty reasonable: from $3 for the smallest pumpkins to $16 and up for really large examples.
The entrance to their large parking lot is located off Stony Point Road just north of Petaluma. Keep your eyes open for the Petaluma Pumpkin Patch sign, because it can be easy to miss. When you first enter, you'll see that they offer a wide variety of squashes of all different types, including Hubbard, spaghetti, and turban squash, as well as ornamental gourds. You'll find some pre-picked pumpkins here, too, but you'll find most of them are off in the huge five-acre pumpkin field nearby.
On the way to the pumpkin patch you'll find farm animals to visit, including sheep, goats, pigs, calves, chickens, and a horse, a mini corn maze for kids six and under, a huge straw bale pyramid, a giant "sandbox" full of corn kernels for kids five and under to play in, rubber duck races, and shaded picnic areas. All those attractions, as well as admission to the pumpkin patch, are free. There's also food available for sale on weekends, including BBQ turkey from Willie Bird, hot dogs, kettle corn, pizza, and more.
On weekends, you'll find fun activities and attractions like shaded pony rides, a climbing wall, inflatable slides, bounce houses, and a giant carnival slide as well as visits from Budderball the Clown, Adobe fire engines, and more. A smaller Halloween bounce house is available for younger children during the week. There will also be a 4-H bake sale, with hot chocolate and apple cider, on October 19 and 20. Check out their Facebook page for additional special weekend events.
Don't miss the four-acre Amazing Corn Maze, which offers families the challenge of finding their way through a field of 10-foot-tall cornstalks. There are elevated second-story viewing platforms within the maze so you can take it all in and maybe help find your way out. Admission to the corn maze is free for kids 5 and under, and $7 for everyone else. On Friday and Saturday nights from 6 to 10 pm it becomes the Night Maze (last entry at 9:30 pm), and admission goes up to $10 per person.
The maze takes approximately 45 minutes to complete, and children under 15 need to be accompanied by an adult at all times. You can buy a map for $1—we highly recommend it as it makes finding your way out a lot easier (but still challenging). 
Those of you with October birthdays take note: Petaluma Pumpkin Patch is also a great place for a birthday party. There's no extra charge, admission, or parking fee; you just bring your party supplies and pay for pumpkins, the Amazing Corn Maze, and other activities.
Petaluma Pumpkin Patch is a busy bustling place, filled with families picking out their Halloween pumpkins and enjoying the attractions the place has to offer. The only distraction is the traffic on the adjacent freeway constantly zipping by. It's noisy and annoying, but then that's the price you pay for not having to head way out into the country to a more remote pumpkin patch experience. On the plus side, it's blessed with a convenient location, great atmosphere, good prices, and plenty of fun things for everyone to do. 
If You Go
Petaluma Pumpkin Patch and Amazing Corn Maze is located at 550 Stony Point Road, just north of Petaluma. It's open through October from 10 am–6 pm Sunday–Thursday and 10 am–10 pm on Friday and Saturday. Petaluma Pumpkin Patch is also available for school field trips during the week.
To get there, take Highway 101 north to the Old Redwood Highway/Penngrove exit. Turn left at the stop light and head west over the freeway, then turn right onto Stony Point Road. The entrance to the pumpkin patch is about a half mile up the road on your right.
Parking is free, and there's an ATM located on site in case you need some cash. Portable toilets with hand washing stations are available. No pets (other than service animals) are allowed. Attractions like the Amazing Corn Maze may be closed in wet weather conditions.
For more information, visit www.petalumapumpkinpatch.com.
Sign up for tips & news for Marin families!